5 Bone Broth Recipes for Weight Loss and Vibrant Skin
This post may contain affiliate links, which helps keep this content free. Please read our disclosure for more info.
Chicken soup is good for the soul, but it's also incredibly healing if it's made the right way! These bone broth recipes for weight loss and vibrant skin will leave you satisfied and feeling great about your diet!
Bone broth is a bit of a misnomer. Broth usually refers to soup made WITHOUT bones. But bone broth is made from the bones and connective tissues of animals, and it's technically a stock.
The stock contains gelatin, collagen, and amino acids that can help to heal your gut. A healthy gut can help you improve your skin and lose weight, among other benefits.
We have come across bone broth and all of its health benefits everywhere over the last few months.  Everyone has been raving about it, especially in the Paleo communities.
Well, we finally decided to give it a try and see what all the fuss was about, and OMG… Our lives have been forever changed.
Not only is it SO incredibly healthy for you, but it's also SO incredibly easy to make! I've included some great recipes below, but know this…
All you really need are some bones and a little salt and pepper.
Apple cider vinegar is a necessary addition as well because it helps to break down the bones faster so you can get to the good stuff!
That's IT. Consider the rest just "add-on's." I tend to throw a few veggies in there that I know I won't use up (extra onions, celery, carrots, etc). But the bones really do give it all the flavor that it needs. You really can't go wrong.
Another bonus: Buying meat with bones included is CHEAPER than buying processed and de-boned meat such as lean chicken breasts. So save yourself some money, buy the whole chicken, and then use throw the leftover carcass in your crockpot for 24 hours!
Here are some recipes that add flavor and nutrients to basic bone broth to help you lose weight and maintain healthy skin.
Basic Bone Broth
To make a basic bone broth, all you need are animal bones, water, and apple cider vinegar. We recommend that you get your bones from a clean source.
Look for bones from organic meat that has not been treated with antibiotics or chemicals. Health food stores like Whole Foods and Trader Joe's will have plenty of grass-fed and organic options as well.
Pieces with more joints, like chicken feet or wings, add more gelatin to the stock. This provides even more healing power!
You don't have to limit yourself to chicken bones, and you absolutely shouldn't! Use bones from healthy and clean beef and pork as well to ensure that you are getting in a variety of nutrients.
Also, the bones need not be covered in meat. When I cook a chicken, I usually pick it as clean as I can before throwing the carcass in the crockpot.
Make sure to add the organ meats from the chicken as well (or boil them in a pot separately with some Cajun seasoning and add them to your morning omelet! That's how we like to eat them)!
Instructions for Bone Broth Base
Fill a heavy stockpot or slow cooker with bones. Cover with filtered water (up until it's about 2-3 inches below the top of the crockpot (or large pot)– Note that's what I do for my 7qt crockpot. You may need less water if your crockpot is much larger.
Pour in 2 tablespoons organic apple cider vinegar and some salt and pepper if desired. The ACV will help to extract all of the nutrients from the bones.
Bring to a boil, and then simmer the stock on the stove or in a crockpot on LOW for at least 24 hours. If you notice foam rising to the top during the first 2 to 3 hours, skim it off with a spoon.
After 24 hours, strain out the bones and use the broth in one of the following recipes.
Note: Cooking times can vary. Most recipes call for a cooking time of 24-48 hours. A good rule of thumb is "the longer, the better," although you usually shouldn't cook it beyond 48 hours.
For thicker beef and steak bones, aim for 48 hours (although 24 is okay too if you don't have that much time). For smaller bones like from a chicken or turkey, 24 hours is best.
Some Notes on Making Bone Broth
Some people say that plain bone broth can taste a little bland, but I have never found that to be the case when I add ACV and cook it for at least 24 hours. It always tastes rich and savory, and I usually don't even add salt or pepper!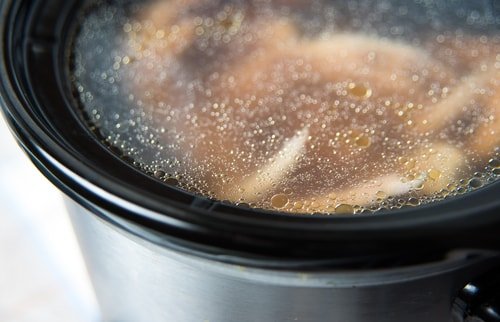 Refrigerated broth tends to turn into a gel. This is good. The gel indicates that the stock contains plenty of healing gelatin. It will transform into a liquid when you heat it again.
Note that you likely won't achieve the "gel-like" texture with chicken bones, because they are much smaller. You will see it more with larger beef bones that are cooked for 48 hours.
Some recipes suggest that you roast the meat and/or bones before adding them to the stock to give it even more flavor, but this is up to you. We usually don't bother taking the time to do this extra step.
When you refrigerate the broth, the fat will separate into a layer that sits on top. Some options for this layer are:
Scoop it off and throw it out.
Use it as a cooking oil.
Mix it into the soup to add healthy fat to your diet.
Make sure always to scoop it out when you are not using organic bones because toxins and other chemicals are stored in the fat of animals.
We usually scoop most of it out to keep the calorie count lower. Too much fat can be a calorie nightmare and impede weight loss efforts.
What Can You Do With Bone Broth?
You can simply add salt (or not – try it without first!) and sip bone broth from an insulated cup. It will provide more healing energy than coffee.
You can also dress it up by using it in one of the recipes below.
1. Breakfast Bone Broth Soup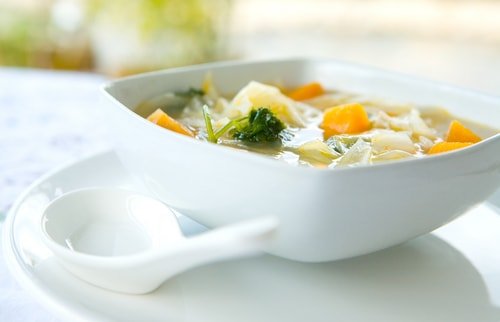 Have you ever considered eating soup for breakfast? It's not crazy.
Many people are in the habit of consuming hot foods, like coffee and oatmeal, for breakfast. Soup is comforting, filling, and healing.
If you drink bone broth on an empty stomach, you're starting the day with extra healing benefits.
Contrary to popular belief, bone broth also contains protein, which makes it more satiating than just drinking "flavored water."
Ingredients:
2 cups bone broth
Juice from half a lemon
1 egg
1 small sweet potato
Salt
Pepper
1 tbsp Olive oil
Optional: Garnish with Parsley
Instructions:
Chop the sweet potato up into cubes, and toss in a bowl with the olive oil.
Roast at 400 degrees for about 20 to 25 minutes, flipping it for even cooking.
Meanwhile, heat the broth in a pot with lemon juice and salt to taste. Make sure that the broth is salty enough at this stage for the perfect flavor.
Crack an egg into a small bowl and sprinkle with a pinch of salt. Gently slide the egg from the bowl into the now-simmering soup.
Simmer until the egg is set, about 3 to 4 minutes. If you notice the whites starting to spread away from the yolk as they cook, fold them back in.
Place the roasted sweet potato at the bottom of a bowl. Gently lay the egg on top of it. Pour the soup over everything, and enjoy.
2. Vietnamese Noodle Soup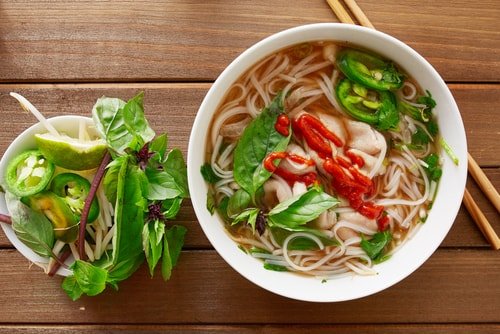 This soup is filling and contains flavors that you might not usually eat. This makes it feel sumptuous and exotic.
Ingredients:
Rice noodles
Shredded cooked chicken or pork (you can also use finely sliced raw beef)
1-inch chunk of ginger, grated
1 garlic clove, smashed
2 cups bone broth
1 tablespoon soy sauce (or Bragg's Liquid Aminos)
1 tablespoon hoisin sauce
Lime wedges
Cilantro
Mint
Sriracha
Optional: Chili or jalapeño peppers
Instructions:
Simmer bone broth, ginger, and garlic in a pot over medium heat for about 10 minutes.
Add soy sauce, fish sauce, and hoisin sauce.
Taste the broth for flavor, adding enough salt as necessary.
Cook the rice noodles in the broth according to package directions.
Add the shredded chicken until heated through.
Spoon into bowls, adding cilantro, mint, lime wedges and sriracha as garnishes.
3. Chicken Zoodle Soup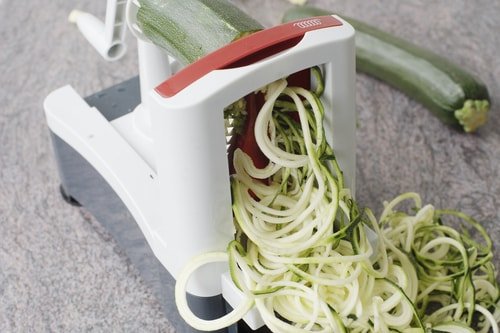 This is the gluten-free version of the magical winter soup that grandma used to make. However, it's even more healing.
Ingredients:
1 onion (any color), finely chopped
3 cloves garlic, minced
3 stalks celery, finely chopped
2 carrots, finely sliced
4 cups bone broth
Leftover chicken, finely chopped or shredded
1-2 zucchini, spiralized into "zoodles"
1 tablespoon olive oil
Salt
Instructions:
Heat the olive oil in a pot. Add the onion, garlic and celery. Cook, stirring until the onion is soft and translucent, but not dark brown.
Add the broth and the carrots. Simmer for 20 minutes.
Add the chicken until it's heated through.
Add the zucchini spirals, simmering for about 2 to 5 minutes to impart softness.
Add salt to taste.
4. French Onion Soup
French onion soup is simple to make. It uses very few ingredients.
Traditionally, this is made with beef stock, but it's delicious with any bone broth.
Ingredients:
5 large yellow onions
8 cups bone broth
1 tablespoon fresh chopped thyme
2 tbsp Coconut oil
Salt
Pepper
Instructions:
Thinly slice the onions and add them to coconut oil in a stockpot. Cook at medium-low heat for 20 to 30 minutes, stirring frequently. You want the onions to be light golden brown, not dark brown and bitter.
Once the onions are slightly caramelized, pour in the bone broth. Add the thyme and salt to taste.
Simmer for 45 minutes to merge the flavors.

Bone Broth Burgers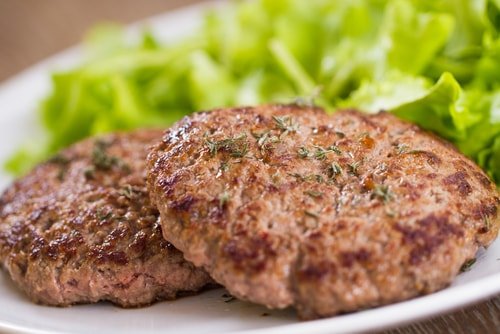 Tired of soup? Use the bone broth to make burgers. There's no need for ketchup or a bun with this recipe.
Ingredients:
1 pound ground beef, pork, chicken or turkey
2 TBSP olive oil
½ to 1 cup bone broth
½ yellow onion, sliced
Salt
Pepper
Instructions:
Combine the meat with salt and pepper, making 4 to 6 patties.
Heat oil in a skillet, adding the burgers when the oil begins to smoke.
Place the onions next to the burgers in the pan.
Flip burgers and cook through (cook according to your preferences). Remove burgers from the pan.
Leaving the onions in the pan, add the bone broth. Turn the heat to medium-high. Boil the broth and onions until the broth reduces, leaving a thickened sauce.
Spoon the sauce over the burgers and eat over sautéed greens without a bun.
If you are looking to truly improve your gut health…
Bone broth will work wonders, but healing your gut is still a process that takes time. Adding in a good probiotic will help you heal your gut even faster!
No matter what supplement you use, you should take AT LEAST 50 billion units of probiotics daily from a minimum of 10 different sources for best results.
While you don't need to purchase only refrigerated probiotics, make sure the packaging is well sealed. It's also essential that the packaging is dark (or opaque, not transparent) to protect from light damage.
We have our own brand of Probiotics at Avocadu called Gut-13.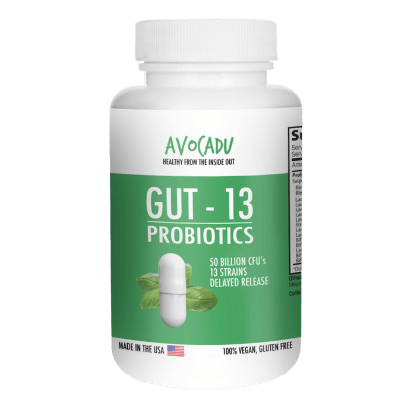 In a recent study, women taking probiotics lost 50% more weight than those who did not. Your gut health and how well you absorb nutrients MATTERS. Don't miss out on getting in a daily probiotic. Click here.
Our specially formulated probiotic supplement contains:
Over 50 Million CFU's Per Serving
13 Different Gut Healing Strains
Delayed-Release for Deeper Support
Made in the USA
You can read more about it and why it's so important for not only gut health but overall health on our probiotics page.
Probiotics are one of the best solutions for healing your gut, helping you lose weight faster, and providing you with a healthy source of gut flora every day!
Next, you will need to eat a healthy diet full of whole, natural foods!
Probiotics will help to get your gut started on the right track again, but it won't make a very big impact if you are still eating a diet full of the WRONG foods that wreak havoc on your gut in the first place.
This is a big emphasis of our 21-Day Fat Loss Challenge as it's about changing our eating habits and re-learning what we should and should not be eating.
If you liked this article on 5 bone broth recipes for weight loss and vibrant skin, or have any questions, please feel free to leave me a comment or question below!
Related Articles