8 Easy and Healthy Crockpot Recipes for Weight Loss
This post may contain affiliate links, which helps keep this content free. Please read our disclosure for more info.
Are you overwhelmed with cooking while you're trying to lose weight? These 8 easy and healthy crockpot recipes for weight loss will help make weeknights easier and help you actually stick to your diet!
Sometimes it seems like you're burning the extra calories just from making those complicated healthy meals. Eating well doesn't have to be overwhelming, though.
You can streamline your cooking routine to eat healthier AND lose weight.
A crockpot is an ideal tool for cooking for weight loss. You can throw in all the ingredients, set it, and forget it.
This leaves you extra time to take a yoga class or go for a walk.
There's a delicate balance that we all face with eating healthy, finding the time to cook, AND making food that tastes good enough to WANT to eat it!
The biggest and BEST tip that we can offer you here at Avocadu regarding making healthy meals and sticking to your diet long-term is to SIMPLIFY!
Avoid recipes with 25 ingredients. They are time-consuming, EXPENSIVE, and often just filled with a bunch of extra stuff that just isn't necessary.
Find a few spices that you like and that can go on a variety of recipes. Being a Cajun girl from New Orleans, my favorite go-to is Cajun Seasoning. I put it on EVERYTHING! Seriously, veggies, eggs, meat, you name it.
Garlic and onion are also big for me, but the important thing is: Find what works for YOU, and stick to it!
Okay, let's get to the recipes! I've done a round-up of some of my favorites from across the web!
Mexican food may be exactly what you'd want if you were trapped on a desert island. Unfortunately, it's not the most ideal food for weight loss.
Mexican restaurants often fry their food in unhealthy oils. The refried beans are cooked up from a powder. Yikes!
You don't exactly know where the meat came from.
Change up the fajita by combining Mexican flavors in a warming, satisfying soup. Top it with some avocado to get in extra healthy fats and enjoy a satisfying creamy texture.
By Brittany at Eating Bird Food. Prep time: 20 minutes. Cook time: 4 ½ hours. Find the recipe here.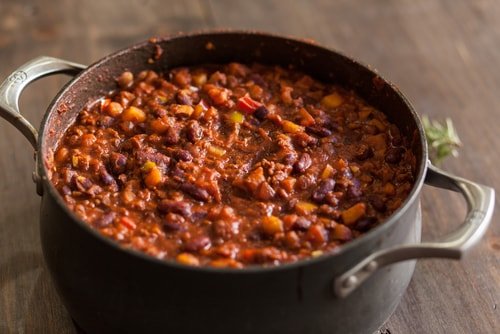 Protein is good for your body. However, not everyone eats animal protein.
Even if you do, it can benefit your body to vary your protein sources. Plus, it's eco-friendly and can be more affordable to have a vegetarian day once a week.
This chili will satisfy your cravings for comfort food while taking care of all of the above.
Plus, it's virtually fat-free. It's low in calories, so you can have a few servings without sabotaging your diet.
By Vaishali at Holy Cow Vegan. Prep time: 10 minutes. Cook time: 7 hours. Find the recipe here.
Next up on the list of crockpot recipes for weight loss is…
You can get tired of making chili and soups in the crockpot. This lasagna changes things up a bit.
We do recommend to avoid the gluten and swap the noodles for thinly sliced zucchini or eggplant. If you do this, salt the veggie "noodles" and let them sit for about 25 minutes on paper towels before you layer them in the crockpot.
Wipe them clean before you add them to the recipe. This will get rid of the excess water.
Another recommended modification: Ditch the bread crumbs and cheese! They contain extra calories, and you don't need them. It tastes wonderful without them!
If you make this dish with veggies only, it's relatively low in calories. You can eat as much as you want without worrying about your waistline.
By Ashley at Oh My Veggies. Prep time: 30 minutes. Cook time: 3 ½ hours. Find the recipe here.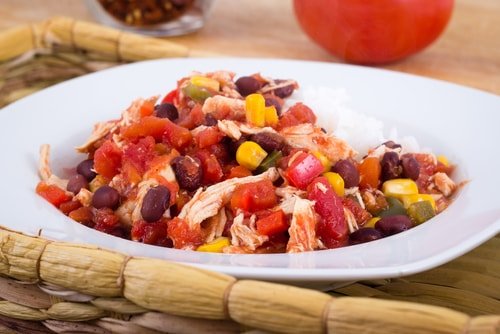 This casserole contains loads of protein. The chicken provides protein, and quinoa is a grain with a complete protein profile.
Research shows that eating sufficient protein can help you lose weight (1).
The best part is that you can make this recipe with any leftover chicken. If you haven't cooked chicken in the past few night, use a rotisserie chicken.
This dish is hearty but packs in the vegetables. It's also pretty enough to make for a dinner party.
Our modifications: Ditch the cheese and sour cream!
By Katerina at Diethood. Prep time: 10 minutes. Cook time: 6 hours. Find the recipe here.
If you crave takeout, Chinese food isn't your best option.
However, you can replicate the flavors of your favorite Chinese food without all the oil and MSG.
This recipe packs in the protein by adding edamame to chicken breast. Throw in as many diced carrots and peppers as you want to get several servings of vegetables.
Serve the meal over cauliflower "rice" or zucchini "zoodles" to add more nutrients to your meal. Using veggies instead of starches will satisfy your hunger with fewer calories than traditional rice or pasta.
By Lizzie at Pop Sugar. Prep time: 10 minutes. Cook time: 2-6 hours. Find the recipe here.
Shredded beef is very filling and can be served with anything. Make a batch of this once a week!
Eat it on salads and sweet potatoes for lunches. Scoop it up alongside roasted vegetables for dinner. Use it as taco filling.
This beef tastes excellent the next day when served with thinly sliced sautéed green cabbage. Everything has a texture that's reminiscent of pasta. You can even twirl your fork around in it.
However, the low-carb meal provides protein and nutrients from the beef and cabbage.
If you're concerned about the sugar content of balsamic vinegar, consider the fact that there is only ½ cup of it in the entire recipe.
Unless you're attempting to do a true detox, the small amount of balsamic vinegar shouldn't throw off your clean eating.
By George at Civilized Caveman Cooking. Prep time: 10 minutes. Cook time: 8 hours. Find the recipe here.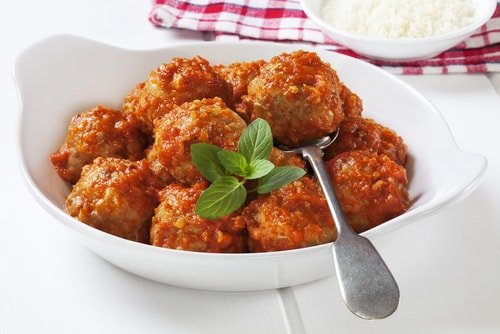 This is a crockpot recipe that you can really sink your teeth into. Meatballs are a type of comfort food that are often associated with pasta and home cooking.
You can pretty much put anything in a meatball. That makes some meatball recipes incredibly unhealthy.
This one isn't like that. This recipe uses lean ground turkey instead of ground beef.
It also uses quinoa instead of bread crumbs. This provides protein and holds the meatballs together without adding gluten.
They're cooked in crushed tomatoes, leaving you with a savory sauce that you can spoon over spaghetti squash, zoodles or cauliflower rice.
These meatballs give you the comfort food that you crave and still lose weight.
Our modifications: Ditch the cheese!
By Jessica at How Sweet It Is. Prep time: 30 minutes. Cook time: 6 hours. Find the recipe here.
The last on the list of crockpot recipes for weight loss is a delicious one!
Finally, a crockpot recipe that can be eaten for breakfast (or dessert)!
Although this sounds decadent, it doesn't have any added sugar. The sweetness comes from the apples.
The recipe recommends using rolled oats. However, if you use steel-cut oats, you'll get more flavor.
That flavor makes adding any more sweetener unnecessary.
Our modifications: Use unsweetened non-dairy milk (coconut, cashew, or almond), and ditch the butter, raisins, and honey! The apples will make it plenty sweet enough. 🙂
In addition, eating steel-cut oats can help lower your blood sugar, according to Dr. Diana Fleming. Over time, eating steel-cut oats can help your body respond better to the carbs that you eat and reduce your risk of diabetes and heart disease.
By Brenda at Sugar-Free Mom. Prep time: 10 minutes. Cook time: 6 hours. Find the recipe here.
Remember to SIMPLIFY, guys! That is the key to long-term diet adherence!
If you liked this article on 8 easy and healthy crockpot recipes for weight loss, or have any questions, please leave them in the comment section below!