10 Yummy High Protein, Low Carb Snacks
This post may contain affiliate links, which helps keep this content free. Please read our disclosure for more info.
So you're plugging along, working hard on your diet, but where can a girl get some high protein, low carb snacks? Why is it so hard to find snacks that meet this criterion!?
You can certainly add more low-fat meat and cheese to your diet to boost your intake.
That's an easy fix that works for many people.
But not everyone is in love with chicken and string cheese, so how do you get your protein intake up without a lot of adding too much fat in the process?
The answer is snacks.
Snacking doesn't HAVE to be a bad thing!
By adding protein mid-morning and in the afternoon, you decrease the amount of you'll have to eat at regular meals.
Check out this list of 10 easy ways to transform snack time from high calorie to high protein!
1. Cold Cuts
Ok, so I am going to suggest adding meat. But I won't be suggesting dry, rubbery chicken. Instead, I recommend delicious low-fat turkey or chicken deli meat.
You can easily make roll-ups of turkey or chicken lunchmeat to add to your snack bag for work. My favorite way is to wrap it around a pickle or even pickled asparagus. Yum!
Another fantastic on-the-go protein source is the snack packs of cubed meat and mixed nuts that can be found in the refrigerator section of the grocery store.
2. Protein Drink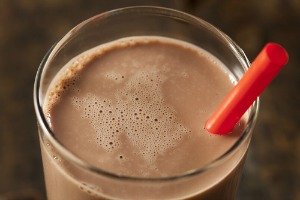 In one word, let me share my secret to great-tasting protein shakes: smoothies.
Smoothies are a dieter's best friend! By adding protein powder to your mid-day smoothie, you'll be getting a super-dose of vitamins and antioxidants, not to mention 15-25 grams of protein!
Here's my favorite recipe that tastes incredible:
1 cup unsweetened cashew milk
1 handful of Cacao Nibs
½ cups of Kale
1 cup ice
1 scoop chocolate protein powder
Blend and enjoy!
3. Greek Yogurt
At 10-12grams per serving, this is an easy (and tasty!) way to get more protein as well as your daily dose of probiotics. You can find Greek yogurt in individual tubs or even as a drink for those who don't have time to sit and munch.
It also tastes amazing when you add in a scoop of protein powder. We recommend Dymatize ISO 100, Gourmet Chocolate, because it's high in protein, low in sugar, low in carbs, and tastes AMAZING!
4. Nuts
With 8 grams of protein per 2 tablespoons, peanut butter is an excellent protein source, but also high in fat…
This is exactly why you will want to stick with nuts. You can find individual servings pre-packaged in the right amount, which are perfect for tossing in your bag as you head out the door.
The best are cashews, pecans, pistachios, and almonds.
5. Jerky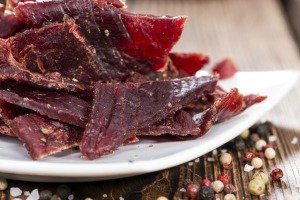 While you do need to monitor your sodium intake, jerky can be a great addition to your rotation of snacks.
Depending on which kind you get, it can be high in protein, low in fat, and easy to keep in your purse or backpack for those busy days.
This is also fantastic for traveling or when you're on the go! It can be hard to find high protein snacks when traveling or away from home for extended periods of time.
Jerky is a great option because it doesn't have to be refrigerated and can be found in most convenience stores!
Also make sure to look out for turkey jerky, because it often contains fewer carbs and sugar and more protein!
6. Tuna
If you just love the smell of fish, tuna-in-a-pouch will be your best friend! Since it's already seasoned, you can eat it right out of the can, or mix with some mustard to eat.
You'll be getting 17 grams of low-fat protein per delicious pouch.
7. Boiled Eggs
Everyone loves deviled eggs, right? Ok, so that may not be quite accurate, but there are other ways to eat eggs too.
At 6 grams of protein per egg, don't give up on this compact snack item! Mix up some chopped boiled egg with a bit of mustard and apple cider vinegar, and enjoy with crackers or veggies.
Or bring some deli mustard in a small container, and dip your hard-boiled egg in it. Zesty AND low calorie!
8. Edamame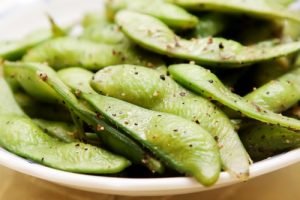 If you're feeling like a crunchy snack that has 8 grams of protein per serving, check out edamame.
You can find these in the freezer section (check out this recipe for how to make savory snacks!), or even as a chip-like treat.
These are also great for on the road or at work because they can go without being refrigerated for hours at a time and still taste great!
9. Chickpeas
You can't go wrong with smooth, garlicky hummus as your snack of choice. At 7 grams of protein per serving, it's delicious when paired with bell peppers or broccoli.
If crunchy sounds better to you, roasted chickpeas are the way to go. You can make your own, or find them in the chip aisle.
10. Veggies
I did tell you I'd share 11 high protein snacks, but I'd be remiss if I didn't include several of my favorite protein-packed veggies as the final item.
You may be surprised to learn that broccoli has 3 grams of protein per cup! Dip that in the hummus you made earlier for a power combo!
If you can get past eating green chips, there are more than a few varieties of kale chips on the market. 3 grams of protein per 50 calorie serving make adding this to your diet a no-brainer!
11. Snack on our 21-Day Fat Loss Challenge!
Taking a dose of our 21-Day Fat Loss Challenge has been known to help people lose 10-21 pounds their first 21 days.
Other side effects may include:
Fitting back into old sexy clothes hiding in your closet
Strutting from the extra confidence
Just general feelings of awesomeness about yourself and your body
Even better than the weight loss is the feedback we get from people about how the program has taught them how to change their eating habits and find a diet that truly works for them in the long-term.

We have over 1,000 people in our private support group going through the Challenge together, and every day they are sharing experiences, results, motivation, and lots of recipes!
If you are ready to make some changes in your life, this is the ONLY place you should start. We will teach you exactly how to make the necessary changes in your diet and your lifestyle and how to keep them "beyond the diet."
Click here to get started with YOUR 21-Day Fat Loss Challenge today!
If you liked this article on the yummy high-protein, low-carb snacks or have any questions, please leave them in the comment section below!