Top 30 Weight Loss Recipes
This post may contain affiliate links, which helps keep this content free. Please read our disclosure for more info.
While baked chicken and steamed veggies ARE really healthy, let's look at the top 30 weight loss recipes that have a bit more variety to spice up your life!
When you're trying to lose weight, you might want to stay away from the heavy creams, sauces, flour, sugar, and cheese – just to name a few. However, you don't have to stay away from the FLAVOR!
Finding great recipes that have about 500 calories helps you eat three balanced meals while still keeping your daily calorie total around 1,500. You can adjust that based on your own caloric needs.
You can also adjust that based on your own caloric needs, but it's always a good idea to air on the side a lower, more conservative daily calorie total. This is because people notoriously overestimate their calories, especially when eating out.
If you're still not losing weight as quickly as you think, you might want to take another look at your portion sizes, the amount of protein you have at each meal (fullness factor), and what you are cooking WITH.
The culprits are often cooking oils and dressings. Make sure to cut out fried foods and sticking to grilling, roasting, boiling and baking when you're trying to lose weight.
Starting your meal with a soup or salad can also prevent you from eating too much for your main course.
1. Chicken Thighs With Olives And Tomato Sauce
This slow-cooker recipe is easy, rustic and rich. The olives deliver good fats, and the chicken provides protein. You get all this at fewer than 500 calories.
By Cooking Light. Recipe available here.
2. Shrimp Salad Bowl with Mango Salsa
Leftover shrimp can be added to this bowl that's packed with nutrients, flavor, fruits and veggies. Keep it gluten free by using spiralized sweet potatoes as noodles.
By Maggie at Omnivores Cookbook. Recipe available here.
3. Harvest Chicken Skillet With Sweet Potatoes, Brussels Sprouts and Sautéed Apples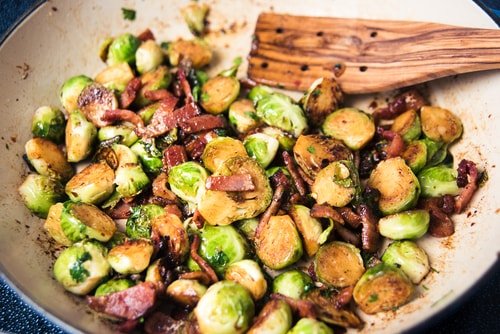 So much caramelization happens in this dish that it doesn't need creamy sauce to make it delicious. It's fresh and flavorful.
By Erin at Well Plated. Recipe available here.
one;"
4. Buffalo Chicken Breakfast Casserole
When you have a protein-rich breakfast, you start out the day with plenty of clean energy.
By Living Loving Paleo. Recipe available here.
5. Paleo Pizza Soup
It's hard to satisfy a craving for pizza without the real thing. This soup does it without the crust and cheese.
By Jessica at Jay's Baking Me Crazy. Recipe available here.
6. Balsamic Garlic Grilled Mushroom Skewers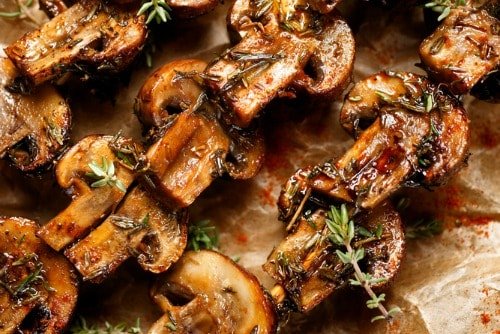 Mushrooms are high in umami, a flavor that's sometimes called the fifth taste, according to wiseGEEK. Umami makes other flavors more intense, which makes you feel like you're getting more with fewer calories.
By Closet Cooking. Recipe available here.
7. Pork Egg Roll in A Bowl
All the items that you find in an egg roll go Paleo with fewer carbs and the same amount of flavor. This recipe is GREAT if you are following a low-carb diet to lose weight!
By Kyndra Holley at Peace, Love and Low Carb. Recipe available here.
8. Low-Carb Cauliflower "Potato" Salad
Cauliflower is a great neutral base for many recipes. In this one, it gets a makeover as a potato substitute.
By Womanista. Recipe available here.
9. Gluten-Free Instant Noodle Cups
What's more convenient than instant noodles? They make an easy lunch or dinner. The ones that you buy in the grocery store are filled with chemicals, though. These are much healthier.
By Nicole Hunn at Gluten-Free on a Shoestring. Recipe available here.
10. Brussels Sprouts And Sweet Potato Noodle Bowl With Pomegranates And Maple-Sesame Vinaigrette
The lightly cooked veggies in this bowl make it so much more than a salad.
By Ali at Inspiralized. Recipe available here.
11. 4-Ingredient Creamy Vodka Steak "Pasta"
When you use zucchini noodles instead of wheat-based pasta, you can add extra calories to the sauce. That's totally decadent.
By Lindsay at Pinch of Yum. Recipe available here.
12. Air Baked Zucchini Fries
Sometimes you just want fries. Swap out the potatoes for lower-calorie zucchini, and bake them in the oven.
By Bianca at Slick Housewives. Recipe available here.
13. Spicy Texas Chili
Chili is rich and filling. The spice in this one can rev up your metabolism. Throw in raw zucchini chunks and wilted spinach to get more veggies.
By Harper at Paleo Grubs. Recipe available here.
14. Grilled Eggplant and Spinach Salad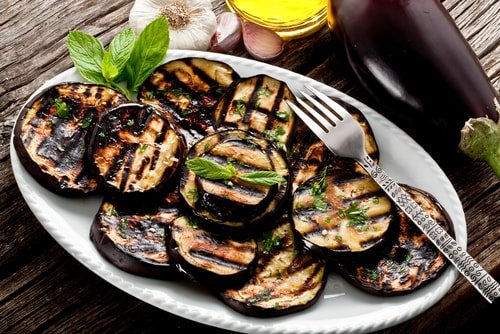 Salad doesn't have to be light and raw. This grilled salad is hearty, filling and healthy.
By Natasha at Salt & Lavender. Recipe available here.
15. Sweet Potato Noodles With Roasted Red Pepper "Cream" Sauce
All of the beta carotene in this recipe is great for your eyes, immune system and cell growth, according to WebMD. It's a potent antioxidant.
By Megan at Detoxinista. Recipe available here.
16. Easy Asian Steak Bites
This recipe tastes like something you'd get from a food truck. Leave out the dipping sauce to save some calories.
By Chelsea's Messy Apron. Recipe available here.
17. Baked Bell Pepper Tacos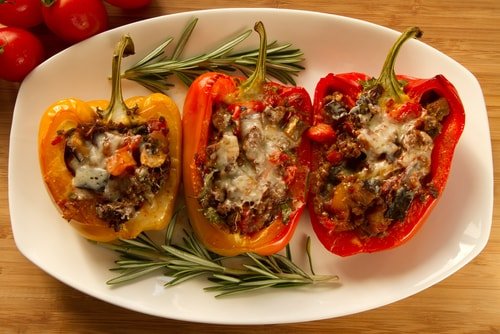 Crispy taco shells add fat and calories to this fun recipe. Use pepper boats instead for added nutrients and fewer carbs.
By Jenn at Peas and Crayons. Recipe available here.
18. Crack Broccoli
If you've been eating mushy, steamed broccoli all your life, get ready to start loving it again with this recipe. Leave out the cheese to cut some extra calories. However, eating it sparingly adds tons of flavor.
By Laura at A Beautiful Plate. Recipe available here.
19. Cauliflower Tortillas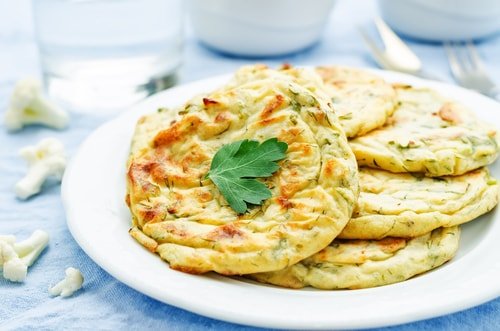 When you're trying to lose weight, it can be hard to give up bread. Cauliflower gets transformed into a tortilla that can wrap around a filling or double as a pizza crust.
By Lori Lange at Recipe Girl. Recipe available here.
20. Creamy & Smoky Chipotle Pork Chops
Pork chops add variety to your diet. They have more flavor and a different texture than chicken. Swapping out your proteins helps ensure that you don't get bored with your food.
By Amy at Wholesomelicious. Recipe available here.
21. Cabbage Lasagna
It's hard to find an alternative to wheat-based noodles for lasagna that doesn't turn mushy and watery. Cabbage leaves take down the calorie count. You'll never miss the pasta.
By Lisa at LowCarbYum. Recipe available here.
22. Spaghetti Squash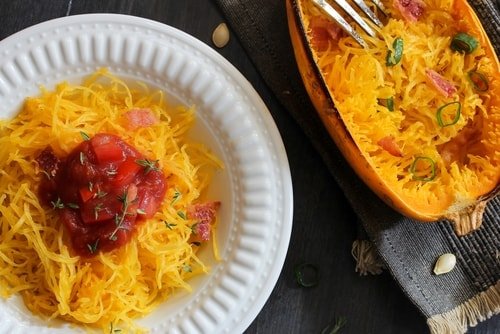 When it's cooked properly, spaghetti squash is an ideal substitute for pasta. It can be served with any sauce and also makes a great base for a cold salad.
By Beth at Eat Within Your Means. Recipe available here.
23. Chilled Cucumber Noodles with Sesame Dressing
Speaking of spiralized veggies, cucumbers have so few calories that you can eat them to your heart's content.
By Hali Bey Ramdene at The Kitchn. Recipe available here.
24. Lemon Butter Chicken
As it appears here, the cream in this recipe makes it detrimental to your weight-loss efforts. Swap it out for coconut milk for a healthier choice that still tastes delicious. Use organic, grass-fed butter or coconut oil to get a hefty dose of good fats.
By AmandaM at Eazy Peazy Mealz. Recipe available here.
25. Spicy Cauliflower Burgers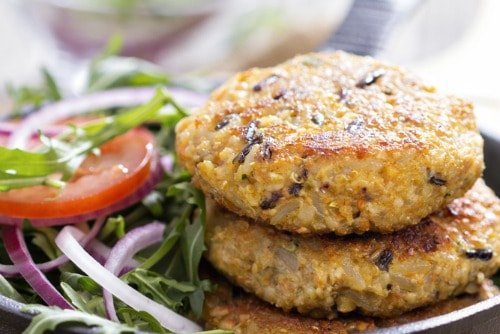 Veggie burgers are often made with beans, which are full of carbs. Cauliflower and quinoa make a burger that's even lower in carbs but still contains protein.
By Lindsay at Pinch of Yum. Recipe available here.
26. Green Chile Butternut Squash And Turkey Enchiladas With Crispy Sage
These enchiladas are an ideal way to use up leftover poultry.
By Half Baked Harvest. Recipe available here.
27. Creamy Strawberry Broccoli Salad
Before you freak out… Yes, this recipe is by WALMART! But it's a great twist on the regular old steamed broccoli, and you can make this recipe even more heart-healthy by leaving out the mayo.
By Walmart. Recipe available here.
28. Salt And Vinegar Zucchini Chips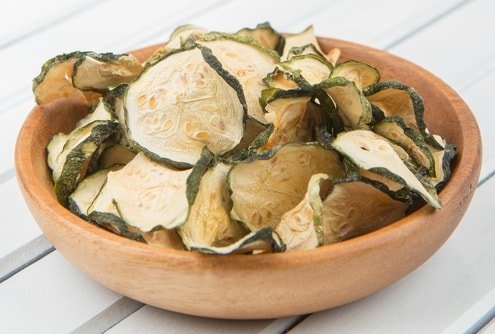 You can eat as many of these chips as you want without feeling guilty.
By Sugar-Free Mom. Recipe available here.
29. Chicken Zoodle Soup
If you don't have a spiralizer, use a vegetable peeler to slice the zucchini thinly enough for this soup.
By Chungah at Damn Delicious. Recipe available here.
30. Detox Breakfast Bowls
Get your breakfast beverage and meal together in one bowl with protein, carbs and nutrients to start your day off right.
By Lindsay Cotter at Cotter Crunch. Recipe available here.
If you enjoyed this article on the top 30 weight loss recipes for weight loss or have any questions for us, please leave them in the comment section below!
Lastly, make sure to ALWAYS have a plan!
If you need help in this area, make sure to check out our 21-Day Fat Loss Challenge. It comes with a list of specifically approved and unapproved foods to make your life easier when it comes time to make decisions.
If you enjoyed these recipes for weight loss or have any questions, please leave them in the comment section below!
Get the FREE 21-Day Training Guide!
Jumpstart your weight loss with this FREE fast fat loss training!