10 Healthy Go-To Breakfast Recipes
This post may contain affiliate links, which helps keep this content free. Please read our disclosure for more info.
Breakfast can be difficult between sleep, work, and kiddos, so that makes these healthy go-to breakfast recipes a lifesaver!
Is breakfast really the most important meal of the day?
Well, the research is very divided on that one.
At the end of the day (or the beginning…), I think it's up to you to decide.
Some people, including myself, personally love to fast in the morning.
And some people feel a little nauseous in the morning if they don't eat right away.
No matter what, listen to YOUR body and decide what is best for you.
And don't forget that even if you do fast, you can have any of these delicious recipes during your lunch hour!
Focusing on eating plenty of fruits and vegetables in the morning gets those servings out of the way too. However, it can be hard to eat a healthy breakfast every day.
You tend to be busy in the mornings while you get everything ready for the day.
Cooking and cleaning up a full meal may not be feasible.
One of the best ways to ensure that you eat a nutritious breakfast is to prep some of the ingredients or meals ahead of time.
On the weekends, take the time to sit down and enjoy a more complex meal. You'll find that you won't be so hungry at lunchtime, and you might be able to make better food choices throughout the day.
1. Granola Cups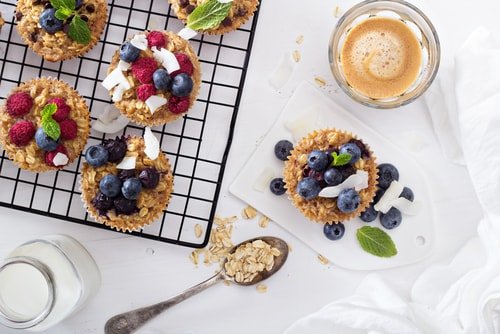 You don't have to use your muffin tins just to make sugar-laden cupcakes and muffins. Use them to make these granola cups that are naturally sweetened with honey and fruit.
Watch this video to see how to make them.
The result is a muffin that's moister than a handful granola but is drier than a traditional muffin. Wrap these in plastic and store them in the freezer for a grab-and-go breakfast that you can grab in less than a second.
The best part about this healthy go-to breakfast recipe is that they don't require any flour! They are totally gluten-free as long as you used rolled oats!
By Buzzfeed. Recipe available here.
2. Avocado Bacon And Eggs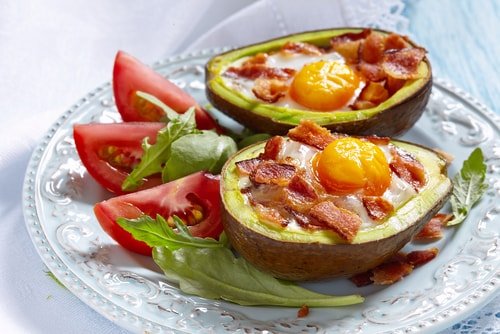 Eggs provide protein. Avocado delivers healthy fat. Bacon fills you up.
WIN-WIN-WIN!
The avocado makes this look creative and self-contained. It's like a bacon, egg and cheese sandwich without the carbs.
Bake it in a muffin tin to make several at once, because it's a great recipe for entertaining!
By lil' luna. Recipe available here.
3. Peanut Butter Energy Bites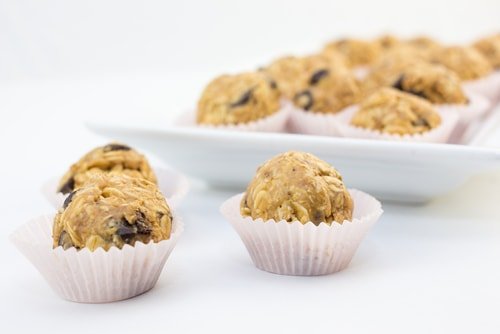 You don't even have to cook to make a healthy breakfast. These energy bites take just a few minutes to throw together.
They include peanut butter, flax seeds and oats for fiber and protein. They taste like dessert and go well with coffee.
Make them ahead of time and store them in portioned containers in the fridge. As long as you keep them relatively cool, they'll stay together.
Get creative by adding dried fruit or shredded coconut to the mixture. You can also include chopped nuts.
By Chef Savvy. Recipe available here.
4. 3-Ingredient Banana Pancakes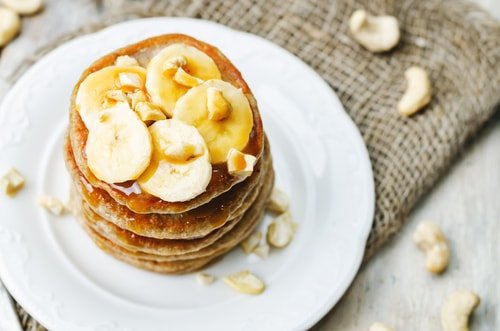 Leave out the grains in these pancakes that only require 3 ingredients. This is also a great way to use up old bananas.
The pancakes won't puff up like regular pancakes. They end up thinner, like crepes.
You may be more successful making these into silver-dollar pancakes. The good news is that once they're made, you can snack on them all day long.
It makes a great, healthy go-to breakfast recipe or just a mid-afternoon snack when hunger strikes!
By Eugenie at Eugenie Kitchen. Recipe available here.
5. Healthy Breakfast Egg Muffins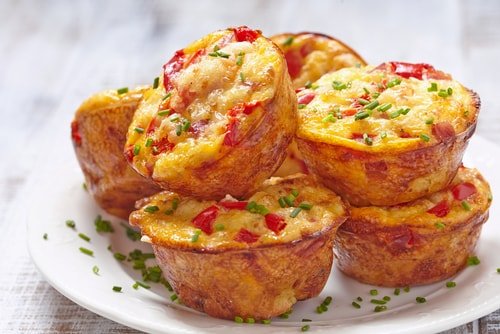 Egg muffins can be made ahead of time and stashed in the fridge of frozen. Unlike scrambled or fried eggs, they taste wonderful as leftovers.
You can add any protein and veggies to this breakfast recipe. Leftover chicken, sausage, turkey or hamburger works well in the muffins.
To prevent the eggs from sticking to the sides of the muffin tin, line the wells with baby spinach leaves. Pack each well with chopped veggies, and scramble the eggs in a separate bowl.
Then, pour the eggs into each well, using a fork to jiggle around the vegetables and ensure that the eggs fill up the space.
Adding some salsa to these muffins is also a great way to spice them up!
By Kelly Senyei at Just a Taste. Recipe available here.
6. Turkey And Egg Breakfast Casserole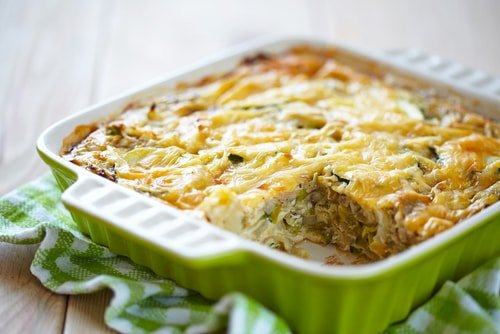 Making muffins can take a long time.
Instead of separating everything into a muffin tin, bake it up into one casserole. You can always cut it into smaller servings and wrap them up separately.
This breakfast casserole is easy to prepare. The eggs hold everything together and contain a good bit of protein. The ground turkey then adds an extra dose of protein!
The sweet potato and spinach round out this recipe. You can add any veggies you want as toppings. Chopped tomatoes, avocados and asparagus work well.
By Aimee Mars Living. Recipe available here.
7. Quinoa Omelette Bites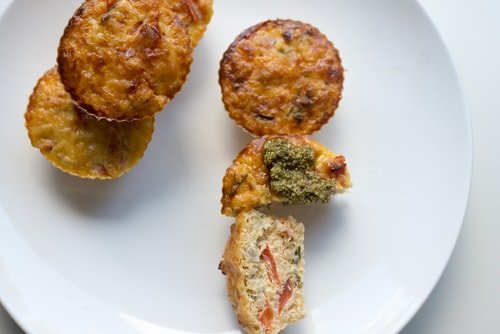 One cup of quinoa contains more than twice the amount of protein as one egg, and these bites have both.
They're baked in mini muffin tins, making them small enough to pop into your mouth on the go.
The recipe also uses egg whites instead of a whole egg. That saves you some fat and calories, leaving extra room for lunch.
By Tablespoon. Recipe available here.
8. Make-Ahead Breakfast Bowls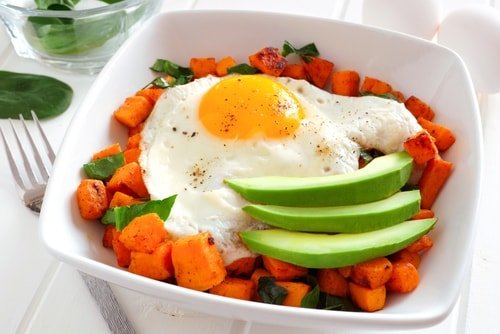 Prepping your food in advance can help you stick with your diet goals.
Do it all on Sunday, and you won't have to worry about what to make during the week.
Swap out the potatoes for sweet potatoes for an added nutrient boost. You can use almost any vegetable in this recipe, however. You don't need to include a starch to make it delicious.
Some tasty options include cauliflower, zucchini and butternut squash. You can also add any leftovers from dinner the night before.
By Brandie at The Country Cook. Recipe available here.
9. Healthy, Sticky Cinnamon Roll Baked Oatmeal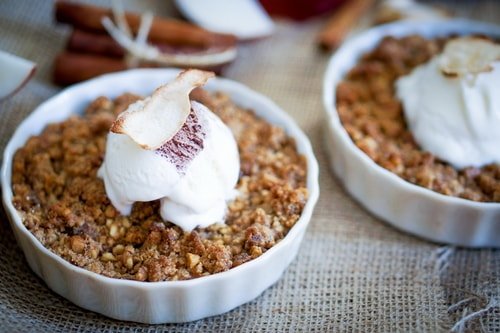 Okay so this recipe is slightly more indulgent. Perhaps save it for a lazy Saturday or Sunday morning.
However, it's gluten-free, sugar-free, and amazingly delectable.
Plus, the chewy factor makes it even more satisfying. The recipe contains nut butter, which packs a good protein punch.
You can add more protein by adding protein powder to the batter. Experiment with different flavors to add variety to the recipe.
You can cut this into squares and wrap it individually for a portable breakfast. When you're home, top it with Greek yogurt, shredded coconut, chopped nuts, or fruit slices.
By Arman at The Big Man's World. Recipe available here.
10. Peanut Butter Overnight Oats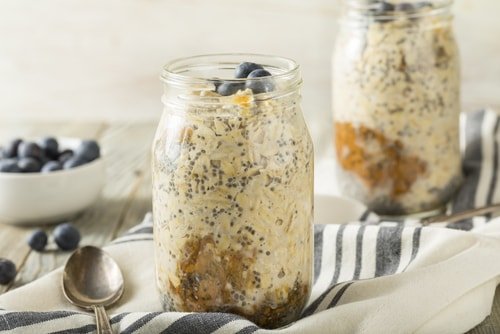 These overnight oats contain few ingredients, but they're filled with flavor. The ingredients are simple but satisfying.
Peanut butter adds a creamy, salty kick to the sweet almond milk and maple syrup. Use natural peanut butter for a saltier flavor.
The chia seeds add protein and fiber. They also help the oatmeal thicken up.
Would you believe that you don't even have to cook these oats? This technique prevents the oats from becoming gummy.
If you want to add some sweetness to the recipe, top the oatmeal with fresh blueberries or strawberries before devouring it.
By Minimalist Baker. Recipe available here.
If you enjoyed this article on healthy go-to breakfast recipes or have any questions for us, please leave them in the comment section below!
Get the FREE 21-Day Training Guide!
Jumpstart your weight loss with this FREE fast fat loss training!