12 Paleo Dinner Recipes for Weight Loss
This post may contain affiliate links, which helps keep this content free. Please read our disclosure for more info.
These paleo dinner recipes will help you stick to your weight loss goals during the weeknights when meals, kids, and work are dragging you down!
The Paleo diet has become crazy popular, and when you do it right, it's a great way to eat healthy AND lose weight. It can get boring, though, all that meat and veggies and no pasta, right?
What is the Paleo Diet Anyway?
Well, we could write several articles on the subject, including what to eat and WHY people eat this way.
In short, it's referred to as the "caveman" diet because it's about eating closer to how your cavemen ancestors ate: lots of veggies and healthy fats with some meat in the mix as well.
Most carbohydrates, with the exception of potatoes and root vegetables, are a no-go because processed carbohydrates like breads and grains came into the scene MUCH later.
The idea is that our bodies are best-suited to be without these foods because our ancestors thrived without them for thousands of years.
Anyway, that's the short of it.
Approved: Healthy fats and protein and unprocessed carbs that are not grains (potatoes and root vegetables).
Not Approved: Bread, grains, pasta, dairy, cheese, etc. (Exception: clarified butter is usually approved)
P.S. This is also very close to the diet that we personally eat and what our popular fast weight loss program, the 21-Day Fat Loss Challenge is based on (with a few exceptions).
Feeling bored with food isn't really the foods fault, but sometimes it's hard to get creative and spice up dinner while sticking to the diet after a long day. Everyone at one time or another on Paleo has perused the fridge and said, "Chicken again? Bleh."
These recipes are here to save the day or at least dinnertime! They are all quick, easy, healthy, and flavorful as all get-out.
We've included Chinese, Italian, Thai, and South American dishes to mix things up a bit. If you need some simple comfort food, we've got that too.
1. Spiralized Puttanesca
Try making veggie noodles with an inexpensive spiralizer to curb the pasta monster that lives in your belly. If you haven't gotten a spiralizer yet and gotten into the world of veggies noodles, you're sorely missing out!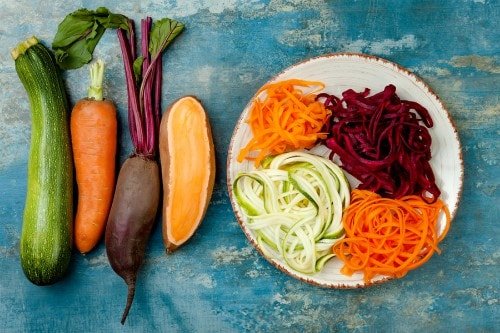 This recipe uses sweet potato noodles, or spoodles, as a delicious base for a sophisticated yet healthy Italian meal.
Olive oil, garlic, tomatoes, capers, olives, broth, and anchovies make up this savory dish, but you can make it totally veggie and it won't lose any flavor! The sweetness of the potatoes balances out the savory ingredients perfectly.
Click here to try this recipe by Cooking Light!
2. Ultimate Grain-Free, Egg-Free Veggie Burger
You're probably thinking that it's not possible to make a decent veggie burger without soy, eggs, grains, or beans, but it is, I promise! You're also going to get a good amount of protein with this one.
Perhaps the most awesome thing about this recipe is that it includes a recipe for a plantain bun, which is gluten-free and oh-so-yummy.
Most people think that it's impossible to be a vegetarian and do a Paleo diet, but you really can get enough protein and have a good time eating it, too!
Click here to try this recipe by Lori and Michelle at Pure Twins!
3. Garden Harvest Salad with Chicken & Roasted Walnut Dressing
A big part of every Paleo diet is to load up on veggies and protein, and this salad has plenty of both without being boring.
The ingredients might not seem like they go together at first glance; there are blueberries, avocados, bell peppers, and onions on the list, but they go together surprisingly well!
The roasted walnut dressing that it's paired with is to DIE for. You're going to love it on any salad.
Click here to try this recipe by Lorrie at The Paleo Diet!
4. Slow Cooker Sesame Chicken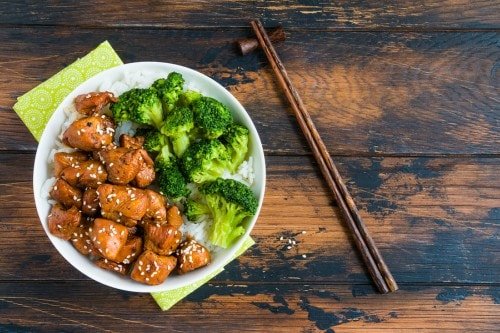 You can eat clean and have one of your favorite Chinese meals at the same time, thanks to this scrumptious recipe!
Sesame chicken from a restaurant is rarely a good idea. It can often have a high-fat content of 60 grams or more, and your calorie intake can skyrocket over the 1000 mark. It's often usually FRIED.
Don't even get me started on the carb count!
Try this yummy slow-cooked recipe instead. It's only got 40 grams of carbs, 8 grams of fat, and 334 calories. Pair it with some cauliflower rice and you won't miss Chinese take-out ever again. Okay, maybe that's an exaggeration, but it's still a great substitute!
Click here to try this recipe by Skinny Ms!
5. Ginger Tuna Ceviche
Just about every Central and South American country has a regional dish of ceviche. It's always made of some type of fish, chilis, and citrus juice.
This unique take on ceviche goes for an Asian flavor. The tuna really works with the ginger, chilies, and lime.
Tuna is a great way to get omega-3 fatty acids, but make sure to get it as fresh as possible because it's served raw in this dish. Let your butcher know you're preparing it raw so he can get you the freshest piece.
Click here to try this recipe by Christopher at The Paleo Diet!
6. California Turkey & Bacon Lettuce Wraps with Basil Mayo
Crunchy lettuce replaces bread in this quick, gluten-free dinner that's a healthy take on the classic club sandwich. You can opt for a leaner option like turkey bacon to make it even healthier.
You're probably thinking that this recipe is totally boring, but it's got a secret ingredient that makes it special. There's nothing new or exciting about this sandwich until you get to the Basil Mayo dressing.
It's seriously the bomb!
Click here to try this recipe by Kristin at Iowa Girl Eats!
7. Paleo Chicken Pot Pie
Chicken pot pie is the go-to comfort food of many a soul. This guilt-free recipe tastes just like Grandma used to make, without all the fat and carbs.
The almond flour crust is probably the best pot pie crust I've ever tasted, including the real deal!
The filling is just as good, while still being healthy. The standard whole milk is replaced with coconut oil, which might sound a little weird, but you don't notice the difference.
Your thighs will, though, believe me.
Click here to try this recipe by Kenzie at Cave Girl in the City!
8. Spicy Paleo Veggie Hash
It's always nice to find a great vegetarian Paleo recipe with a complete protein in the ingredients.
Peruvian inspired spices like cumin and cinnamon are added to sweet potatoes, peppers, tomatoes, and green beans, then pan-cooked in a little olive oil. Pumpkin seeds, which are the complete portion of this dish, are sprinkled over the top.
Click here to try this recipe by Cooking Light!
9. Roasted Winter Vegetable Soup
I love soup any time of the year, especially filling, uber-creamy soup that's packed with nutrients.
This soup is surprisingly hearty and will stick to your ribs without sticking to your arteries. Root vegetables like carrots, onions, and sweet potatoes are roasted until they're caramelized, then pureed with coconut oil and stock.
Try topping it with a little Greek yogurt, kefir, or sour cream. So yummy!
Click here to try this recipe by Kelli at Happy Healthnut!
10. Paleo Chicken Zucchini Fritters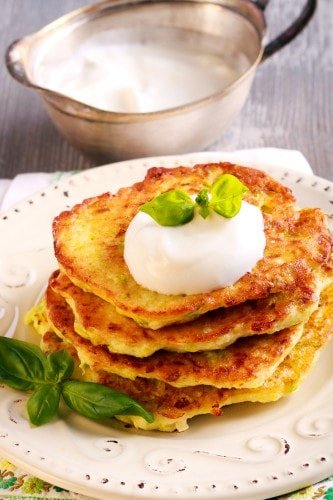 Zucchini fritters are a nice way to feel like you're eating a burger, without trying to pretend like your turkey burger actually tastes delish when it's really just blah. Am I the only one who does that?
Ground chicken is mixed with shredded zucchini, spices, garlic, and egg, then pan-cooked with coconut oil. It's a fresh take on an old standard burger replacement.
The recipe also includes directions on how to make a Paleo mayo-mustard sauce that is fantastic.
Click here to try this recipe by Shannah at My Suburban Kitchen!
11. Spaghetti Squash Pad Thai
Spaghetti squash is my favorite noodle replacement, and Pad Thai is one of my favorite dishes, so this recipe is a double whammy of awesome for me.
It's dairy-free, gluten-free, and can be vegan if you don't include the egg or chicken. You can also replace the chicken and shrimp with any other protein for a nice change of pace.
There's also no sign of peanuts in this recipe, so if you are allergic, no worries.
Click here to try this recipe by Lexi at Lexi's Clean Kitchen!
12. Grilled Salmon with Avocado Salsa
There are few things better than spice-rubbed grilled salmon, and it's so good for you. Salmon is loaded with omega 3 fatty acids, which are heart-healthy and support weight loss.
The avocado salsa is simple to make and a wonderful pairing with this dish. Fair warning, though; if you're not a fan of cilantro, this recipe calls for a lot of it. You can leave it out if you need to.
Click here to try this recipe by Becky at The Cookie Rookie!
If you enjoyed this article on paleo dinner recipes or have any questions, please feel free to leave a comment below!
Get the FREE 21-Day Training Guide!
Jumpstart your weight loss with this FREE fast fat loss training!