10 Best Sugar-Free, Flour-Free Dinner Recipes to Try
This post may contain affiliate links, which helps keep this content free. Please read our disclosure for more info.
Modern day society is WAY too overfed on both sugar and flour, so these sugar-free, flour-free dinner recipes are a great way to get a long overdue detox!
When you're in the mood to cook, it's easier to stay healthy. You get excited to try new recipes and even go grocery shopping.
However, it can be disappointing to search for recipes online only to find that they contain ingredients that interfere with your diet.
Almost everyone can benefit from eating fewer carbs. Even if it's not a lifelong habit, cutting carbs can help your body detoxify and use insulin more efficiently.
This can boost your metabolism and help improve your health in a number of ways.
One of the most toxic carbs is sugar.
Sugar has no nutrients and lots of calories.
In the past few decades, experts have pinned down sugar as a source of inflammation that leads to almost every chronic disease in the book.
Therefore, if you're trying to cook healthy dinners, you should always try to avoid flour and sugar. Instead of forcing you to scour the internet, we've done it for you.
We've found some of the best sugar-free, flour-free dinner recipes from the best food bloggers around the web.
Note that we do add modifications here and there to be more compatible with our Avocadu diet plan (you can read more about it at the end of this article)! If you're on the plan, make sure to sub out balsamic vinegar with red wine vinegar or apple cider vinegar to make it plan-approved!
Meat Dishes
Meatballs are versatile.
They can be a main dish with a veggie side. You can serve them over pasta, spaghetti squash, or zucchini noodles ("zoodles").
You can eat them in a wrap. They can even be a lunch or an appetizer.
These meatballs use almond flour, but you can honestly make them without any flour at all. Ground meat tends to bind together fairly well on its own.
The recipe also calls for chicken broth. You can substitute homemade chicken broth for added nutrition.
The author also has a link to a homemade ranch dressing on her blog at The Real Food Dieticians. The ranch is dairy free. It contains homemade mayonnaise made from avocado oil, so it's not inflammatory.
Our only recommended modification here is to sub out the ghee for coconut oil to make it dairy-free as well!
By Stacie at PaleOMG. This recipe takes 40 minutes to make. Recipe available here.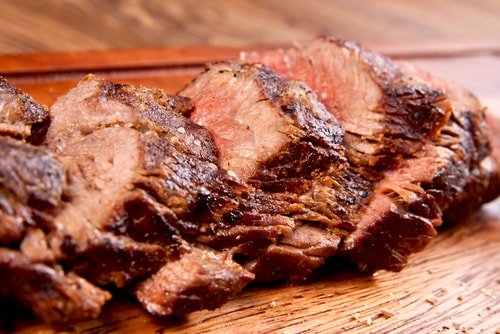 We love this recipe because of the SIMPLE ingredients in it!
Eye of round is an affordable, lean cut of red meat. It can be hard to cook, though. If you make it in a slow cooker, you don't get the crunchy outer crust. If you don't cook it correctly, it can be dry and tough.
This recipe makes it come out great every time.
The leftovers work well in a salad or sautéed with veggies for stir fry.
By Russ at The Domestic Man. This recipe takes about 3 hours to make, but it's pretty hands off. That's just cooking time. The recipe can be found here.
Ground beef is a great way to get in clean meat if you're on a budget. However, hamburgers can seem boring without the bun.
This hamburger bowl recipe makes bunless hamburgers fun again. The secret is in the seasonings.
Add in all the healthy toppings you want for a satisfying alternative to a hamburger.
By My Natural Family. This recipe takes 20 minutes to make. The recipe can be found here.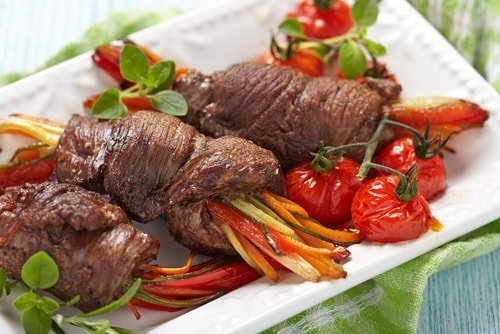 If you like fajitas but don't want to eat carb-laden tortillas, this recipe is for you.
Use your protein as a tortilla for a paleo dinner!
The glaze in the recipe calls for sugar and wine, but it's delicious without those ingredients. You can substitute bone broth for beef broth too, although bone broth is loaded with hard-to-get collagen! 😉
We also recommend making your own rather than grabbing the store-bought stuff!
By Daring Gourmet at Tablespoon. This recipe takes 30 minutes to make. The recipe can be found here.
Okay, okay… I know we said dinner recipes… But it's great to change it up once every week or two, and this recipe is hearty enough to eat for dinner!
This recipe also only has THREE ingredients! Yep, you got that right!
This is another one by My Natural Family because we were just so impressed with how easy and simplistic their recipes are!
We recommend making some healthy, homemade salsa (tomatoes, onion, cilantro, lime, peppers), or look for a store-bought with no added sugar or other harmful ingredients.
The recipe can be found here.
Veggies and Side Dishes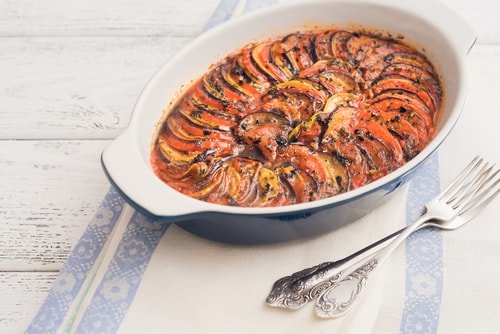 Ratatouille has never sounded all that enticing. The traditional recipe involves sautéing zucchini, tomatoes, and onions into mush.
This recipe turns that concept on its head. You get all the flavor and nutrition of the veggies in ratatouille without the texture issues.
Plus, the leftovers are versatile. Some ways to use what you didn't eat are:
Stack the veggies on a burger.
Chop up the veggies and add them to an omelet.
Toss the veggies with warm zucchini noodles, lemon juice and olive oil for a pasta primavera.
Chop the veggies and warm them up on top of a cauliflower pizza crust (with a dash of shredded mozzarella if you eat dairy).
By Nora at A Clean Bake. This recipe takes 1 hour and 15 minutes to make. Recipe available here.
This dish could be made as a main dish or a side. It would be delicious with some salmon flaked on top.
The best part is that the noodles aren't made of grains. The "cream" sauce is not made of dairy.
When you try to eat more veggies, there's something about the texture that can feel boring.
Roasted vegetables all start to taste the same after a while. Steamed veggies are something that even most babies won't eat. They just never seem to have enough flavor.
Without good flavor and texture, vegetables can be bland and mushy. This dish simulates the al-dente texture of spaghetti with the smooth feel of cream.
The flavor is also out of this world.
Note that if you're doing our 21-Day Fat Loss Challenge, this is a good one for AFTER the Challenge because it does contain cashews!
By Lorie at Be Whole + Be You. It takes 25 minutes to make this recipe. Recipe available here.
A salad is a crisp, fresh way to add bright flavor to your dinner. Crunching on lettuce every day can be boring, though.
You can make this salad with lettuce. However, the blog's author makes it with cold zucchini noodles.
It also contains a colorful rainbow of cherry tomatoes and black olives with a lively sun-dried tomato dressing.
To make this ahead of time, store the zoodles separately in a covered container in the fridge. Line the container with paper towels. If you mix up the ingredients ahead of time, the zoodles will become watery and will shrink down to about 1/3 their original size.
Our modification is to skip the cheese to make it dairy-free!
By Sarah at Whole and Heavenly Oven. It takes 10 minutes to make this recipe. Recipe available here.
Roasting vegetables always produces nice caramelization and flavor. However, small chunks of veggies get boring to eat.
These wedges bring a different technique into the picture. They look great when served at a dinner party, and they taste even better.
We recommend cooking up some shredded chicken to eat on the side to get your protein in so you don't feel hungry an hour after eating them (or simply eat them as an appetizer!).
By the team at SkinnyMs. It takes about an hour to make this recipe. Recipe available here.
This recipe does contain a peanut sauce that's made with maple syrup, but it tastes great without the sauce. You can also make the sauce without the syrup.
The good news is that you can fill the wraps with pretty much anything. This includes any kind of protein.
If the collard leaves are breaking, lightly steam them until they turn bright green. You can even run them under hot water from the sink for several seconds to soften them.
Get creative and go crazy while you stay healthy.
Our recommendation for our 21-Day Challengers is to skip the sauce and add some shredded chicken for protein!
By Lauren at Whole Living Lauren. It takes about 10 minutes to make this recipe. Recipe available here.
Remember to SIMPLIFY, guys! That is the key to long-term diet adherence!
If you need a plan for this, make sure to check out our 21-Day Fat Loss Challenge! It tells you what to eat and how much every day, and we teach simplification throughout the entire program.

The diet plan helps our clients lose an average of 10-21 pounds in 21 days, but even better than the weight loss is the feedback we get from people about how the program has taught them how to change their eating habits and find a diet that truly works for them in the long-term.
Click here to start YOUR 21 Day Fat Loss Challenge!
If you enjoyed this article on sugar-free and flour-free dinner recipes, please feel free to leave me a comment or question below!
Get the FREE 21-Day Training Guide!
Jumpstart your weight loss with this FREE fast fat loss training!