14 Veggie Soup Recipes Under 300 Calories
This post may contain affiliate links, which helps keep this content free. Please read our disclosure for more info.
It's soup season! What we love most about this time of year is that the weather cools off and we can cozy up with a big bowl of steamy comfort food made with fresh fall ingredients.
Soup is a great addition to a healthy diet any time of the year, though. A study shows that people who eat a cup of soup before a meal end up consuming 20% fewer calories than those who don't.
Not only can a delectable cup of soup make your tummy feel full, but because it's primary base is water, it's more hydrating than other meals.
Here's a list of 14 mouthwatering vegetarian soups under 300 calories that we're souper excited to share with you.
Happy slurping!
1. Vegan White Bean Roasted Butternut Squash Soup
253 calories
Freshly roasted butternut squash is easily the best thing about autumn. It's nutty, sweet flavor is comforting and versatile.
Pair it with white beans and you've got a creamy soup packed with fiber and other yummy nutrients. It's amazing how filling it is at only 253 calories!
Add some crusty bread, and you've got a satisfying meal that won't break the budget or your calorie counter.
Recipe by Ambition Kitchen. Click here to try it.
2. Asparagus Soup
101 calories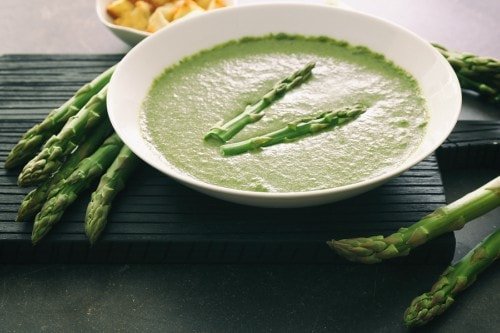 You would never guess that this deliciously creamy soup is only 101 calories. Asparagus, spinach, shallots, and garlic are blended together in an easy recipe that can be ready in about 20 minutes.
Asparagus is packed with antioxidants and is a natural diuretic, which can help when you're feeling a little bloated.
If fresh asparagus isn't in season when you make this, you can also use sprouting broccoli.
Recipe by BBC Good Food. Click here to try it.
3. Spicy Chili Bean Soup
157 calories
Mexican spices, legumes, and tomatoes make this low-cal hearty stew a must-have dish for the colder months. It will make you feel like you're wearing a sweater but on the inside.
It's a simple soup to make, and you can play around with the amount of chili, depending on how delicate your taste buds are.
Recipe by BBC Good Food. Click here to try it.
4. Superfood Quinoa Soup
195 calories
Are you one of those people who buys veggies with every intention of making healthy food for yourself, but they eventually end up rotting in the fridge next to the leftovers of Chinese takeout you ate instead?
This soup is going to solve your problem if you've got an abundance of random vegetables you don't know what to do with.
Think of the veggies listed in the ingredients as suggestions. You can use whatever you'd like, and it's still going to taste great!
Recipe by Damn Delicious. Click here to try it.
5. Vegan Garam Masala Carrot Soup
230 calories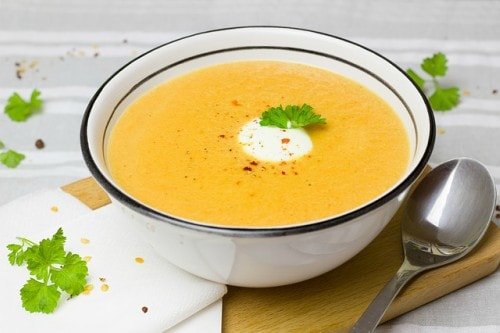 Feel like sipping on something a little more exotic? If so, this creamy curried coconut carrot bisque is going to rock your world.
Garam masala is an Indian blend of spices that has nutmeg, cloves, mace, peppercorns, cinnamon, and bay leaf. It's spicy and flavorful but doesn't overwhelm your taste buds.
The best thing about this soup is that it's vegan, paleo-friendly, gluten-free, and dairy-free. Unless you're allergic to delicious, you'll most likely be able to eat it if you have dietary restrictions.
Recipe by A Beautiful Plate. Click here to try it.
6. Immunity-Boosting Miso Soup
84 calories
If you want to fight off a flu bug, then you'd better boost your gut bugs. This soup will help promote the good bacteria in your gut that keeps your body healthy.
Miso is made with fermented soybeans and is loaded with probiotics. This soup is also full of immunity-boosting ingredients like ginger, garlic, seaweed, and parsley, which has more vitamin C in it than oranges do!
Recipe by BeginWithin Nutrition. Click here to try it.
7. Curried Pumpkin Soup
111 calories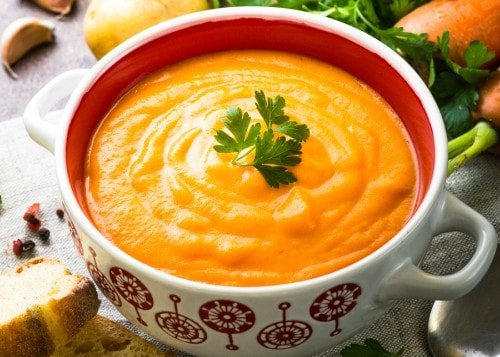 Pumpkin, apples, and cinnamon, oh my! If you are obsessed with everything pumpkin, you will quickly become addicted to this recipe.
You can substitute the chicken broth and butter that the recipe calls for with vegetable broth, if you'd like. It's still going to taste scrumptious.
If you are working on weight loss, pumpkin is high in fiber, which can support your dieting goals.
Recipe by Dr. Axe. Click here to try it.
8. North African Chickpea & Kale Soup
199 calories
The nice thing about cooking vegetables in a broth is that the yummy nutrients stay in the dish. It also makes food easier to digest.
Kale is an amazing superfood, but sometimes people are afraid to cook with it because they think it might taste too strong, or be too tough or chewy. It actually becomes tender with a nutty flavor after it's cooked.
Tip: Make sure to remove the stems before cooking because they can be responsible for the bitter aftertaste that some people experience.
Recipe by Exper!ence Life. Click here to try it.
9. Garden Harvest Zoodles
60 calories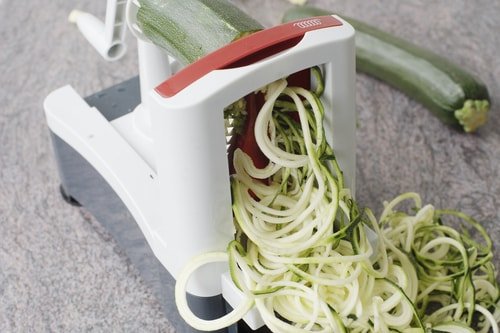 It's almost as fun to say "zoodles" as it is to make them. Say it out loud. Did it make you smile?
Zoodles are noodles made of zucchini and they are a great pasta replacement if you're trying to cut down on carbs. Even if you're not, they are a ridiculously yummy way to get your daily requirement of veggies.
You'll need a spiralizer for this one!
Recipe by Eazy Peazy Mealz. Click here to try it.
10. Vegetarian Minestrone Soup
184 calories
Minestrone means "big soup" in Italian. It can easily be a meal all by itself or as a scrumptious side dish.
Minestrone always has pasta in it, so if you need to be gluten-free, try gluten-free bow tie, shell, or elbow noodles. You can also replace it with rice or quinoa if you want.
Pretty sure there is no pasta police that is going to come in and try and stop you. But we do act as the weight loss police in our 21-Day Fat Loss Challenge.
Recipe by Chew Out Loud. Click here to try it.
11. Favorite Lentil Soup with Tomatoes, Tarragon, and Garlic
169 calories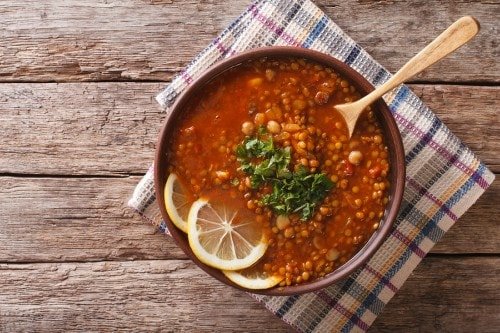 Lentils are high in fiber, so they're incredibly filling. This hearty and nourishing recipe is great if you want soup as a main course.
The lentils are cooked in homemade tomato stock with tarragon, paprika, carrots, and garlic, and the result is a melt-in-your-mouth dish that makes you want to curl up under a blanket and listen to smooth jazz.
Recipe by The First Mess. Click here to try it.
12. Classic Mushroom-Barley Soup
170 calories
This soup isn't fancy, so if you're looking for a high-brow dish garnished with frou-frou, this probably isn't for you. It's comfort food that's filling and oh-so-satisfying.
Barley is a cereal grain, but it's high protein content, low fat, and low carb count make it the perfect food to support weight loss. Lots of people drink barley water to help them lose weight.
Make sure to use raw pearl barley to get the most health benefits and best flavor out of this dish.
Recipe by VegKitchen. Click here to try it.
13. Roasted Fennel & Cauliflower Soup
260 calories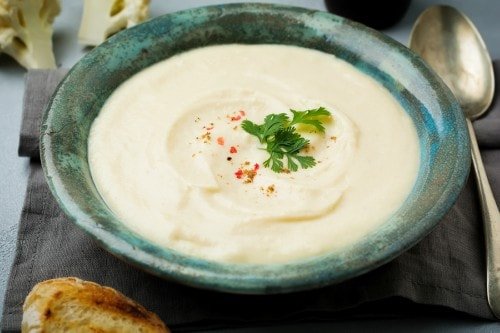 Pureed soups are hearty enough to have as a main course, but they are easy to digest and don't make you want to question your judgment about eating an entire bowlful. This soup will definitely satisfy your hunger cravings.
It also has a refreshing lemony taste to it, which will make you think of warm weather and springtime.
You can eat it warm or chilled, and it tastes great as a vegetable or bread dip. The base is garbanzo beans, which is used in hummus.
Recipe by In Sonnet's Kitchen. Click here to try it.
14. Tom Yum Healthy Vegetarian Soup
84 calories
Tom Yum is a Thai soup that's traditionally made with meat, but it doesn't lose any flavor when made with vegetable broth. The spices and lemongrass more than make up for it.
Speaking of spices, if you are a delicate flower and one chili is more spice than you can handle, you can put less in. The chili and lemongrass are what makes the flavor of this soup so special, though.
Recipe by Tarla Dalal. Click here to try it.
If you enjoyed this article on the vegan dessert recipes with 5 ingredients or less or have any questions, please leave them in the comment section below!
Get the FREE 21-Day Training Guide!
Jumpstart your weight loss with this FREE fast fat loss training!