10 Vegan Dessert Recipes With 5 Ingredients or Less
This post may contain affiliate links, which helps keep this content free. Please read our disclosure for more info.
Whether you've been a vegan for years, are only starting out, or you aren't a vegan and just want a healthy treat, many vegan dessert recipes can seem daunting at first.
Intricate steps and an ingredient list a mile long make any kind of cooking challenging, and many vegan desserts often require you to spend tons of time soaking, grinding, or mixing ingredients.
Store-bought baked goods and desserts aren't always guaranteed vegan, and they often far more processed anyway.
Make enough to share, whip up a snack to serve one, or save leftovers for later.
From baked to blended to frozen, there's a plant-based dessert out there for every baking aptitude.
There's also a flavor for everyone, whether you love chocolate, peanut butter, or fruity desserts.
Reduce label-reading headaches by making these homemade vegan desserts! All with five ingredients or less, they're guaranteed frustration-free.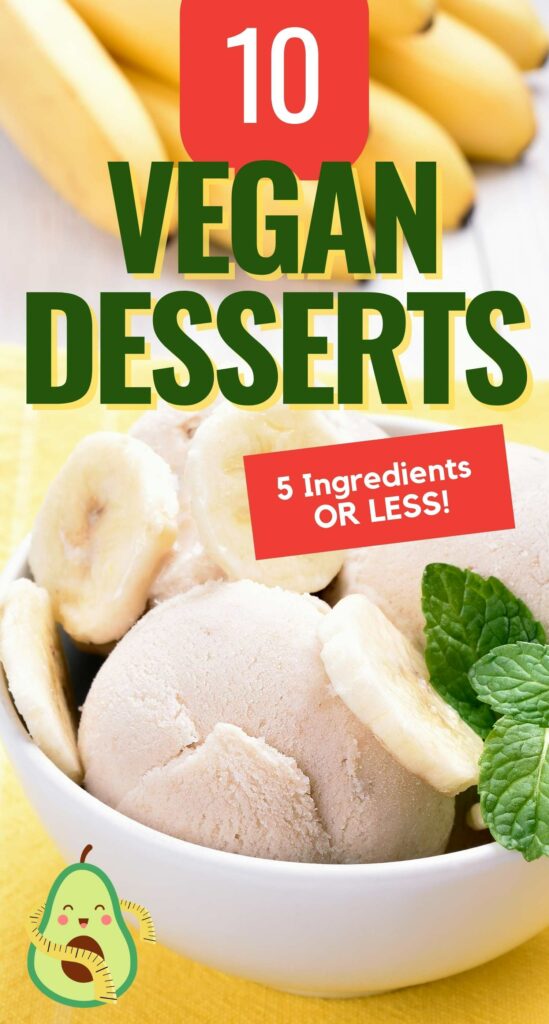 1. Banana Ice Cream
As banana "nice cream" emerged as the leading vegan frozen treat in the blog world, Chocolate Covered Katie's readers asked for her input on adding more flavors to the basic recipe.
The process is simple for the base ice cream. Slice and freeze ripened bananas, then blend once completely frozen. Add liquid as needed to get the bananas nice and creamy.
Favorite recipe variations include peanut butter (or other nut butter) options, very berry additions (a cup of frozen berries and some vanilla), and a coffee version (salt, instant coffee, and vanilla).
See the recipe here.
2. 3-Ingredient Flourless Brownies
Mastering the perfect brownie is always a struggle, but with only three ingredients? These plant-based and protein-filled brownies are just as easy as they are tasty.
The Big Man's World's recipe may not be the prettiest, but the taste is worth the questionable presentation. Blending the ingredients in a food processor reduces lumps, but it's not necessary.
Bananas, almond butter (or any other smooth nut butter), and cocoa powder make a dense and chocolatey treat that's quick to mix and only takes about twenty minutes to bake.
See the recipe here.
3. Grain-Free Vegan Chocolate Fudge Cookies
A fudgy cookie that no one will believe is vegan! These plant-based fudge dollops eliminated the need for white sugar by incorporating maple syrup and naturally sweet bananas.
Combining a ripe banana, cocoa powder, peanut butter, and maple syrup delivers a fudgy and soft cookie that bakes up in about fifteen minutes.
The Pretty Bee even adds a pinch of large-flake sea salt to the top for a decadent salted fudge taste. With all the cocoa and peanut butter, the banana flavor mostly disappears.
See the recipe here.
4. Peanut Butter Cookies
You'll need a food processor for these 3-ingredient cookies, but they're worth the cleanup. A traditional peanut butter cookie with sweet and salty notes delivers maximum dessert fulfillment!
My Whole Food Life even recorded a video to show you how to make these super simple cookies. If you're the visual type, watch the video below for a peanut butter cookie tutorial.
The basic recipe features three main ingredients, but the peanut butter base is flexible for add-ins like chocolate chips, dried fruit, coconut, or even cocoa powder for a chocolate infusion.
5. 5-Minute Vegan Chocolate Pudding
A protein-rich pudding that's free of all animal products? It's possible with this recipe from Spoonuniversity. Tofu, cocoa, sugar, and plant-based milk make a quick chocolate dessert.
Not only does this recipe pack a ton of protein, but it's also similar in texture to store-bought pudding. This is a simple and tasty treat for sharing with friends, whether they're plant-based or not.
The rich chocolate flavor overpowers the tofu while added plant milk gives it a creamier texture. Silken tofu is the key to a smoothly set pudding.
Save this rich treat for dessert, or serve it up for a fun breakfast alternative. Top with coconut whipped cream for the ultimate presentation.
Note* We recommend swapping the granulated sugar out for honey or maple syrup for a slightly healthier treat!
See the recipe here.
6. 5-Minute Vegan Creamsicles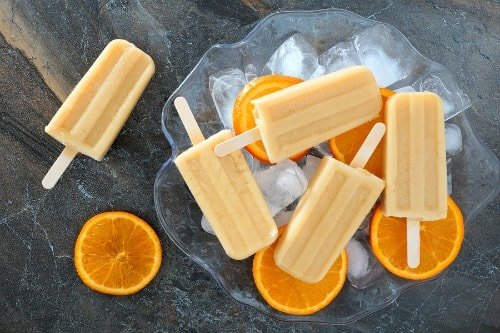 The prep time is so minimal for these creamy pops that you won't mind waiting a few hours for a taste.
It Doesn't Taste Like Chicken created these five-minute cream pops with inspiration from other bloggers who took the frozen treat design further but simplified her process and ingredient list.
Bust out your blender, or just a whisk and a bowl, and combine coconut milk, orange juice, vanilla extract, and a touch of agave syrup. Mix well, then freeze in any mold you desire.
This cool dessert takes the milk-based additives out of orange and cream flavor combinations for a vegan-friendly spin on a favorite childhood treat.
See the recipe here.
7. Vanilla Chia Pudding
Chia seeds are a plant-based dieter's kitchen staple since they add a surprising amount of protein and fiber to all kinds of meals. When soaked in plant-based milk, they make a thick pudding.
Simple Veganista showcases a basic vanilla chia pudding recipe that calls for only four ingredients. In only a few hours, your soaked chia seeds will transform into a versatile dessert or snack base.
Combine with fruit for a nutrient-packed breakfast bowl, or enjoy as a sweet treat after dinner.
See the recipe here.
8. Raspberry Coconut Ice Cream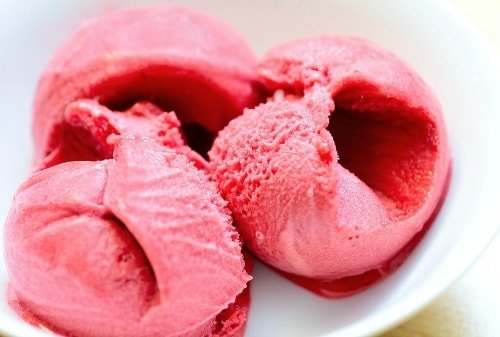 Vegan Family Recipes author Vanessa created this raspberry coconut ice cream on the tails of the banana "nice cream" trend. She wasn't a big fan of banana flavored ice cream, and this recipe resulted.
The recipe takes little time and few ingredients to prepare. Frozen fruit and a can of coconut milk make a creamy and rich ice cream that doesn't even need a sweetener.
Note that the recipe calls for pre-frozen fruit but that you can serve it immediately after blending if you keep the liquid to a minimum while mixing.
Scooping the coconut cream from the can of coconut milk gives the ice cream rich texture, and you can use the remaining coconut milk for other recipes.
See the recipe here.
9. Dairy-Free Fruit Dip
If you typically enjoy fruit as a treat or dessert, you'll appreciate the thought that went into The Wholesome Dish's dairy free fruit dip.
The intent was to mimic the flavors of traditional fruit dips– sweet, fluffy, and zesty– without nonvegan ingredients. Whipped coconut cream, lemon juice and zest, powdered sugar, and vanilla fit the bill!
To achieve the fluffy "dip" texture, you'll need an electric mixer for this recipe.
See the recipe here.
10. No-Bake Chocolate Peanut Butter Bars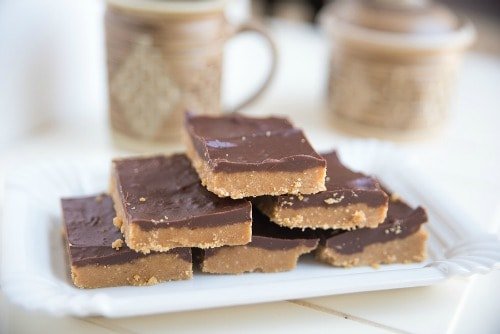 Chocolate and peanut butter team up in this no-bake bar from Beaming Baker. For vegans who love this combination but can't find a suitable substitution for milk chocolate, this DIY version fills the void.
Unsalted peanut butter, maple syrup, and coconut flour form the base of this simple bar. Between mixing the two layers and letting it set in the fridge, the process takes about an hour.
See the recipe here.
If you enjoyed this article on the vegan dessert recipes with 5 ingredients or less or have any questions, please leave them in the comment section below!