10 Delicious Whey Protein Recipes
This post may contain affiliate links, which helps keep this content free. Please read our disclosure for more info.
PROTEIN!!! These delicious whey protein recipes are a great healthy twist on some of your favorite comfort recipes!
Protein shakes have come into popularity in recent years, and it's no surprise.
Getting enough protein in your diet is crucial for building muscle and keeping you satisfied after meals.
According to the Harvard Health Blog, you should get about 15% to 25% (and up to 35%) of your daily calories from protein.
Many Americans don't get enough of this important macronutrient. However, protein shakes can taste chalky, especially if you're just mixing up water and whey protein in a blender bottle.
Plus, studies show that people who drink their calories instead of chewing them don't get the same sense of fulfillment from meals as those who chew actual food.
If you're trying to balance your macros and make sure that you consume enough protein, consider trading in your shake for a hearty breakfast bar, pancakes or even brownies.
You'll feel like you're eating a sinful treat, but you'll really be getting a healthy dose of many of the nutrients you need.
At the end of the article, we do talk about our favorite brand of protein powder, so make sure you check that out as well!
Related Article: A Guide to Perfect Smoothie Bowls!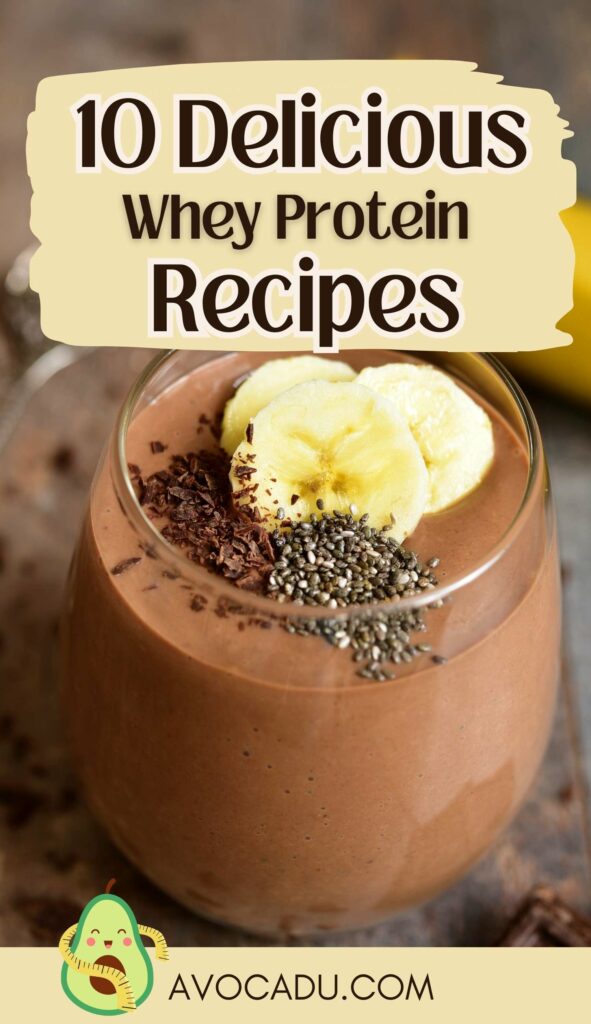 1. Green Smoothie
It seems like everyone is into making green smoothies these days. However, most of them involve using bananas or other fruit. That's fine, but if you're trying to cut out carbs or excess sugars, how about ditching the sweet stuff?
Blend a scoop of protein powder with some unsweetened non-dairy milk—almond, coconut, and cashew milk are great options—and a cup or two of raw spinach or kale leaves. You can even add half a cucumber for added nutrients.
Trust me. You'll never miss the fruit!
2. Protein-Packed Oats
If you crave carbs in the morning, you can get a dose of healthy grains by eating rolled or steel-cut oats.
This is one of my personal favorites! The best part about this recipe is that you don't even have to cook the oats when you pre-soak them.
Soak the 1/2 cup of rolled oats (one serving size) overnight (or for 1-2 hours before consuming) in water to make them more digestible. Drain and rinse them, and then add them to 1 cup of non-dairy milk.
Microwave them for 1-2 minutes, and then add 1/2 – 1 scoop of chocolate or vanilla protein powder. I also like to add cinnamon on top of mine!
You'll be surprised how the extra protein keeps you full all morning long.
3. Antioxidant Protein Smoothie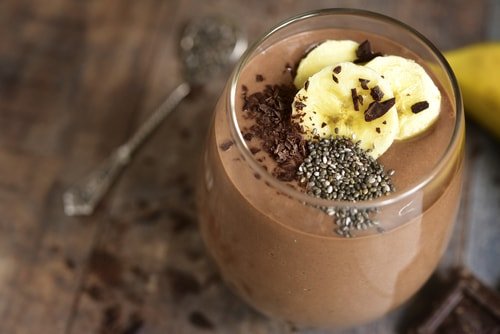 This smoothie is great when you feel like you need a little extra boost of antioxidants. Try it in the winter time to help give your immune system a little help!
Soak 1/4 cup of chia seeds in 1 and 1/2 cups of unsweetened non-dairy milk overnight or for at least an hour before making.
In a large blender, add:
1 banana
1 serving of raw cacao powder
1 scoop of chocolate or vanilla protein powder
Chia seed and non-dairy milk mix
1 tsp cinnamon
Ice if desired
Optional ingredients: flax seeds, pomegranate seeds
4. Egg White Protein Pancakes
Pancakes for breakfast are an American staple. However, most of them are full of sugar and carbs. This recipe turns everything you thought you knew about pancakes upside down.
Whisk together three egg whites, ¼ cup water and 1 scoop of protein powder in a bowl. Cook this batter as you would cook regular pancakes.
Use coconut oil for added crispness and flavor. Top the pancakes with almond butter and a little honey (if you need sweetener).
5. Protein Powered Greek Yogurt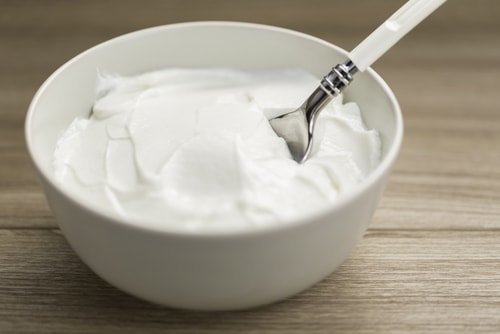 Greek yogurt is better for you than regular yogurt because it has much of the lactose and sugar removed. It also contains more protein.
This is one of my personal favorites that I have almost every morning!
Find a good Greek yogurt that has 7g of sugar or less (Chobani Plain Greek Yogurt is one of the best). Don't worry much about fat, but it should be anywhere from 0-10g per serving.
Simply mix 1 serving (according to the package) with 1/2 scoop of chocolate or vanilla protein powder! I also like to add cinnamon to mine!
6. Power Pumpkin Breakfast Bars
If it's hard to start the day on a healthy note, make these pumpkin breakfast bars at the beginning of the week and feast on them every morning. They're moist and rich, but they have much fewer calories than a typical breakfast treat.
If you cut them into 30 squares, each square has about 40 calories.
To make them, combine the following ingredients:
4 oz. applesauce
2 tsp ground cinnamon
1 ½ tsp ground ginger
½ tsp ground clove
1 tsp baking powder
1 tsp baking soda
½ tsp salt
2 tsp vanilla extract
4 large egg whites
1 15 oz. can pumpkin
Mix in:
2 cups oat flour
2 scoops whey protein powder
½ cup walnuts
Spread the batter in a 9" x 13" glass baking dish and bake at 350 degrees Fahrenheit for 30 minutes. After cooling, cut into 30 squares.
Remember that the oat flour does make them high in carbs, so keep that in mind with what you eat the rest of the day!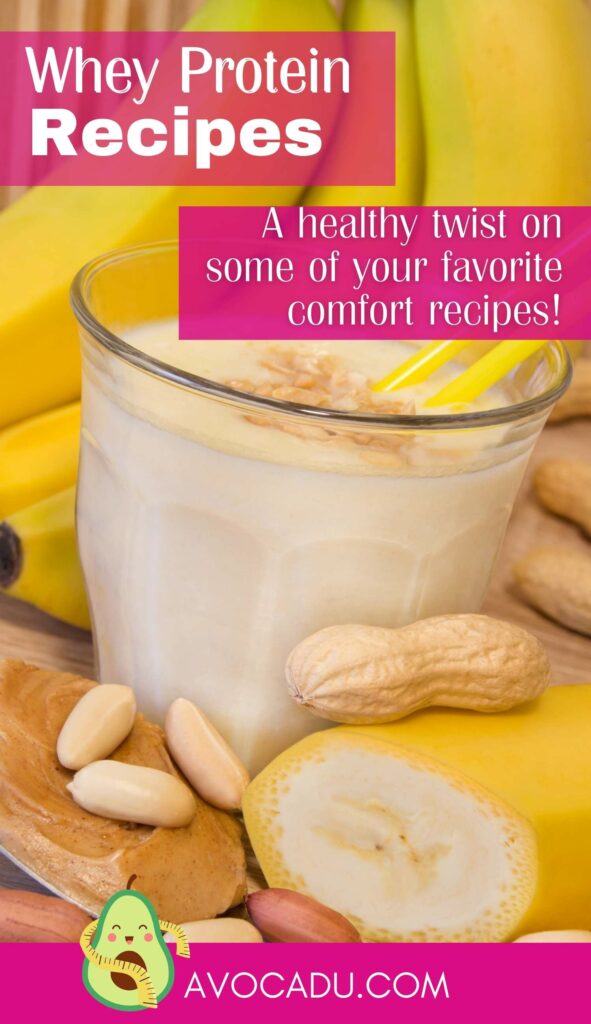 7. Chocolate Peanut Butter Protein Smoothie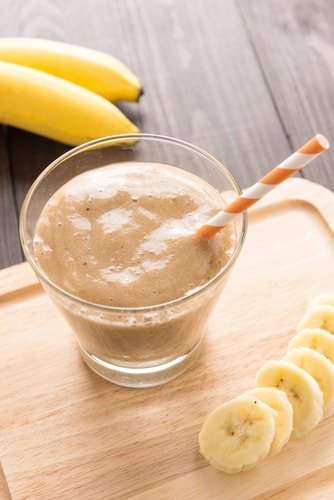 Have you ever tried PB2? It's powdered peanut butter, and it has 85% fewer fat calories than regular peanut butter!
And it still tastes like peanut butter, so this makes it PERFECT for smoothies!
In a large blender, add:
1 banana

1 scoop of chocolate protein powder

1 serving of PB2 powdered peanut butter

1 cup unsweetened non-dairy milk

Ice
Optional ingredients: flax seeds, chia seeds, and rolled oats
Blend and enjoy the peanut buttery goodness!
8. Green Frozen Yogurt
This recipe is like a smoothie turned spoonable.
In a high-powered blender, combine:
2 cups plain or vanilla Greek yogurt
1 frozen banana
2 cups raw spinach leaves
1 scoop chocolate protein powder
Freeze in an ice cream maker for soft-serve frozen yogurt. If you don't have an ice cream maker, freeze the concoction in ice cube trays.
When you're ready for dessert, blend several ice cubes until they attain the consistency of ice cream.
9. Protein and Oats Breakfast Smoothie
This is just going to be a classic breakfast smoothie with all of your favorites whipped up into one smoothie!
Soak the 1/2 cup of rolled oats (one serving size) overnight (or for 1-2 hours before consuming) in water to make them more digestible. Drain and rinse them, and then add them to a blender with 1 cup of non-dairy milk.
Add 1 banana, a few strawberries, and a scoop of chocolate or vanilla protein powder, and blend! You can also add some ice if you like your smoothies extra cold!
10. Cookie Dough
This cookie dough is meant to be eaten raw. In fact, you won't be able to make good cookies out of it even if you try, so you might as well spoon it right into your mouth.
It's based on a recipe from Lauren Conrad's blog. We added protein powder to pack in even more nutrients.
In a blender or food processor, mix together:
15 oz. can of chickpeas
½ cup peanut butter
1-2 TBSP maple syrup or honey
1 tsp vanilla extract
1 scoop vanilla protein powder
½ cup cacao nibs
Put in the fridge or freezer for several hours before eating. This is much tastier when it's cold.
What kind of whey protein should I buy?
Our favorite is Dymatize Nutrition ISO 100 Hydrolyzed 100% Whey Protein Isolate because it tastes AMAZING and has far less artificial ingredients than competing brands.
You can find it at most supplement stores like GNC and Vitamin Shoppe, but it's usually cheaper on Amazon!
Leave me a comment below if you enjoyed this article on delicious whey protein recipes or have any questions!
Get the FREE 21-Day Training Guide!
Jumpstart your weight loss with this FREE fast fat loss training!