10 Best Online Yoga Programs to Help You Lose Weight
This post may contain affiliate links, which helps keep this content free. Please read our disclosure for more info.
For decades, anyone seeking guidance on how to lose weight has been pummeled with instructions on how they must do relentless cardio in order to do so.
The reality is, there has been a huge shift away from that notion.
Strength and weight training are now recognized [by most] as a better way to lose weight.
Don't get me wrong. Cardio is necessary—and very good for you—and it should be included in our routines, but only doing cardio is not the best way to lose weight.
Or at least not the way to lose weight fast, and then keep it off.
In fact, an excellent non-diet way to lose weight is yoga.
Most people completely disregard yoga as an effective way of losing weight because they think it's just a bunch of stretching and careful breathing.
And honestly, it can be that, if that's what YOU want.
But the beauty of yoga is that it can be whatever you make it.
I personally use yoga specifically to build muscle and burn fat, and it's AWESOME for that!
Yoga is probably one of the best and oldest forms of strength training. If you've ever seen some of the crazy poses some people do with yoga, you would understand.
But you don't care about all that right?
You just want to lose some weight!
Yoga for Weight Loss – And Your Physical Well Being
I feel I should add a caveat here…
There are many forms of yoga, so it's imperative you realize that not all forms are going to offer you equal chances at weight loss.
And this is simply because not all yoga is aimed at strength training.
Like I said before — some yoga is centered around meditation and careful breathing.
The CDC (Center for Disease Control) says that adults should include moderate or intense strength training activities—that involve all major muscle groups—at minimum, 2 days a week. (1)
And reading a bit further in that report you'll see it also says that you have to do it until it hurts…
Haha okay, that's not what it says!
What it actually says is, "muscle-strengthening exercises should be performed to the point at which it would be difficult to do another repetition."
i.e. bringing your muscle to the point of exhaustion.
So if you're thinking of taking up yoga for weight loss, it should be a more intense form of yoga. Because you do need to feel that muscle burn!
And consider one more thing. One of the key factors that make weight training better for weight loss is that your body continues to burn calories even after you've completed your workout—whatever it might be.
One study concludes that your metabolism remains boosted up to 38 hours after a workout. (2)
Let me repeat that. Your body continues to burn more calories after a workout, even if you spend the next 38 hours laying on the floor.
10 Best Yoga Weight Loss Resources
Okay, armed with all that knowledge, here's a list of yoga programs, classes, or videos you can do online.
We have listed programs for everyone, but keep in mind that some are free and some aren't. Some are also targeted more towards beginners.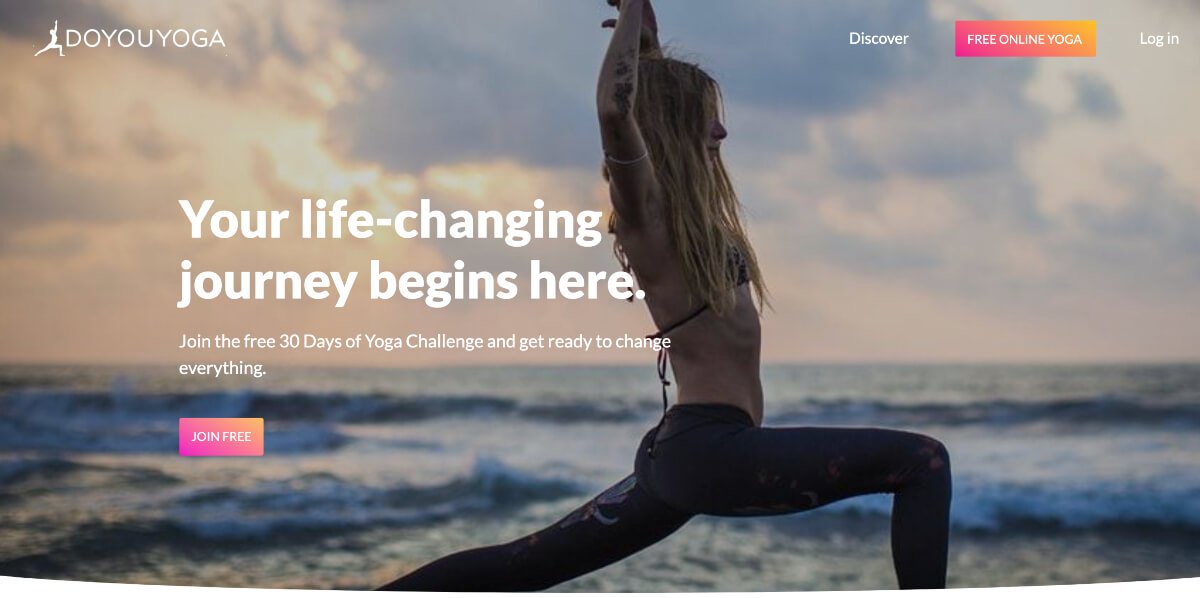 DOYOUYOGA has enmassed a huge global community since its inception. And whether you're a beginner or a seasoned pro, they have something for you.
Check out some of these categories:
Yoga for Beginners
Yoga for Strength
Yoga for Total Butt Toning
Yoga Shred for Weight Loss
Their dashboard is user-friendly and allows you to sort your video classes by several criteria, such as your level of experience, the length of the class, and what area of the body you want to focus on.
You even have functionality that will allow you to track the number of classes you have taken and how much time you have spent on your yoga routines.
For those of you that appreciate a sense of community, they also offer a social media aspect where you can follow and share with other yogis.
They have a huge library of both free and paid classes, and the paid membership comes in at a very reasonable $15 per month. You also get one month free if you want to try them out.
One of their taglines is "A yoga class for everybody, every style, every day."
So that means they have something for YOU!
Some of their categories include:
Yoga for Beginners
Yoga for Strength
There are many more, but let's stick with that since we're keeping our focus and strength training and yoga for weight loss.
The yogi behind One O Eight is Yoga Girl, Rachel Brathen. She provides a platform that is not only easy to use but covers nearly every type of yoga practice you might be interested in.
The site doesn't stop at yoga classes, it actually encourages a lifestyle and provides a variety of recipes, talks, and how to guides.
You're also encouraged to shake up a routine. Along with your weight loss goals, maybe you should be adding something from the Calm category. Or maybe Nourish.
Because hey, trying to lose pounds, fat, weight, whatever you want to call it is stressful, am I right? And even though you're trying to shed some of your body, you still need to nourish it.
You can select your classes by means of a variety of criteria, and membership is $14 per month, with a 10-day free trial.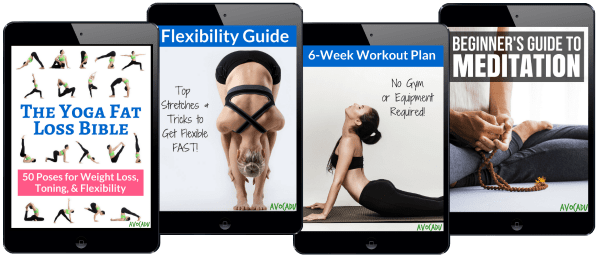 Unlike the online classes mentioned above, the Yoga Fat Loss Bible is a program with a specific goal.
You guessed it! The goal is to lose weight and inches—fast.
With that in mind, this program features yoga poses that are geared toward fat burning. And they target every major muscle group in the body. Even your ankles!
Anyone here have cankles (ankles the size of your calves)? This one just might be for you!
This program was designed for beginners, but it also includes more advanced poses as well that you can work towards.
You'll also get:
A flexibility guide
6-week workout plan
Meditation guide
An extra 50 poses
Yoga workout videos
And remember, all included poses are in the program because of their potential for maximum toning and fat-burning.
No continuing monthly fees for this program. It costs a one-time fee of $67 and comes with a 30-day money back guarantee.
Oh and um… Did I mention that I created that program? 🙊
I did! So I can 100% vouch for it! We've sold thousands of copies over the last couple of years since we created it!
Check out Avocadu's Yoga Fat Loss Bible!
Adriene has a huge library of yoga videos covering a variety of focuses, but I have linked you to her weight loss section.
And believe it or not, Adriene 30 days of free yoga is how I first got started with yoga!
You can ALSO find specific weight loss videos on her channel, including videos on…
Toning your whole body
Targeting hips and hamstrings
Strengthening
Abs and arms
Hips, core…
And so much more
Adriene's YouTube channel has been growing strong since 2012, has nearly 5 million subscribers and has had just over 400 million views.
She also adds new videos weekly! And these videos are all free because they are on YouTube.
The only other comment I have here is that paid programs are usually more organized and targeted towards specific goals (like weight loss).
There no escaping the fact yoga comes with a lot of woo woo stuff, and frankly, not everyone is interested in woo woo. I personally run the other direction when it comes to that stuff.
There is often a mystical, spiritual side of yoga. The unscientific side of it, I guess you could call it.
And just to be clear, I'm NOT knocking that side of it.
There IS a lot of scientific evidence on that side of it helping lower your cortisol and stress levels, which absolutely can help you lose weight.
I'm just saying that you don't HAVE to be into that side of it.
For those who are just interested in the physical side of things, the pure strength and toning the practice offers, there is Dirty Yoga.
Just a heads up here, for the most part, I would not classify this as something yoga beginners should try as most of the classes are fairly intense and fast-paced.
You will lose weight faster, but you will also have to work harder for it.
Having said that, they do have a section called Prep, which is strictly for beginners.
They offer standalone programs, such as The Dirty Challenge ($28/28 days), The Dirty Weekend ($10/7 days), and Prep, Dirty for Beginners ($15/28 days) on top of their membership subscription ($20/month).
According to My Yoga Works, their teachers are among the best in the world. Each has its own focus of expertise to share with you, and you have an opportunity to see a resume of sorts on each of them.
When you sign up for this program, you are asked to state any specific goals or ambitions you might have, and based on that they serve you up with a list of recommended classes that will suit you.
They also provide you with a Focus section where you can find classes that address areas you want to address.
The cost is $15 per month, and this gives you access to unlimited streaming.
Yoga Vibes grants you access to some of the more well-known pros and teachers in the industry, something that many of the online options don't do.
In terms of yoga for weight loss, you have an abundance of options here.
Videos range in length from just minutes to an hour and a half, so there is something for everyone. Seriously, there are more than 5,000 videos.
You will never run out of classes to try since new ones are regularly added. And should you want to move beyond using yoga simply for weight loss goals, they offer videos on every type of yoga.
In terms of price, they are higher than anyone else we've mentioned so far, at $19.95 per month, but you do have the option to pay a year in advance for $198.95.
And they do offer a 15-day free trial.
Yoga Glo has a live studio based in LA, but this is their digital entity.
I would recommend looking at the sections on:
Yoga for Beginners
Yoga for Conditioning
But they do have tons of others!
You can either lose weight slow and easy or put a little more sweat into it, and lose weight fast.
Each program comes with enough detail to let you know what you're in for, and what you can achieve.
You have more than 4,000 videos to choose from, all categorized, so it's easy to find exactly what you're looking for.
Yoga Glo has a subscription of $18 per month, and they do offer a 15-day free trial as well.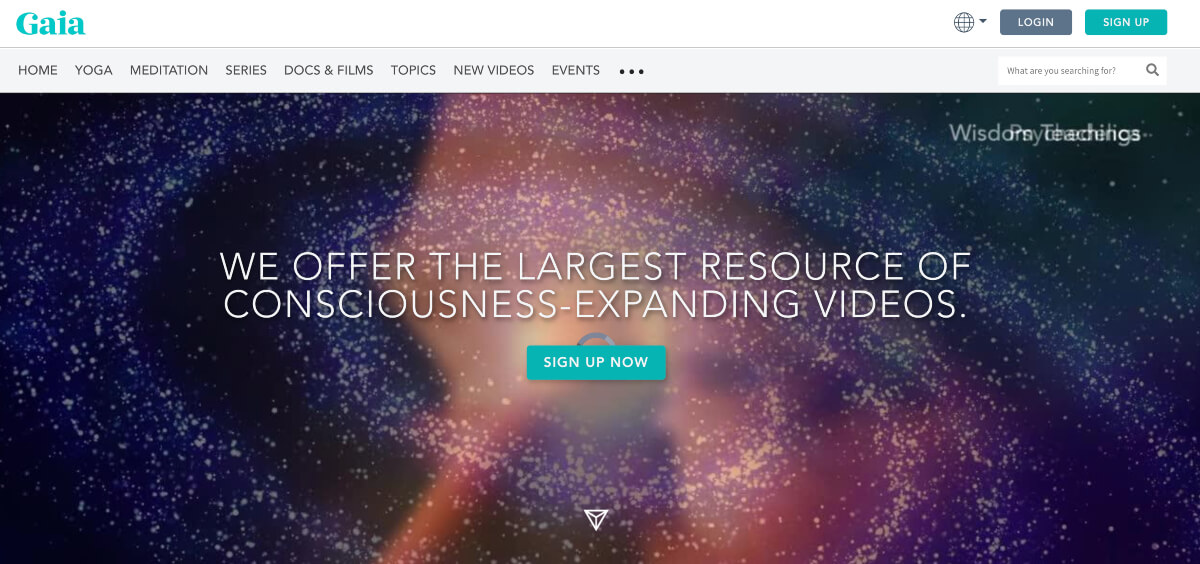 If you've been doing yoga for any length of time, you might remember Gaiam TV.
They had a huge library of yoga DVDs, as well as a selection of yoga gear and mats. Gaia is an offshoot of that, where they've turned their DVD library into a streaming library.
Specific to weight loss, they have several series you can choose from:
Yoga for Weight Loss
Conditioning for Weight Loss
AM & PM Yoga Conditioning for Weight Loss
Flowing Practice for Weight Loss
When compared with the price of some of the others offered here, Gaia's pricing is quite reasonable.
While they do charge $0.99 for a 30-day trial, their membership cost is $9.95 per month, $20 for 3 months or $95.40 per year.
Last, but not least, we have Udaya, another reasonably priced online yoga program.
One of the huge pluses for this program is that they offer "challenges." For example:
The Beginner Yoga Challenge (10 days)
The Average Yoga Challenge (29 days)
And many more.
If you're not interested in a challenge and just want a class, you can filter through multiple criteria to find something perfect for you.
Udaya offers a 30-day free trial, and then the cost is $12 per month.
So, that concludes our list!
What do you think?
Are you ready to give yoga for weight loss a try? These are just a few of the options available to you!
And remember, you don't have to go crazy and do some kind of highly physical, sweat till you drop hot yoga.
Simply doing restorative yoga—passive stretching—will burn fat and promote weight loss. (3)
And don't forget to check out our program at Avocadu — The Yoga Fat Loss Bible!
If you enjoyed this article on best online yoga programs for weight loss or have any questions for us, please leave us a comment below! We'd love to hear from you!
Get the FREE 21-Day Training Guide!
Jumpstart your weight loss with this FREE fast fat loss training!