10 Best-Selling Weight Loss Plans for Women – Reviewed
This post may contain affiliate links, which helps keep this content free. Please read our disclosure for more info.
If you're ready to drop some pounds but aren't sure where to start, these weight loss programs rated and reviewed should be able to help you make a decision. There are so many out there that it can be a bit overwhelming just trying to get started.
There are tons of different types of weight loss programs. Literally thousands…
Some provide you with food and completely control every bite you take, while others let you do your own shopping and cooking.
The best-selling weight loss programs have had lots of testimonials and lots of people who have had success with them. The key is finding the one that's right for YOU.
Just because someone else has had success doesn't mean that you will or that the program will be right for you.
Remember that it's not just about what sounds good initially. It's more about what you believe you can stick with in the long-term, especially if you weigh 200 pounds or more and have a lot of weight to lose.
We checked out the top 10 selling weight loss programs and ranked them based on reviews. We weighed in on the pros and cons about what's good and what's not so great about each one.
These also aren't really "fad" diets as most of them have been around for YEARS!
1. Weight Watchers
This program has been around since the sixties and is the best-selling weight loss program on every list out there. Lots of people have lost weight with it, but there are plenty of stories of diet fails and weight regain.
Pros:
They let you eat what you want because the entire system is based on what they call SmartPoints. They'll give you nutritional advice, but if you really want junk food that falls within their calculations, it's okay to eat it.
The program encourages portion control, which is a big part of their diet. They encourage you to eat at home and cook so you have more control over what you put in your body.
They also have an incredible support system, with group meetings held both in person and online.
Cons:
They want you to have a weekly weigh-in, which some dieters find discouraging. Some also find that the lack of dietary restrictions makes it too easy to cheat and feel okay about it.
Because you are counting points the vast majority of food that you eat, it can have a similar feel to counting calories for some.
2. Jenny Craig
If you hate cooking and consider your microwave the most important appliance in your home, this is probably the plan for you. Everything you're going to eat is prepackaged and already portioned out.
Dieters pick the meals they want for the week online, including snacks, and then you pick them up from the weight loss center.
Pros:
They take all the guesswork out of eating because they literally do everything for you except heat the food up and shove the fork in your mouth. The total calories per day range from 1200 to 2300, depending on your size and activity level.
They have weight loss coaches you can chat with by phone or in-person that are usually people who've successfully traversed the program themselves. They help you achieve your goals and know what it's like when you slip up.
Cons:
The portions are small, and the calories are usually between 200 to 300 calories each. While the food quality is good, it's not fresh because it's frozen.
My biggest beef with this program is that it doesn't include advice on learning how to cook fresh for yourself.
You aren't learning how to actually change our bad eating habits and form better relationships with food when literally EVERYTHING is done for you.
This is a big concept of our 21-Day Fat Loss Challenge because this is what helps you KEEP the weight off long-term and make better decisions when you are with friends, dining out, etc.
Jenny Craig is also pricey, with food prices from $15 to $26 a day, and that's not counting membership fees.
3. The Mayo Clinic Diet
Weight loss specialists at the Mayo Clinic designed this long-term weight loss program that's geared toward helping you create healthy habits. They want you to have a sustainable weight management plan that will last your whole life.
Pros:
Everything is in their diet books and online, so you don't need to worry about anyone breathing down your neck about your food choices or getting on a scale. You can go at your own pace.
The Mayo Clinic weight loss program is all about fresh food, and they feel that you can eat as many fresh fruits and vegetables as you like. They've created a "healthy weight pyramid" that gives you clear guidelines to make good diet choices.
Cons:
There's no local support, but they've got a weight loss app and an online community. You're on your own with this one.
This program has a lot less support and the go-at-your-own-pace often doesn't work for many people. Most people sort of know the "what to do" but they need stricter guidance on the "how to do it." If that is you, this may not be ideal for you.
See the Mayo Clinic Diet here.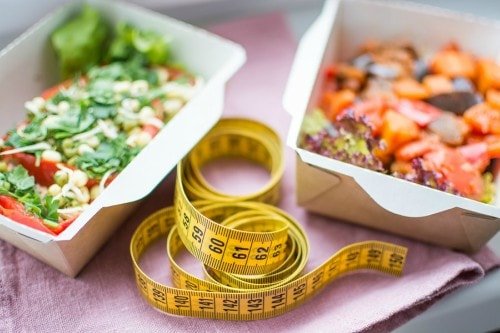 4. Atkins
If you can't live without your carbs, just blow right past this section and read the next one because Atkins is not your plan. It's low-carb, high protein and fat only.
And if this is you, I can understand that. Cutting out carbohydrates is incredibly important for weight loss, but it doesn't have to be a long-term deal. Our 21-Day Fat Loss Challenge includes a 7-day carb cleanse for detoxification and weight loss but it also includes instructions on how to reintroduce carbs back into your diet.
Pros:
They have a fresh food meal delivery service that's personalized for your diet and taste needs, as well as snacks, shakes, and meal bars that you can order online.
Even though the plans are high fat and high protein, a couple of studies show that the Atkins diet raises good cholesterol and lowers blood pressure. (1)
Atkins also has a mobile app and other online support tools to help you reach your goals.
Cons:
Health experts really don't like the Atkins diet, giving it a 2.1 out of 5-star rating. It got high marks for rapid weight loss, but they aren't buying the nutritional value of the food. (2)
They don't feel it's a sustainable way to eat in the long-term.
See Atkins here.
5. The Golo Diet
Are you a bit fluffy around the middle, have a hard time losing weight, or have diabetes? The Golo weight loss program might be the best choice for you because it's geared toward people who are insulin resistant.
A year membership gets you get supplements, meal plans, shopping lists, recipes, coaching, and support.
Pros:
They've got three plans to choose from, so you don't have to marry the program for a year if you don't like it. Most reviewers also say they really enjoy the recipes and the coaching is great. They also like the price.
Cons:
The supplement they sell is no different from anything else you can get on the market, and people have mixed results with it. Many also feel that the diet information is common sense nutrition and not worth the price of the plan. (3)
See the Golo Diet here.
6. The South Beach Diet
The South Beach weight loss program is like the Atkins Diet's little sister. It's a low-carb diet, but less restrictive.
They deliver fully prepared packaged meals, so you don't have to worry about portion control or making decisions. They want you to eat lots of little meals a day to get your metabolism rocking.
They also have a book on their program if you want some further reading before you commit to their plans.
Pros:
They take care of everything for you, including snacks. All you have to do is choose the kinds of foods you like, and they show up on your doorstep.
Even though it's low-carb, they don't make you give them up completely. The diet is fairly balanced and is based on sound nutrition.
Like all low carb diets, people usually see rapid weight loss in the beginning. They've also got support counselors available by phone when you need help or motivation, and a weight tracker app.
Cons:
The cheapest plan is about 10 bucks a day, which winds up being $300 a month, with limited recipe choices. You've got to go to the plan that will cost you almost $400 a month for decent food options, which excludes any food you buy on your own to supplement the plan.
It also relies on packaged meals with few fresh options, which isn't always a good idea if you're looking to learn how to create your own healthy dishes.
See the South Beach Diet here.
7. Nutrisystem
This weight loss program is like Jenny Craig, but it's a little easier on the pocketbook. It provides meal plans, packaged food, and support. You can order all your food and snacks online, which makes dieting a lot easier.
Pros:
You've got three plan options to choose from, so if you're broke or on a tight budget, you'll find something. If you want to customize your meals, it will cost you more, but you can also get an automated plan that's only about $275 a month.
Cons:
The foods are all really processed, but most people find them pretty tasty. Still, there's concern about their nutritional value from dietitians. Still, they include supplementing their meals with fresh foods in their system, so there is that.
The cheaper meal plans don't have as much personalized support as other plans that offer it.
8. Noom
Noom is a weight loss program that's done through a phone app. They've got over 45 million downloads, and people who've bought it have feelings.
The app was designed by health coaches, doctors, nutritionists, and exercise specialists. They claim that 64% of people who use the program lose an average of 5% of their body weight in 16 weeks, and 83% of diabetics on the program control their glucose. (4)
Pros:
They take into consideration how healthy your lifestyle is, whether you have any health issues, the amount of stress in your life, and potential triggers. They create a unique plan that helps you curb bad habits and master good ones.
They've got personal and group support, food and weight logs, a pedometer, and calorie tracking.
Cons:
People either love or hate this app, and the reason they hate it because of the customer service. Apparently, it's pretty awful. They often ignore requests for technical support and refunds. Yikes.
If you're thinking about using this program, I would contact them first and explain your concerns before committing.
See Noom here.
9. Food Lovers Fat Loss System
This weight loss program is for all the introverts out there who just want to do it themselves and not have to "people" all the time. The program consists of a group of spiral notebooks, cookbooks, and workout DVDs, and they also have an online option.
The creators of this system have a theory that the perfect balance of fast carbs, slow carbs, and protein will help your metabolism speed up and burn calories faster. 72% of customers who bought the program on Amazon gave it three stars and up, so they must be doing something right.
Pros:
The program is based on educating yourself on what's going to be most effective for your unique metabolism, and this can lead to long-term results.
They also don't tell you not to eat certain kinds of foods, which is a big deal for a lot of people. Mixes of types of carbs and proteins are what matter, so as long as you get the ratio right, you can have the mashed potatoes or pasta for dinner and still lose weight.
Cons:
People who gave it bad reviews usually did so because the directions were too hard to follow. Apparently, you need a relatively high IQ to figure it out.
See Food Loves Fat Loss System here.
10. 21-Day Fat Loss Challenge

Guys, this is OUR fast weight loss program that we developed, so I'm not going to tell you that the review of this program is unbiased. I will, however, give you a couple of reviews from our clients so that you can see for yourself!
Our Challenge is designed to help you lose 10-21 pounds in just 21 days, and it can also be repeated as many times as you'd like if you have more weight to lose (at no additional cost)!
The 21-Day Fat Loss Challenge combines a lot of the benefits from the programs above, including…
A brief detox from carbs to help reset your insulin
Aplan for reintroducing them,
An approved foods list so you can know what foods to eat
An unapproved foods list so you know what foods to avoid
Access to a private community support group
A daily checklist so you know what to eat and when to eat it every day
Pros:
In addition to the above, our plan also helps you create better eating habits that will help you out in social situations and outside of the home. It's not about having every decision made for you. It's about empowering you to make the healthy decisions yourself.
You'll get a list of foods that you can eat on certain days and suggestions on how to prepare them, but it will be up to you to create your meals. The best part is, it comes with access to a private support group where thousands of other women are sharing their favorite recipes for Challenge-approved meals and TONS of support and motivation like this post from Christina:
Christina has lost 66 lbs and counting at the time that she posted this photo. She is still working towards her goal weight!
Cons:
If you're someone that needs food delivered to your doorstep every single day or needs it prepared for you, this is not the plan for you.
As we stated before, while that is very convenient, it does not help you build better eating habits that will help you keep the weight off or survive social situations.
See the 21-Day Fat Loss Challenge here.
If you enjoyed this article on weight loss programs or have any questions, please feel free to leave a comment below!
Get the FREE 21-Day Training Guide!
Jumpstart your weight loss with this FREE fast fat loss training!