15 Best Weight Loss Apps That Actually Work
This post may contain affiliate links, which helps keep this content free. Please read our disclosure for more info.
Cell phones make our lives easier in a LOT of different ways, and this also the case when it comes to weight loss apps! Any help is good help, right?
Not necessarily… There are literally thousands of weight loss apps on the market that it can be a little overwhelming and sometimes confusing when you're looking for the right one for you.
The good ones are easy to use and have the science to back them up. There's even a study that shows that using a smartphone app for weight loss compared to websites and paper diaries increases a dieter's chance of losing weight. (1)
Self-monitoring can help you become more aware of your eating habits, how much exercise you're getting, emotional triggers, and hunger cues. That's why so many weight management programs have participants keep journals.
Here are 15 of the best weight loss apps that actually work.
1. Fooducate
The makers of Fooducate want everyone to be a little more discerning about what they eat. It helps you make better choices by grading food based on the ingredients.
If you grab a box of cereal at the store and scan it in, the app will give you info about its nutritional value. If it doesn't think it's a healthy option for you, it will make suggestions for a more diet-friendly choice.
Think of the Fooducate weight loss app as a nutrition coach peering over your shoulder every time you make a food choice, which is probably disconcerting and helpful all at the same time.
Click here for iOS.
Click here for Android.
2. Nudge
There are lots of reasons that we have difficulty losing weight, so the Nudge weight loss app was designed to let you pick which reason you want to focus on. Do you need to drink more water, sleep better, be more active, or eat healthier?
You can choose which one you want to track or answer a few questions and let the app make suggestions for you.
You can also sync your existing weight loss apps and wearables so your activity will appear in its database. It makes life so much simpler!
Click here for iOS.
Click here for Android.
3. Aaptiv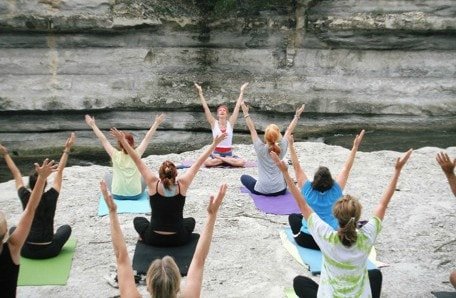 This unique audio fitness app geared toward introverts is going to get you moving in no time! If you're not feeling very "peopley," just pop your earbuds in and let the Aaptiv instructor guide you through your fitness routine.
They have everything from beginner 5k training to yoga flow workouts. If you prefer to customize your workouts for calories burned, intensity, duration, or distance, it's got that flexibility.
The app is $9.99 a month, but if you don't like it, they've got a money back guarantee.
Click here for iOS.
Click here for Android.
4. Lose It!
Everyone has this app on their list of favorites for a reason. Its focus is on calorie counting and weight tracking.
They make it incredibly easy to log your food, with over 7 million foods to choose from. It's got a feature called "Snap It," which allows you to track your food by taking a picture of it, making it a unique and very accurate weight loss app.
It also lets you keep track of any exercise you do and changes the number of calories you can eat based on that.
Click here for iOS.
Click here for Android.
5. Spark People
Here's another weight loss app that counts calories and keeps track of your weight and exercise, but it's got some cool features that other apps don't have.
You can scan barcodes, which is useful for any packaged foods you might eat, and they've got photos of common exercises, so you can make sure you're doing them right.
They've also got a motivational tool that gives you points whenever you reach one of your goals, and tons of articles to help support you on your weight loss journey.
Click here for iOS.
Click here for Android.
6. Fitbit
Fitbit is still the most popular wearable weight loss tool out there. It records every little thing you do throughout the day. It knows when you sleep, what you eat, and that your heart rate went up at 12:45 pm because you saw the adorable delivery guy come in with a package at work.
If you've got a Fitbit, you can sync it to their app of the same name and keep track of your hydration, sleep, and weight loss goals.
If you're competitive, the Fitbit app lets you connect with friends and family and do challenges with them. It will also give you awards when you reach certain goals.
Click here for iOS.
Click here for Android.
7. FatSecret
While I prefer to use the word "fluffy" instead of "fat," this weight loss app has a great community that's going to support you on your journey to health and happiness.
Studies show that 88% of people who join online weight loss communities are more successful at losing and keeping the weight off. (2) The extra support keeps them on track.
This is exactly why our private community support group is an integral part of our popular 21-Day Fat Loss Challenge!
FatSecret also has a comprehensive nutritional database and calorie counter, and you can share your info with your healthcare provider.
Click here for iOS.
Click here for Android.
8. MyNetDiary
Users of this app report losing an average weight loss of 1.4 pounds a week, which is pretty amazing. It's not just a calorie and food counter.
They'll create a balanced nutrition plan for you and they also do meal planning. The online forum has a dietician, so you can ask questions and get feedback when you need it.
You can sync all your devices, so if you use your iPad to track food and exercise in the morning and your phone at lunch, every device has the same info.
Click here for iOS.
Click here for Android.
9. PlateJoy
It's hard to stay on track with your diet if you always have your head in the fridge because you can't figure out what to eat. PlateJoy weight loss app takes the guesswork out of meal planning.
All you do is take a lifestyle quiz that takes into consideration your fitness plan, food preferences, weight loss goals, what you like to eat, and sensitivities or allergies. It will come up with a plan based on your personal needs.
You'll get recipes and they make a shopping list for you. If you really don't want to do they work, they even have grocery delivery.
Click here for iOS.
Click here for Android.
10. HealthyOut
If you're not into cooking and you're trying to diet, you're probably going to have a REALLY hard time losing weight. National Health and Nutrition surveys show that people eat anywhere from 6% to 40% when they go out than at home. (3)
Fear not, HealthyOut can support your weight loss goals by helping you pick a restaurant near you based on your nutritional needs. This can make a big difference if you're a vegetarian or gluten-free.
It also gives you options from the menu that support your diet, and substitutions that might be better for you.
Click here for iOS.
Click here for Android.
11. Kitchology
Kitchology was made for those of us who can't get it together to go shopping, or when we do, we shop hungry and make inappropriate food choices.
You list what you have in the house, and it creates a healthy and delicious meal you can make from the ingredients. If there's an ingredient in there that might go against the food allergies or lifestyle you've chosen, it gives you fair warning.
They had a few technical issues in the past, but they've corrected the issues as of January 2018, so ignore the upset reviews. This is a great weight loss app that can help you keep a balanced diet.
Click here for iOS.
Not currently available on Android, but it's in the works!
12. Daily Yoga
Studies show that the hormone cortisol that our bodies create when we're constantly stressed out can make us keep on weight. (4) Yoga not only calms you down, it's a great way to stay in shape.
Daily Yoga gives you 500 asanas, and 200 yoga, meditation, and Pilates classes, all at your fingertips. You can do yoga or meditation anywhere you want without having to spend a ton of money.
It also keeps track of your health data, so you don't have to stress about that either.
Namaste!
Click here for iOS.
Click here for Android.
13. YouAte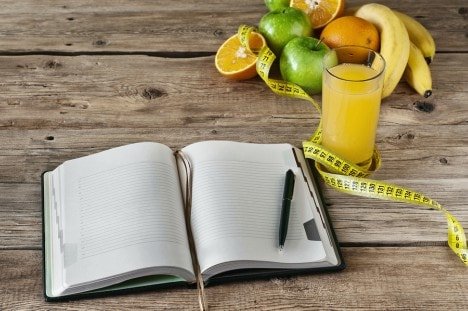 Most weight management programs have participants fill out a food journal because they help you keep track of what you're eating and identify possible triggers that might be sabotaging your diet.
YouAte weight loss app makes food journaling easy. You can take a picture of everything you eat with your phone and make notes describing emotions or other hunger cues.
There's no calorie counting or other health data to enter, so it's really an app to help you create a better relationship with food. For some of us, that's all we need to change our eating habits for the better.
Click here for iOS.
Not currently available on Android.
14. DietBet
It's time to put your money where your mouth is. What better incentive to lose weight than a little extra cash in your pocket?
The makers of weight loss app DietBet claim that 98% of active users lose weight with their app because it motivates them with cash prizes. Players take home an average of $58.
Groups of users pool their money together and everyone who meets their weight loss goals by a certain date gets to split the pot.
Click here for iOS
Click here for Android.
15. Charity Miles
Training for a charity walk or run is a great way to lose weight while earning cash to help those in need. If this is your thing, then this is the weight loss app for you.
Choose from over 40 charities, then turn the run tracker on and get moving. They donate money to that charity for every mile you log.
Charity Miles claims to have helped users raise over $2.5 million. If you can't exercise for yourself, do it for someone else.
Click here for iOS
Click here for Android
21-Day Fat Loss Challenge
Okay, it's not actually an app, but it IS an online fast weight loss program that comes with access to a private community that you can access through the FaceBook app on your phone…
Our 21-Day Fat Loss Challenge will help you lose 10-21 pounds in just 21 days WITHOUT having to worry about counting any calories, keeping food journals, or any other weight loss calculations.
It comes with an easy-to-follow approved foods list and daily checklists to help you every step of the way!

When you eat the RIGHT foods, weight loss comes much easier and you don't have to worry about tracking every morsel of food that you eat.
This diet plan will help you break up with your bad relationships with unhealthy foods and develop new, healthy eating habits that will last for years to come.
Click here to start YOUR 21-Day Fat Loss Challenge!
If you enjoyed this article on weight loss apps or have any questions, please feel free to leave a comment below!
Get the FREE 21-Day Training Guide!
Jumpstart your weight loss with this FREE fast fat loss training!