Start A Meditation Room: 5 Simple Steps and Examples for Beginners!
This post may contain affiliate links, which helps keep this content free. Please read our disclosure for more info.
As technology continues to intrude more and more into our lives, the need to create space, relax, and "chill out" has increased as well. This can be easily solved by starting your very own meditation room!
A meditation room can help relieve stress and provide the health benefits that come along with stress reduction, such as lowered blood pressure and better sleep at night.
It can bring you clarity, awareness, and expanded consciousness if you take the time to practice it.
It can help when you're grieving and when you're feeling angry or frustrated.

Meditation can be whatever you want it to be.
It can be as simple as closing your office door for 5 minutes while you gather your thoughts or taking 5 minutes in the morning when you wake up or 5 minutes in the evening when you go to bed.
It can also be as much as a whole separate meditation room in your house that is designed specifically for calming the mind.
If you want to achieve the maximum benefits of having a meditation room, you should have some sort of space that is your own.
The space should be quiet and somewhere that you can be undisturbed.
You'll want to start by finding a room or even a corner of a room that you can turn into your personal meditation (and/or yoga) space.
It's important to note that there are no "essentials" for this practice. All you really need is your body and mind.
That is the true beauty of the practice. But many people do like to have a few common items present during meditation to help them relax or feel at home in their meditation space.
Best Meditation Room Design Ideas:
1. Clutter-Free and Worry-Free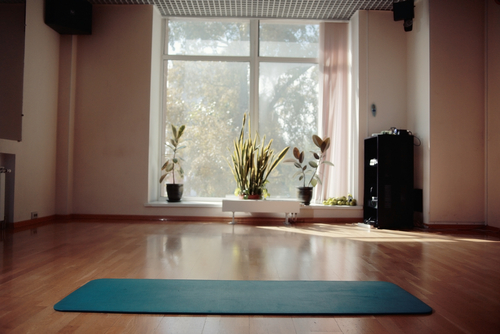 When creating a meditation room, be a minimalist.
You don't want a cluttered place to be the space where you are trying to clear your mind.
Avoid using the same rooms that you do work in, especially because the papers and computers will only stand to remind you of the things you need to do that day.
Try having a few simple items like a pillow, yoga mat, and a plant to start. Only use the essentials until other items become necessary.
2. Bring nature into the room.
There's something incredibly relaxing about having a life-giving plant in the room with you. It will bring a sense of calm into the room and fresh air as well.
A peace lily or a Boston fern are great meditation room plants.
Plus, these plants are virtually impossible to kill, so you don't have to worry about any dead plants in the room. 🙂
3. Choose good lighting.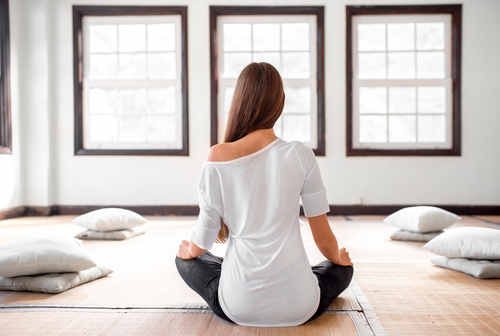 There is a difference between a stuffy, windowless room and a room full of windows that brings in lots of natural light.
A big difference.
Natural light brings with it a very calming effect on the body. If at all possible, choose a room that has lots of windows, and you can even open the during your meditation.
4. Keep technology out of the room.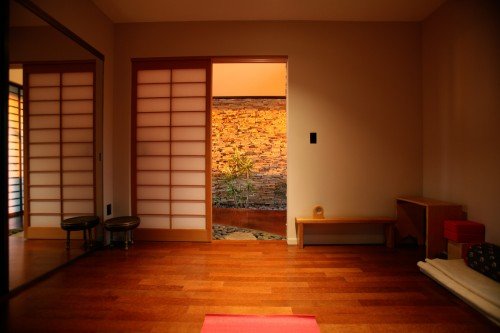 It's been proven that just talking on cell phones raises the natural cortisol levels in the body. A meditation room is about separating from the external noise that surrounds us and pointing our thoughts and feelings internally.
You don't want to be pestered. You're trying to find peace. Free yourself of using any technology, and leave all "devices" at the door!
5. The more open, the better.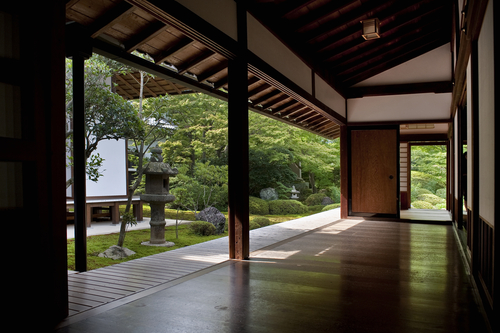 Listen, we totally understand where you are coming from. We don't assume you can afford some mansion with a Japanese gazebo right outside.
All you should focus on is that the room has plenty of space. The more "open" the room, the better you will feel. 🙂 Meditation is not only about the room but also the awareness of your mind, body, and senses.
It's believed that optimal meditation is achieved when all of your senses are in harmony with one another.
Add These Meditation Room Supplies for Your 5 Senses:
Smell
Smells can be very powerful on the mind and body. This incense burner is great because it doubles as a tealight holder as well.
Many people also opt for incense, but a candle can do the job just the same if you find it easier to use.
Sound
.
Many people use a meditation bell or some type of music to signify the beginning and end of their meditation period.
A very common tool for this purpose is a Tibetan Meditation Singing Bowl.
It is inscribed with a hand-etched Buddhist prayer or peace.
Sight
A prayer or meditation statue is a symbol and reminder of your affirmations and what you are there for.
Buddhas and peace and harmony statues are popular but don't forget that this is about you and what you want to make it.
If you want a meditating frog statue in your meditation space, then go for it!
Touch
Traditional mala meditation beads, also known as Buddhist prayer beads, have 108 beads used for keeping count of mantra meditations.
A "mantra" is simply your own personal affirmation or commitment to yourself. They are also called Buddhist prayer beads and are a great addition to any meditation room.
Taste
Hot tea can be incredibly calming to the system. It has been known to help relax the mind and relieve stress.
Yogi Relaxed Mind Tea contains aromatic lavender and organic sage, which are herbs traditionally used to balance your mood and nurture creativity.
.If you liked this guide to building a meditation room and are feeling a little lost about how to start a regular yoga practice, you need to check out my Yoga Fat Loss Bible for Beginners!
It's the best solution around for those looking to lose weight, get more flexible, and relieve aches and pains with a calm yoga practice.
It has detailed instructions and beginner modifications to help you progress with your practice.
It also comes with a free meditation guide for beginners that will help you clear your mind, let go of worries, and relieve stress and anxiety!
Leave a comment below if you enjoyed this article or have any questions!