15 Quick, Low-Carb Dinner Recipes
This post may contain affiliate links, which helps keep this content free. Please read our disclosure for more info.
To carb or not to carb? The plight of the dieter. Well, these quick low-carb dinner recipes are great for weight loss, maintenance, and everything in between!
Do you feel like everyone is talking about how carbs are the devil?
They're not.
Your body does need carbs to function optimally, but not all carbs were created equally.
Carbs that are high in sugar and low in fiber and other nutrients can raise your blood sugar, causing an unhealthy insulin spike. Fiber-rich carbs that have lots of other nutrients can provide clean fuel that your body can use for energy.
For some people, eating too many carbs can cause insulin resistance. This leaves your body unable to manage blood sugar levels properly. Chronic high blood sugar can cause all sorts of health problems.
If you get hungry quickly after having a full meal, feel excessively thirsty or often feel fatigued even if you're getting enough sleep, you could be insulin resistant.
If this is the case, you probably need to reset your insulin sensitivity to help your body use carbs efficiently.
One formula for doing this involves lowering your carb intake, increasing your vegetable intake and going easy on the exercise.
Cooking with fewer carbs can be daunting when you're used to slapping a large portion of rice, pasta or potatoes next to your meat and veggies.
However, eating veggie-rich meals can provide the ideal amount of carbs and deliver more nutrients than heaping your plate with noodles.
These recipes can make eating low-carb fun, delicious and part of your healthy lifestyle.
Plus, they don't take much time to put together. They may save you from heading through the fast-food drive-thru after work.
1. Crispy Carnitas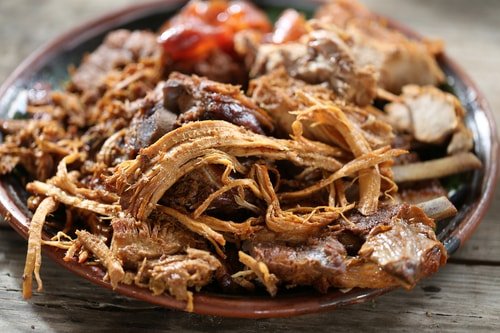 This recipe involves caramelizing pork in its own fat. The outside gets crispy, and the inside stays tender. Serve this with lots of sautéed peppers over a bed of greens for a quick meal. Plus, the leftovers are easy to spoon over anything, from eggs to chopped salad.
By Mark's Daily Apple. It will only take you 20 minutes of active cooking time, and the meat roasts away in the oven for 3 to 4 hours. Recipe available here.
2. Tomato Basil Artichoke Chicken
This recipe is gluten free but filled with flavor. Use fresh mozzarella for tons of flavor and ooey-gooey goodness. You don't have to use a lot.
Skip the cheese if you don't eat dairy! It will still taste fantastic!
By Julia's Album. It will take you only 15 minutes of prep time with a cooking time of 30 to 40 minutes to make. Recipe available here.
3. Shrimp and Sausage Paleo Skillet Meal
Shrimp doesn't take long to cook and is loaded with protein. Add more veggies to this skillet to pack it with additional nutrients.
By Trina's Paleo Newbie. It will take you 20 minutes to make. Recipe available here.
4. Egg Roll in A Bowl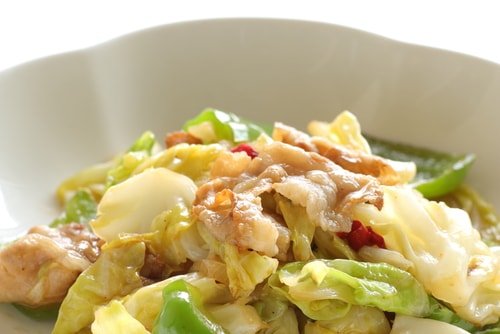 If you love Chinese takeout but know that it's not the healthiest food for you, replicate it at home. Leave out the egg roll wrapper, and you'll have a dish that tastes authentic but doesn't pack on the pounds.
By Mostly Homemade Mom. It will take you 15 minutes to make. Recipe available here.
5. Avocado Greek Salad
Making your own dressing is easy and cuts out some of the sugar that's found in bottled dressings. The healthy fats in the avocados and olives in this salad will fill you up and tantalize your taste buds.
By Café Delites. It will take you about 15 minutes to make. Recipe available here.
6. Artichoke, Spinach and Herb Frittata
Eggs are an easy way to deliver protein. Don't limit them to breakfast. This frittata comes together quickly and contains tons of vegetables.
By Linda Wagner. It will take you about 15 minutes to make. Recipe available here.
7. Grilled Pork Chops with Asparagus And Pesto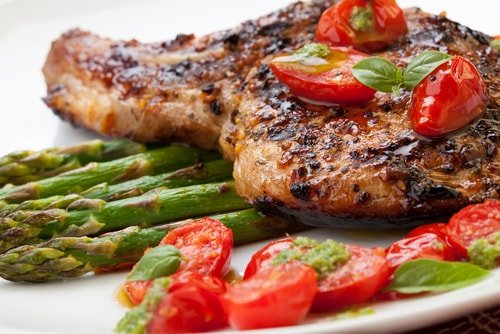 Pesto adds lots of unexpected flavor to grilled pork chops. You won't even miss the pasta.
By Skinny Ms. It will take you about 30 minutes to make. Recipe available here.
8. Loaded Cauliflower Salad
Cauliflower is the new French fry. And rice. And baked potato. It also makes a wonderful salad base.
This loaded cauliflower salad is easy to pack for a portable dinner too. Sprinkle just a few raisins over the top instead of mixing them in with the salad to keep the carb count down.
By the Healthy Foodie. It will take you about 15 minutes to make. Recipe available here.
9. Baked Zucchini Noodle Manicotti Skillet
When we eat zucchini noodles, we don't even miss wheat pasta. Heads up: You will need a spiralizer or mandoline for this one. This one-pan meal is so easy to make too.
By Inspiralized. It will take you 50 minutes to make. Recipe available here.
10. Low-Carb Shredded Chicken Tacos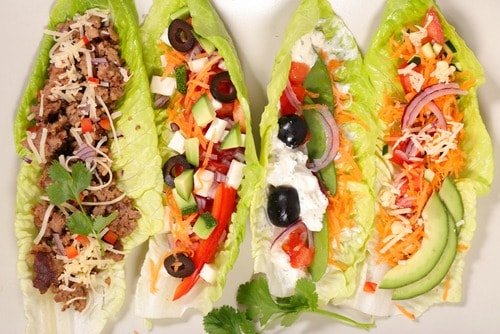 Swap your tortilla for lettuce for delicious tacos that highlight the flavor of the ingredients. If your lettuce breaks, wrap the filling in a lightly steamed collard leaf.
By Living Chirpy. It will take you about 20 minutes to make. Recipe available here.
11. Avocado and Egg Spaghetti Squash Boats Recipe
Spaghetti squash contains fewer calories than many other squashes. However, it has a lot of flavor and fun texture. It's satisfying on its own. It's even more delicious when filled with eggs, avocado, and salsa.
By ifoodreal. It will take you about 15 minutes to prep and 45 minutes to bake. Recipe available here.
12. Smoked Salmon, Arugula and Avocado Salad
Smoked salmon is an easy protein to throw on anything. This recipe includes it with peppery arugula and satisfying avocado. If the arugula tastes too strong, add baby spinach. The lime in the dressing also tones down the sharp flavor of the greens.
By Fuss Free Cooking. It will take you about 10 minutes to make. Recipe available here.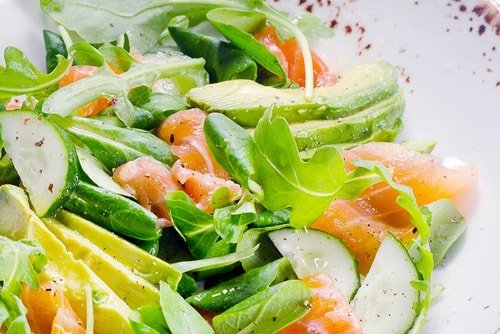 13. Spicy Skirt Steak with Asian Slaw
If you're used to making meat and potatoes, it can be tough to think of another pairing. This Asian slaw will shake up your taste buds. The bright colors are as satisfying to the eyes as the flavor is to the palate.
By Barbells & Bellinis. It will take you about 30 minutes to make. Recipe available here.
14. Buffalo Chicken Casserole
Who said a casserole has to be loaded with unhealthy stuff, like canned soup and cheese? This recipe has a great casserole texture but no gluten or dairy.
By Jay's Baking Me Crazy. It will take you 15 minutes to prep and 30 minutes to cook. Recipe available here.
15. Low Carb Bacon Broccoli Salad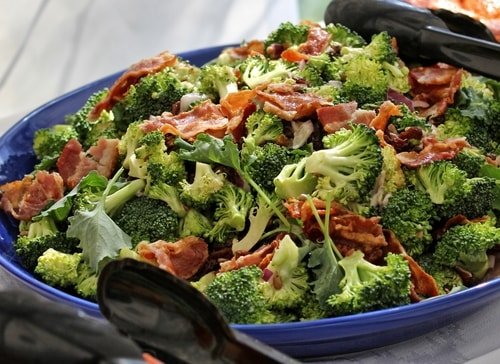 If you only eat your broccoli steamed, you're probably a little bored by now. Change things up by serving your broccoli cold and in salad form. Add some lean beef or chicken on the side for a well-rounded meal.
By Low Carb Maven. It will take you 15 minutes to make. Recipe available here.