10 Best Low-Carb Snacks for Weight Loss
This post may contain affiliate links, which helps keep this content free. Please read our disclosure for more info.
Spikes and drops in blood sugar levels can do more than just make you "hangry."
Unsteady blood sugar levels can sabotage your weight loss by making your body store fat instead of burning it!
Snacking is often suggested to help you lose weight, but only if you're snacking on foods that won't spike your blood sugar.
Snacking doesn't have to be a bad habit. Just make sure that you are eating the RIGHT kinds of snacks.
Here are ten of the best low-carb snacks for weight loss.
Many of them are high in protein and vitamins and minerals that are essential to weight loss.
I've also included tips on prepping ahead, so your snack cravings don't tempt you to make bad choices!
1. Cold cut roll-ups
Since eating more protein is the name of the game when you're trying to lose weight, you should have some pre-sliced meats on hand. Grab a couple of slices, along with some veggies, and get rolling!
Alex and I like to have thinly sliced cucumbers in the fridge (prep them once or twice a week) so we can get snacking ASAP.
2. Olives
If you're finding it difficult to find flavorful whole foods that are low-carb, olives just might be your new best friend. Olives come in a bunch of different varieties (think: flavors) that can spice up your snacking.
Jarred or canned olives are easy to buy and store long-term, so you can plan ahead to always have them on-hand.
Kelsey from CookingIsPun.com also recommends olives in her video on low carb travel snacks.
3. Zucchini fries
This green cucumber-looking vegetable is low in calories and high in anti-inflammatory properties.
Zucchini also packs a surprising amount of antioxidants, vitamins, minerals, and fiber, all of which help keep the body on the weight loss train.
Just slice them up, add a little extra virgin olive oil, and pop them in the oven to roast! There is a great recipe from Pinterest that I found here.
4. Vanilla and cinnamon whey protein shake
In addition to being low-carb, studies show that diets high in protein and cinnamon can increase weight loss.
One of the easiest ways to get more protein in your life is with a high-quality whey protein shake. They are delicious and easy to make on the go.
To make it, add a scoop of vanilla protein powder into a blender bottle along with one tablespoon of cinnamon. Whenever you're ready to drink, just add water and enjoy!
5. Low-carb protein smoothie
Smoothies make great meal replacements when you're trying to lose weight. A small, protein-packed smoothie can also make a great snack (just be sure not to overdo it on the serving size.)
Here's an easy-to-make smoothie recipe that uses whey-based Isopure Zero Carb Protein Powder.
If you can't stand the idea of taking out a bunch of different ingredients to make a smoothie, prep some make-ahead smoothie packs.
Freeze baggies filled with avocados, spinach leaves, coffee ice cubes, and other ingredients, then throw them into the blender with protein powder when you're ready for a snack.
6. Bell peppers!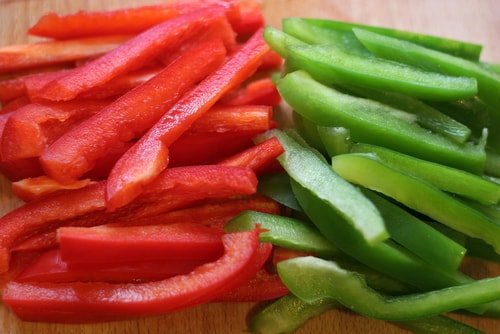 Bell Peppers are truly nature's candy and make for another delicious treat that you can enjoy without any guilt.
These guys are loaded with antioxidants, vitamins, and key minerals the body craves.
Try grabbing a variety of bell peppers in the store, cut them long ways, and mix and match them together in Ziploc bags.
The more variety, the better, as their colors are indicators of the key vitamins they provide to the body!
7. Half of an avocado
If you've never eaten avocado with a little salt sprinkled on it, you're missing out! This creamy, just slightly salty snack is really satisfying.
Like spinach, avocados can supply you with a ton of nutrition for little calories or carbs. You can even cut down on sugar by substituting avocado for a banana in many smoothie recipes.
8. Hard-boiled eggs
This is another prep-ahead snack that can save you when you're starving. Boil a dozen eggs over the weekend, then store them in the fridge for weekday snacking.
Since eggs are a solid source of protein, they're perfect for a weight loss diet.
9. Kale chips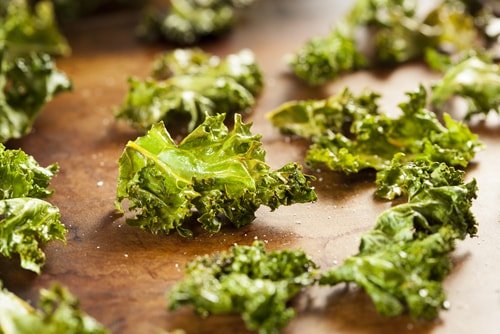 You can buy pre-made kale chips at the store, but you run the risk of added ingredients that can increase the calorie and carb counts.
Make your own at home to save carbs and money.
Here's an easy kale chip recipe from the folks at Atkins, who are famous for their low-carb diet.
10. Beef jerky
Or should I say, "BEEF JERKY!" This should probably be at the top of the list, but I thought veggies should come first.
This is an easy snack that you can get almost anywhere!
Just make sure to avoid the "flavored" jerky as it often is loaded with sugar to enhance the taste. You can also experiment try turkey jerky as well because it usually has less sugar and calories per serving (also really yummy)!
Bonus Tip: All food is more satisfying if it tastes good. Learn to use herbs and spices to enhance the flavors of low-carb foods.
Many herbs and spices have healthy and weight-loss benefits (think: cinnamon, cayenne pepper, and mustard seed). Play around with these to give your snacks a flavor boost!
Snack on Our 21-Day Fat Loss Challenge!
If fast weight loss is what you really want, there's no better fast solution. With the 21-Day Challenge, you will:
Completely change your eating habits
Lose 10-21 pounds and start feeling light and free again
Get more clean energy from the foods you eat
Experience less crashes and annoying sugar cravings
Start living the happy and healthy life you deserve.
Even better than the weight loss is the feedback we get from people about how the program has taught them how to change their eating habits and find a diet that truly works for them in the long-term.

We have over 1,000 people in our private support group going through the Challenge together, and every day they are sharing experiences, results, motivation, and lots of recipes!
If you are ready to make some changes in your life, this is the ONLY place you should start. We will teach you exactly how to make the necessary changes in your diet and your lifestyle and how to keep them "beyond the diet."
Click here to start YOUR 21-Day Fat Loss Challenge today to see how real people are getting real results in just 3 short weeks!
Leave a comment below if you enjoyed this article on the best low carb snacks for weight loss or have any questions!
Get the FREE 21-Day Training Guide!
Jumpstart your weight loss with this FREE fast fat loss training!