19 Make-Ahead Meals for Weight Loss
This post may contain affiliate links, which helps keep this content free. Please read our disclosure for more info.
These make-ahead meals for weight loss are great if you're exhausted from a long day at work or entertaining the kids, because the last thing you probably want to worry about is planning a meal that helps you reach your weight loss goals.
But, if you put your freezer or fridge to work, you can make healthy meals ahead of time without the last-minute fuss.
Make-ahead meals leave motivation out of the equation.
Find a time that works for you to prep some healthy breakfasts, lunches, and dinners ahead of time, so you don't have to worry about it when you really don't feel like worrying about it!
These 21 recipes can all be prepared at least a couple of days before you're ready to eat them, which is perfect for even the busiest person who wants plenty of healthy foods to grab to stay on track with weight loss.
Make-Ahead Breakfasts
First things first: if you're new to meal prepping, check out this video, which provides tons of helpful tips for beginners to get started.
1. Breakfast Casserole
This adaptable breakfast casserole can be frozen for up to three months! Or, cook the sausage and veggies two days in advance, refrigerate them, and they're ready to go when you want to prepare the eggs.
By Sally's Baking Addiction. This will take 15 minutes for full prep. Get the recipe here.
2. Power Protein Egg Cups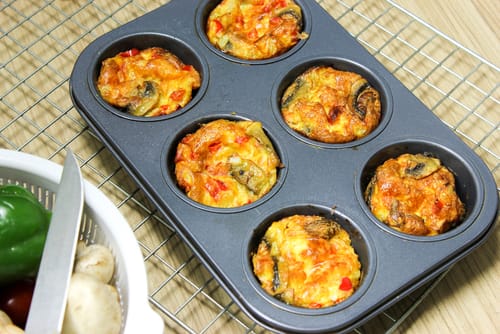 Heather Leidy, a nutrition and exercise specialist and professor, says that a protein-packed breakfast will help you lose weight, and fight the urge to consume a bunch of calories, throughout the day.
High on the list for best proteins? Eggs.
The protein-packed egg white cups contain turkey bacon, shredded chicken breast, and red bell peppers, and are perfect for tucking away in the fridge for a quick meal each morning.
By Beachbody. It takes about 15 minutes to prep this recipe, which is available here.
3. Raspberry Lemonade Mason Jar Parfait
This mason jar parfait by The Two Bite Club can take on several variations using your favorite yogurt, granola, and healthy mix-ins.
They can store in the fridge for three to five days and take only a minute to prepare.
Get the full recipe here.
4. Freezer Oatmeal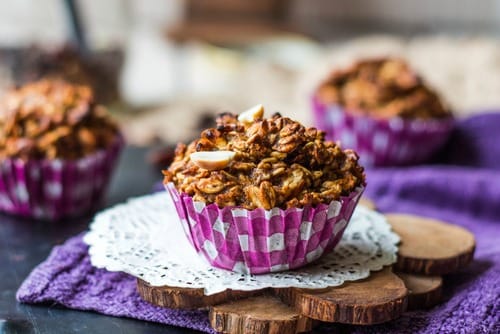 These oatmeal cups are perfect for preparing ahead of time. Create portions using a muffin tin and pop them right in the freezer. You can use a variety of oats, but Prevention suggests steel-cut oats, which are low in calories, sugar, and far down on the Glycemic Index.
When you're ready to eat one, you can boil it on the stove or in the microwave.
From Edible Perspective. It will take about 10 minutes to prepare. Get the recipe here.
5. Sweet Potato, Avocado, Black Bean Breakfast Burritos
These breakfast burritos also use egg whites, so they're low in calories, but packed with healthy fats and protein.
Prepare them ahead of time and then wrap in plastic wrap and foil to store in the freezer until you're ready to microwave them.
The full recipe can be found at Ambitious Kitchen. These take 20 minutes to prepare.
Make-Ahead Lunches
6. Green Goddess Sandwich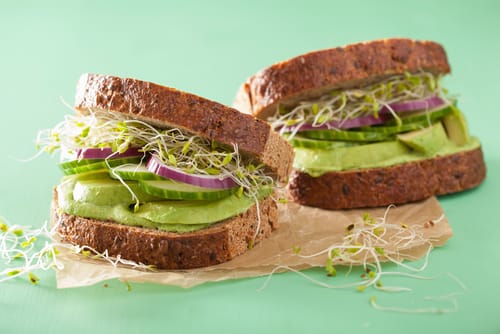 Make your healthy mayo and pickled onions and assemble your Green Goddess Sandwiches up to a week ahead of time for the easiest grab-and-go lunch.
The recipe is from The Bojon Gourmet. Sandwiches take about 20 minutes to prepare.
7. Chicken Fajita Lunch Bowl
Make-ahead lunches that you can store in containers in the fridge are perfect to grab on busy mornings. These chicken fajita bowls contain lean chicken and plenty of healthy veggies to give you a boost on your lunch break.
From Sweet Peas and Saffron. These take 15 minutes to prep. Find the recipe here.
8. Mason Jar Zucchini Noodle Salad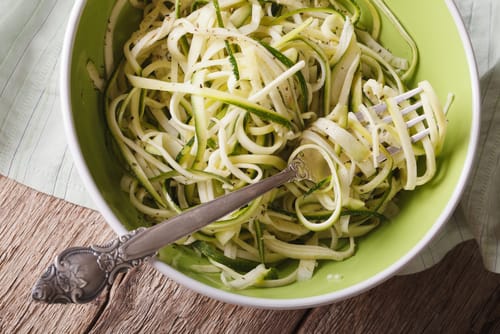 This mason jar salad ramps up the health factor by using zucchini noodles and a coconut avocado dressing. Note: You will need a spiralizer, mandoline, or julienne peeler for this recipe.
From Inspiralized. It takes 10 minutes to prepare. Get the recipe here.
9. Spinach Power Salad
This simple salad recipe from The Lemon Bowl can store in an airtight container for up to five days in the fridge.
Total prep time for a week's worth of lunches is 10 minutes.
10. Sweet Potato and Black Bean Quinoa Bowls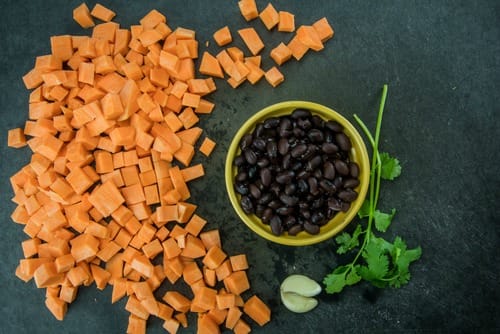 Spoonful of Flavor brings us this lunch recipe for a vegetarian dish that makes quinoa the star. According to Time, quinoa is one of the best ingredients you can eat for folate, fiber, and protein.
Roast the veggies and prepare the quinoa ahead of time, and then separate them into three containers to store in the fridge.
Preps in 15 minutes.
11. Granola Crunch Apple-Peanut Butter Sandwich Wraps
Plenty of crunch, grains, fruits, and protein go into this make-ahead lunch wrap for a new twist on PB&J. And, they're adaptable, so you can add healthy ingredients you love.
This recipe is from Two Health Kitchens. These wraps take only minutes to prepare.
Make-Ahead Dinners
12. Skinny Lasagna Rolls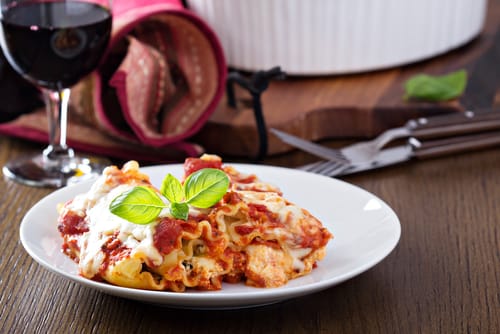 These lasagna rolls use whole-wheat noodles and low-fat cheeses for a healthier version of one of your favorite meals. Store them in the freezer wrapped in foil and an airtight container until you're ready for them.
Sub zucchini noodles out for an even healthier dish!
From SkinnyMS. Takes about 15 minutes to prepare. Get the recipe here.
14. Sweet Potato Black Bean Chili
You can make a large batch of this healthy chili and save the leftovers in the fridge for three days or the freezer for up to three months.
From Eating Well. You'll spend about 25 minutes preparing this recipe.
14. Healthy Makeover Meatloaf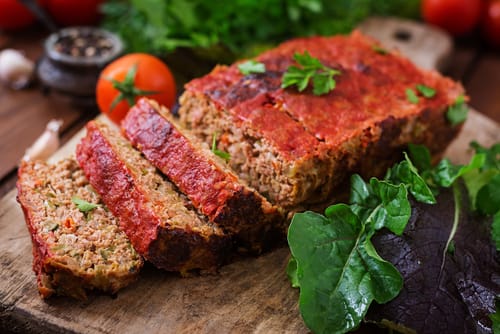 You can make extra batches of this lean ground turkey meatloaf and keep it in the freezer until you need it.
From Dr. Oz The Good Life. Prep time is 15 minutes. Get the recipe here.
15. Lemon Shallot Chickpea Casserole
From Bunsen Burner Bakery comes this deliciously healthy make-ahead casserole that you can freeze in portions for the ultimate convenient dinner.
According to Livestrong, chickpeas are rich in nutrients, like iron, folate, and fiber, making them a top choice of veggies to add to a meal.
This recipe takes about 15 minutes to prepare.
16. Baked Parmesan Chicken Nuggets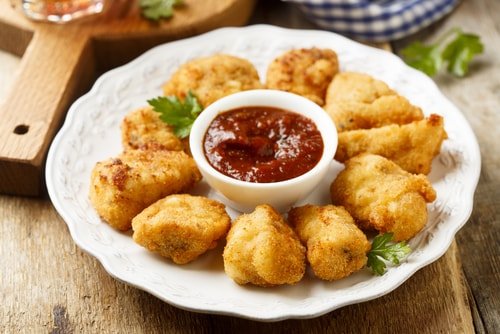 Let's face it: we all have cravings for not-so-healthy foods occasionally. This recipe will help curb your cravings, but won't undo your hard work.
These nuggets are baked instead of fried and use a minimal amount of breading. Freeze them for up to a month and reheat in the microwave for a super quick dinner.
From Gimme Delicious. This recipe takes 5 minutes to prep.
17. Chicken Broccoli Stir-Fry
Once a Month Meals provides this delicious stir-fry recipe with broccoli, carrots, and cabbage for plenty of weight-loss promoting veggie content. It'll take about 18 minutes to prep.
According to The Kitchn, separate your components for stir-fry meals – like meat, veggies, and rice – into separate bags for the freezer, so it's easier to cook them properly later.
18. Bacon Turkey Burgers
These burgers are a huge step up from dry, bland turkey burgers – and they even have hidden vegetables inside! Wrap patties in parchment paper and store in quality bags in the freezer.
Get the full recipe from Lisa's Dinnertime Dish. These will take about 10 minutes to prepare.
19 . Meatballs with Sneaky Veggies
These healthy meatballs contain bits of carrot, onion, and whole-wheat bread crumbs for dinner the whole family can enjoy. They'll take about 20 minutes to prepare and can store in the freezer.
From Thriving Home. Get the full recipe here.
If you enjoyed this article on make-ahead meals for weight loss, leave us a comment or question below!
Get the FREE 21-Day Training Guide!
Jumpstart your weight loss with this FREE fast fat loss training!