25 Healthy Dinner Ideas for Weight Loss – 15 Minutes or Less!
This post may contain affiliate links, which helps keep this content free. Please read our disclosure for more info.
Eating healthy during the week can be tough, so we've dome some homework for you and gathered up 25 healthy dinner ideas for weight loss that take less than 15 minutes to make!
You're trying to lose weight…
You're motivated.
You pack your fridge with healthy foods…
You do your best to get creative with vegetables for a few days…
And you pin the crap out of some healthy recipes on Pinterest…
Then, you get slammed with work and take a cautious glance over at the saltines and cheese slices…
Why is it that you be so tempted by a bland white square when healthy meals offer so much more color and variety?
The reason is that eating healthfully can seem more inconvenient than just grabbing something like crackers and cheese.
You live a busy lifestyle, and you don't always have time to cook like Martha Stewart.
That's why we've put together this list of recipes that take almost no time to make. They include foods that fight fat and are packed with nutrients but are not calorie-dense.
Healthy food can be convenient.
1. Creamy Avocado Cups
There's something luxurious about finger food when you eat it for dinner. This recipe takes advantage of the nutrients found in the raw foods and can be prepared in no time. Use Greek yogurt for extra protein, or mix in a tablespoon of hydrolyzed collagen so that you stay full longer.
By Lori Powell at Health.com. Recipe available here.
2. Pasta with Yogurt, Peas, and Chiles
Creamy pasta is a comfort food. Isn't that off-limits when you're trying to lose weight? Not when the fattening, non-nutritive ingredients are swapped out for healthier choices.
By Molly Wizenberg of Orangette. Recipe available here.
3. Peanut Noodle Bowl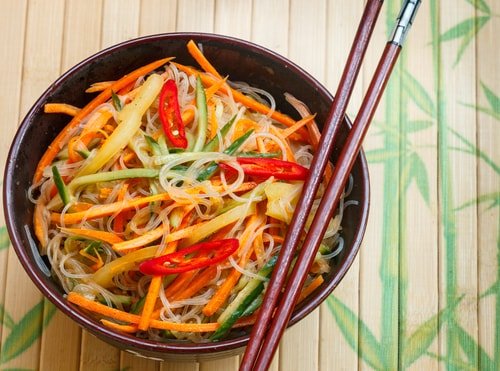 This recipe is like getting take-out, except you make it at home with healthier ingredients. Still, it doesn't take any longer than calling in an order and driving to pick it up.
Swap out the whole-wheat noodles for gluten-free spaghetti, rice pasta or buckwheat noodles to customize the recipe to your nutritional preferences.
By Andrew Olson at One Ingredient Chef. Recipe available here.
4. Strawberry Kale Salad
According to Healwithfood.org, berries, kale, and walnuts are considered superfoods, and they're loaded into this salad. The kale won't wilt if you want to divide this into separate containers for the week's lunch.
By Jenn Laughlin at Peas and Crayons. Recipe available here.
Next up on the list of healthy dinner ideas for weight loss is one of my personal favorites!
5. 5-Ingredient Easy White Chicken Chili
Make this recipe on the stove in fewer than 15 minutes. You can also do the quick and easy prep work and throw it in the slow cooker to meld the flavors even more. That will take more than 15 minutes to cook, but you'll have dinner ready when you get home.
By Ali at Gimme Some Oven. Recipe available here.
6. Steak Tacos
Thinly sliced steak cooks up in no time. The juices that collect in the pan add flavor to these tacos without fat. Substitute the tortilla for a lettuce or collard wrap for an even skinnier option.
By Food Network. Recipe available here.
7. Quesadillas With Spinach And Black Beans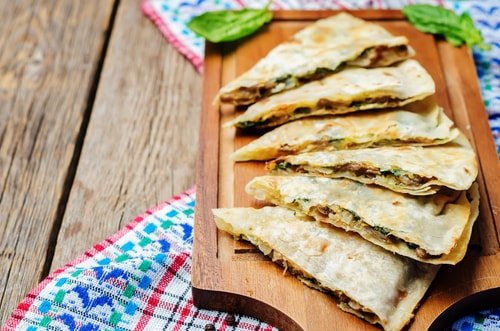 Who said eggs were strictly for breakfast? One of the most complete proteins, the egg is tasty, is easy to add to any meal and fills you up. You won't even miss the cheese. If you follow a low-carb diet or don't want the quesadillas, leave them out for a delicious scramble that's still super filling.
By Kate at Cookie + Kate. Recipe available here.
8. Spiralizer Sweet Potato with Goat Cheese, Caramelized Onions, and Pine Nuts
This recipe contains the perfect blend of salty and sweet. In other words, it satisfies all of your cravings in one quick, healthy dish.
By Marjorie at A Pinch Of Healthy. Recipe available here.
9. Blackened Chicken with San Fran Quinoa Salad
Although it's a grain, quinoa contains plenty of protein. Use it in a salad to make it heartier.
By Jamie Oliver. Recipe available here.
10. Salmon with Bok Choy And Apple Slaw
Salmon only takes a few minutes to cook, and apple slaw just requires some chopping and preparation.
By Charlyne Mattox at Real Simple. Recipe available here.
11. Garlic Lemon Shrimp And Zucchini Bowl
Shrimp is one of the easiest proteins to cook. It only takes a few minutes, and it delivers protein as well as a flavorful punch. Add it to a bowl of veggies for a bright dish that's perfect any time of year.
By Ryanna Battiste at The New School Kitchen. Recipe available here.
12. Tuscan-Style Tuna Salad
You don't even have to cook the tuna if you get it from a can. Substitute canned salmon if you prefer the flavor. Salmon makes this dish a little richer in flavor and heart-healthy omega-3s.
By Eating Well. Recipe available here.
13. Marinated Tuna Steak with Apple Kale Salad
The tuna in this recipe is filling and rich. The salad is crisp and refreshing. It all pairs beautifully for a satisfying, healthy meal.
By Zuzka Light. Recipe available here.
Next up on the list of healthy dinner ideas for weight loss is a good spin on brussels sprouts!
14. Shredded Brussels Sprouts & Chicken Caesar Salad
Make a Caesar salad more nutritious and tastier by shredding Brussels sprouts and mixing them with the romaine. It's a great way to add crunch without croutons.
By Kristin at Iowa Girl Eats. Recipe available here.
15. Spaghetti Squash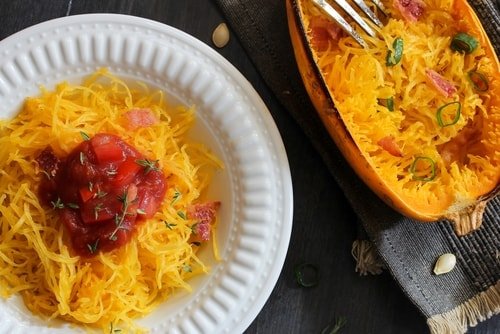 Did you know that spaghetti squash only takes 15 minutes to cook in the microwave? Substitute it for the noodles in any pasta recipe. It's perfect with tomato sauce and lean meatballs.
By What's Cooking America. Recipe available here.
16. Healthy Turkey Club Lettuce Wraps
Cut out a lot of non-nutritive calories by replacing grain-based wraps with lettuce. You can even steam some collards for a secure wrap that won't tear while you eat it.
Some clean, organic bacon won't derail your diet. According to Health Wire, it will add tons of flavor and help satisfy your cravings so that you don't devour that ice cream in the freezer after dinner.
By Tammy Kresge at Organize Yourself Skinny. Recipe available here.
17. Savory Cashew Cream
This recipe can't be eaten by itself, but it's worth including in this lineup because you can do so much with it. It tastes like cheese and can be added to spaghetti squash (above) for a complete meal that even tastes great cold the next day with a little raw kale torn up in it. You can also enjoy it between whole-wheat tortillas as a quesadilla, as a dipping sauce for roasted veggies or as a dressing in your Tuscan-style tuna salad.
By Beth at Eat Within Your Means. Recipe available here.
Next up on the list of healthy dinner ideas is a recipe that is great to make ahead of time for a quick weeknight meal after work or school!
18. Cauliflower Chicken Fried Rice
Cauliflower rice has more flavor than regular rice, and it cuts tons of calories and carbs. Using chopped chicken cuts down your cooking time.
By Krista at Joyful Healthy Eats With A Side Of Sweet. Recipe available here.
19. Chicken Kale Wraps
This recipe blends creamy butternut squash, sweet mango, chicken, balsamic vinegar and Dijon mustard to satisfy all of your cravings.
By Self.com. Recipe available here.
20. Garlic Butter Brazilian Steak
This steak recipe is quick to make and is full of rich flavor. You don't need a lot to fill you up. Using real butter sparingly will keep you from feeling like you're depriving yourself.
By Fine Cooking. Recipe available here.
21. Citrus Avocado Salad With Chicken
The dark, leafy greens in this salad have tons of calcium. The grapefruit delivers vitamin C, and the other ingredients pack in extra flavor.
By Steph at Stupid Easy Paleo. Recipe available here.
22. Best Chili Recipe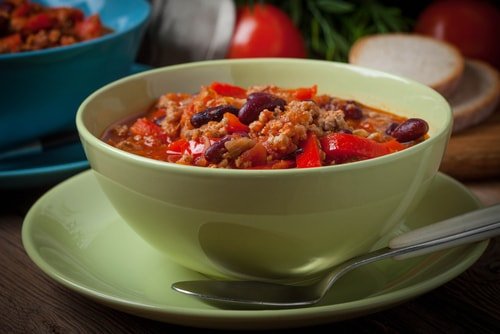 Use ground turkey or chicken and salsa for great flavor with fewer calories in this satisfying chili.
By Christine Pittman at Cook the Story. Recipe available here.
23. Chipotle Sweet Potato Bowls
Get in high-quality carbs with sweet potatoes. Add some protein with a fried egg. Let the yolk drip down to coat the whole meal and deliver a dose of iron.
By Elena at Biscuits and Such. Recipe available here.
24. Quick and Easy Trader Joe's Dinner
Get all of your ingredients at Trader Joe's for a simple meal that's also affordable. This one combines white beans with asparagus, grape tomatoes and frozen seafood mix. It's a good one to have on hand when you need a convenient dinner.
By Michael Moody at Michael Moody Fitness. Recipe available here.
25. Zen Quinoa Bowl
Putting ingredients together in a bowl makes you feel like you're getting a wide variety of foods. Using quinoa as the base allows you to get enough protein while keeping the meal vegetarian.
By Christal at Nutrition in the Kitch. Recipe available here.
If you enjoyed this article on the 25 healthy dinner recipes for weight loss or have any questions for us, please leave them in the comment section below!
Get the FREE 21-Day Training Guide!
Jumpstart your weight loss with this FREE fast fat loss training!