12 Healthy Lunches for Work Under 500 Calories
This post may contain affiliate links, which helps keep this content free. Please read our disclosure for more info.
It's hard to think of healthy lunches for work under 500 calories that will still keep you full until dinnertime, but we have rounded up some of the best!
There are plenty of options when it comes to low-calorie lunches to take to work. You just have to BE PREPARED!
You know what's even better?
You aren't limited to a week's worth of regular salads, although those are awesome, too.
There are all kinds of recipes on this list, and they aren't just salads!
If you're trying to keep calories to a minimum, but still want to prevent the mid-day belly rumbles, these healthy lunches should do the trick.
The great thing is they can be prepared the night before or in the morning for a no-fuss lunch on your break.
1. Paleo Shrimp and Grits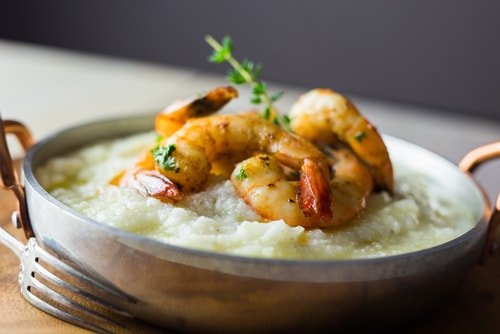 What is this "Paleo" stuff all about? According to The Paleo Diet, the diet focuses on fresh, wholesome foods like our ancestors ate before nearly everything became processed.
This recipe from POPSUGAR aligns with the diet, using fresh shrimp, coconut milk, cauliflower rice, and other real ingredients for a healthy work lunch.
One serving has 269 calories. You can make the meal the night before, since it takes about 45 minutes, and reheat on your lunch break.
2. Sweet and Tropical Flat-Belly Salad
This is not your ordinary plain-Jane salad. In fact, it has a mix of flavors that are sure to brighten your palate on even the dullest work day.
Plus, it's an insane fat-fighter, with avocado, pineapples, almonds, and blueberries – all of which burn fat. According to WebMD, studies show that diets rich in blueberries can lead to more abdominal weight loss than those without them.
The salad takes 15 minutes to prepare and has only 340 calories. Get the recipe from POPSUGAR here.
3. Skinny Taco Stuffed Peppers
Instead of unhealthy tacos with high-calorie tortillas or taco shells, stuff your taco in a green pepper and call it lunch.
Since they use lean ground turkey instead of beef and reduced-fat cheddar cheese, these tacos are a much better alternative, but still, have the taco flavors you love.
Add healthy toppings, like avocado, tomato, and onion, to match your tastes.
Recipe from Womanista Wellness. Each taco is 195 calories. They'll take 30 minutes to make, but you can cook them ahead of time and store them in the fridge to reheat.
4. Avocado Toast with Eggs, Spinach, and Tomatoes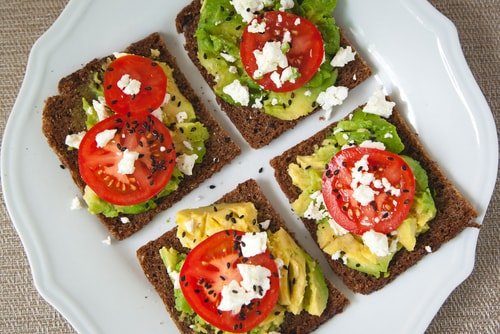 According to Eat This, Not That!, the amazing avocado can keep cholesterol levels low, reduce abdominal fat, and provide tons of heart-healthy (and other) nutrients. Additionally, eating some avocado at lunch decreases your hunger for hours!
If you need any more convincing that avocados for lunch are just what you need, you should try this toast recipe with avocados, eggs, spinach, and tomatoes.
Use quality, whole-wheat bread to prepare your open-faced sandwich, so it stays fresh, not soggy, through the day.
This recipe comes from Two Peas and Their Pod and takes about 10 minutes to prepare. One serving has about 250 calories.
5. Cobb Salad in a Jar
How much more convenient can you get than pre-packing some salads in a mason jar and grabbing one on your way out the door?
This jarred Cobb salad is everything you love about Cobb salads: tasty, convenient, simple, and low-calorie. And, it'll only take 5 minutes to prep four salads.
From Weelicious. Each salad is about 245 calories. Get the recipe here.
6. Slow Cooker Gumbo
This is one of the best on our list of healthy lunches for work, because you can pre-make it and eat it all week long! Cook up a large batch, and freeze the leftovers.
The worst part about lunch during the week is spending the time making it, and that's why leftovers are so great. This one is even better, because it makes TONS of leftovers!
From Skinny Ms. Get the full recipe here.
7. Portobello Stuffed Pizza
Pizzas under 500 calories for lunch? Sure, why not!
When you have this delicious alternative to traditional dough pizza, you can indulge without worrying about calories. In fact, each of these pizzas is only 243 calories, so you can have two if you'd like!
Six pizzas take about 30 minutes to make, but you can store them in the fridge and take them to work for the next few days.
From Eat Good 4 Life. Get the full recipe here.
8. Veggie-Loaded Avocado Tuna Salad
Tuna salad has long been a staple for lunch and summer picnics in the United States, but it's unfortunately usually LOADED with mayonnaise.
This can be really unkind to our waistline, especially when slathered on processed carbs like bread.
This recipe from The Natural Nurturer puts a new twist on tuna salad using a much healthier fat – avocado. You won't miss the mayo or the bread, we promise!
9. Avocado, Apple, and Chicken Salad
Avocado to the rescue again! Like tuna salad, chicken salad is also another unhealthy 'staple' that is a very common lunch menu item.
This recipe by Paleo Leap also incorporates avocado in place of mayo, and the green apples add the hint of tartness that you usually get from grapes.
It's gluten-free, dairy-free, and totally delicious!
10. Asian Ground Chicken Cups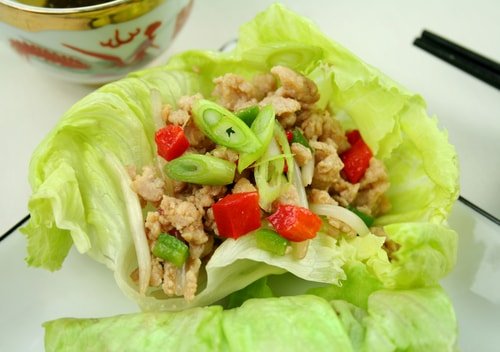 Not only are these less than 500 calories, but they are also gluten-free, dairy-free, and paleo!
They are a great low-carb recipe, and you can add all sorts of other veggies, including carrots, onions, and cucumbers!
From Skinny Ms. Get the recipe here.
11. BLT Bowl
This BLT bowl salad is hearty yet light, and it tastes AMAZING even without dressing.
It's packed with flavor from the bacon, avocado, and cheese (leave out if it's not your thing), and it's a perfect healthy lunch for work that will tie you over until dinnertime.
Recipe from The Londoner.
12. Salmon Salad Power Bowl
Wondering what to do with that leftover salmon from last night's dinner? Throw it on top of this salad!
This recipe by Lindsay at Cotter Crunch will pick you right up from that midday slump at work. It's especially great for summertime because it calls for squash, zucchini, raspberries, and cucumbers!
Eating a healthy lunch during a busy day at work can seem overwhelming, but it's entirely possible. The key is to always BE PREPARED!
Pack your healthy lunches for work ahead of time, and don't leave yourself running to the snack bar or local deli at the last minute!
If you enjoyed this article on healthy lunches for work under 500 calories, please feel free to leave a comment or any questions you may have below!
Get the FREE 21-Day Training Guide!
Jumpstart your weight loss with this FREE fast fat loss training!