11 Best Health and Fitness Blogs for a Healthy 2022
This post may contain affiliate links, which helps keep this content free. Please read our disclosure for more info.
I would, of course, like to tell you that MY OWN blog is the best health and fitness blog in 2022, but I'm going to spread the love today!
It's no secret that many people want to revamp their diet and exercise routines every time the new year comes around.
Gyms get busier. Diet programs begin selling like hotcakes.
Within a month, the crowded gym is back to normal, and the conversation in the weight loss group you joined sounds like crickets.
One study by Bodybuilding.com found that almost three-quarters of people who set fitness goals as New Year's resolutions abandon them. It's hard to find the time, and it's difficult to follow a new regimen.
Change is not easy, people. Our bodies are programmed to seek homeostasis.
That means that it's often easier for us to continue to do what we're doing even if it's unhealthy or makes us feel worse.
Many people don't have plans for getting back on the wagon if they fall off. What's more, we're a judgmental species; we berate ourselves for failing if we lose momentum for even a moment.
One way to maintain your health and fitness goals is to find the right motivation and support. This is why our 21-Day Fat Loss Challenge comes with access to a private support group.
These things can be easy to come across these days with so much information out there in cyberspace.
All that information out there on the internet a double-edged sword, however. You can get overwhelmed trying to find the best advice.
That's why we've done the work for you. We have found the best health and fitness blogs that are going to help you get and stay fit and healthy in 2022.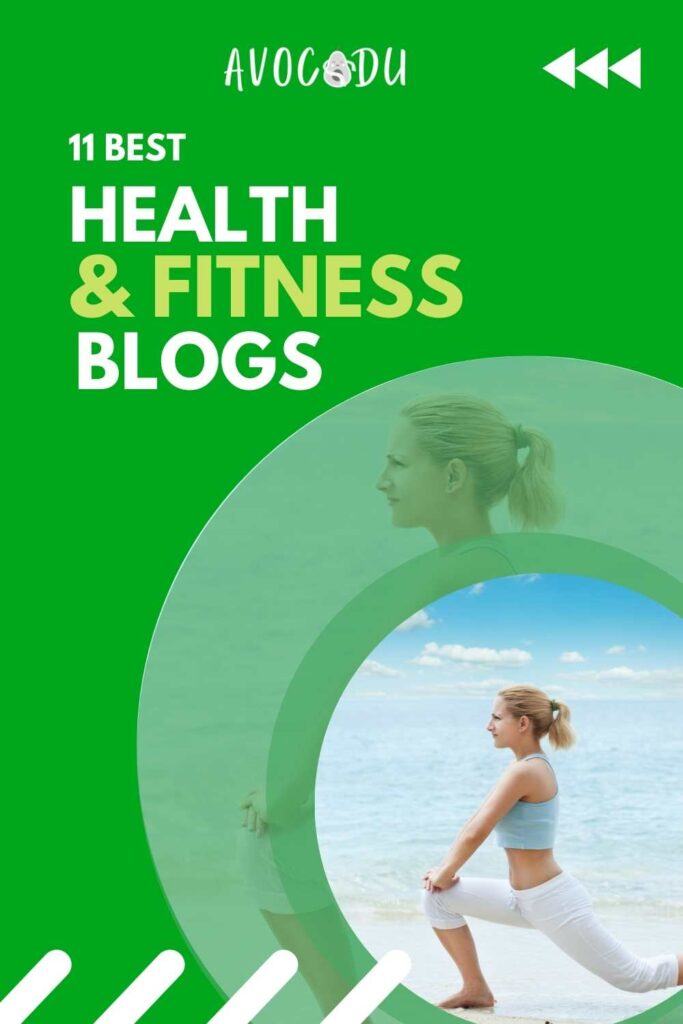 What Should You Look For in a Great Health and Fitness Blog?
There are many websites that are inspiring or offer articles that are fun to read, but some of them contain inaccurate information or don't help you make the move off your couch. Others aren't memorable enough to hold your interest.
The best blogs establish a connection with the reader. They are personal and stimulating enough to make you want to keep coming back for more.
If you resonate with the author's message, you're more likely to be personally invested.
They are also realistic. If you feel like the advice offered is too difficult to follow, you're not as likely to be consistently motivated.
In addition, if you're required to pay hefty fees or buy fancy equipment to follow the advice on a particular blog, you're probably going to ditch it.
Variety, connection and action-oriented content that's all in one place will make you a loyal follower.
This blog is powered by three real women who aren't afraid to tell it like it is. You'll find fitness tips, workout ideas (like this shoulder circuit workout) and reviews.
Along the way, you'll get an inside look at how the authors maintain healthy lives in the real world. You can even stay motivated with their workout playlist suggestions and giveaways.
This website is chock full of everything you need to maintain an effective and motivating workout routine. You can join a virtual bootcamp or simply check in daily for a new workout.
The moves are often unique and fun. They require more than strength or endurance.
You'll find yourself being mentally challenged as you build your coordination, balance and agility too.
If you don't consider yourself a typical fitness buff, this is the blog for you. However, you don't have to consider yourself a nerd to benefit from following this website.
The goal of Nerd Fitness is to help anyone make working out fun. Finding a type of exercise that you enjoy is half the battle.
When you're surrounded by stories of real people who have succeeded in their health journeys, you'll maintain your motivation.
Pilates is a popular fitness trend that can be hard to join in on if you don't attend a class or a gym that offers classes. Cassey Ho, the inventor of POP Pilates, offers a YouTube fitness channel that gets you moving to the beat in your own home.
You can join in on challenges, get inspired with delicious recipes and even see before-and-after photos of other people who have participated in the Blogilates programs.
Perhaps the name says it all. You may never stick with a health program if you consistently deprive yourself.
Learn how to be balanced in your journey to better health. No matter what type of lifestyle you have or what you love to eat, you'll learn how to fit healthy habits into your day to stay fit and motivated.
This website offers well-rounded information and advice for a healthy lifestyle. From fashion to food trends, mindbodygreen inspires readers to live their best lives.
Learn to become more mindful as you work through the daily grind. You can learn stress-reduction techniques like yoga and meditation, get news on the facts behind popular fitness methods like jogging or yoga and even find relationship and parenting advice.
If you're hard on yourself and struggle with body image problems, this website can help empower you to embrace who you are. Creator Jessi Kneeland helps women find confidence and self-love through fitness.
Being healthy isn't just about burning calories and getting thin. It's a cycle that involves being your best self by treating yourself with love.
Another website that takes the thinking out of developing a daily workout routine, Tone It Up also offers the support of a community. Become a member to join in on motivating discussions, take part in challenges and have plenty of people boost you up when you're feeling like quitting.
Sometimes, seeing other people's transformations is all it takes to give you the inspiration to keep on going.
Whether you're completely into yoga or just starting out, Journey Junkie can help you along in your journey. Free videos, workshops and challenges help you improve different aspects of your practice.
There are lots of tutorials that break down difficult poses, information about the philosophy and history of yoga and inspirations that will help you flow through your life. This site offers valuable information that you can use in your practice immediately.
This blog's tagline is "Food, Wellbeing, Lifestyle and Happiness." We feel that all of these are vital for optimal health.
Hungry Healthy Happy focuses on all of the things that can make you happy, and happiness is important if you're trying to create or keep up with a healthy lifestyle. Find recipes and workout tips, or just peruse the articles about family, travel and wellbeing.
Help make health and fitness a consistent part of your life by following this blog.
You still with me? Okay I'm going to go ahead and add a shameless plug for my own health and fitness blog (because we think we deserve to be on the list)!
We believe that health starts from the inside out, and this is the standpoint from where we teach. The best AND quickest way to healthy weight loss starts and ends with the food that you put INSIDE of your body.
This is why we created our 21-Day Fat Loss Challenge, where our clients are losing an average of 10-21 pounds in 21 days!
Even better than the weight loss results is the feedback we get from our clients about how the program has taught them how to change their eating habits and find a diet that truly works for them in the long-term.
Our other program is called the Yoga Fat Loss Bible. There's a reason (or 10) that yoga is exploding in popularity so much in the last few years.
Yoga is amazing for your health and can help with flexibility, aches and pains, stress relief, weight loss, and SO much more!
We'd love to have you on this healthy journey with us in 2022 and beyond!
If you liked this article on the best health and fitness blogs or have any questions, please leave them in the comment section below!
Get the FREE 21-Day Training Guide!
Jumpstart your weight loss with this FREE fast fat loss training!