5 Best Mushroom Coffee Brands
This post may contain affiliate links, which helps keep this content free. Please read our disclosure for more info.
Trying to get a kick of caffeine without the jitters? Mushroom coffee might be the perfect choice for you! The unique blend of mushrooms and coffee beans provide a natural energy boost but without the side effects some people experience from regular coffee.
To help you decide which mushroom coffee brand is best for you, here are five of the best on the market.
Want to skip straight to our recommendations? Click here!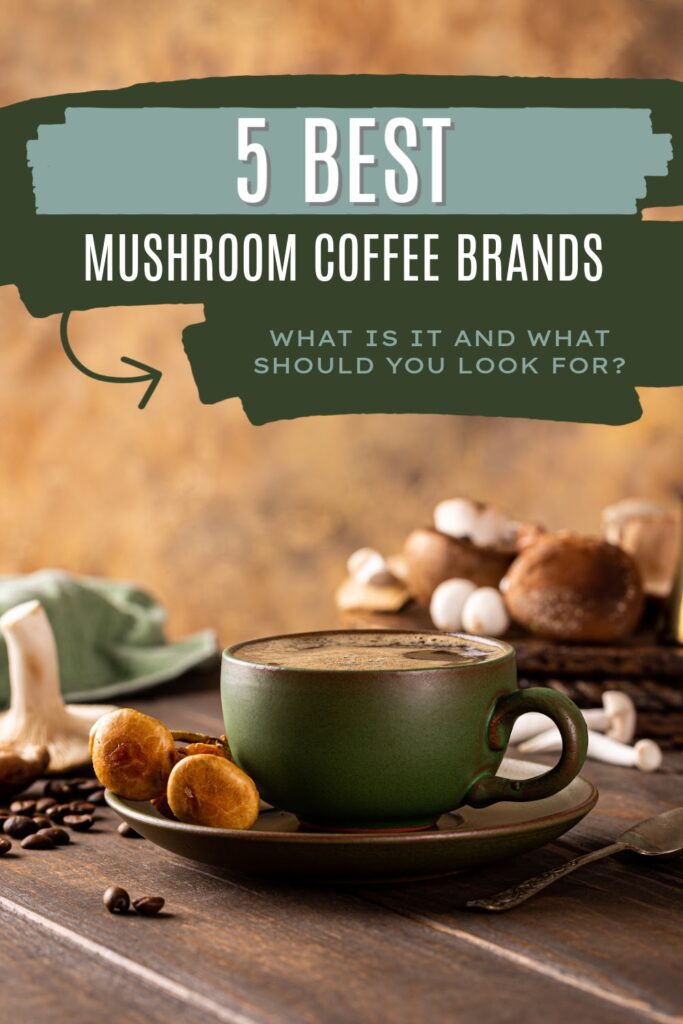 What is Mushroom Coffee?
If you need a quick refresher, mushroom coffee is a type of coffee blended with the extracts of a variety of mushrooms. Most commonly, the mushrooms blended into mushroom coffee include chaga, lion's man, or reishi. However, they may also include turkey tail, shiitake, and/or maitake.
Related Article: How To Lose Weight & Increase Energy By Switching To Mushroom Coffee
What Should You Look for in a Mushroom Coffee?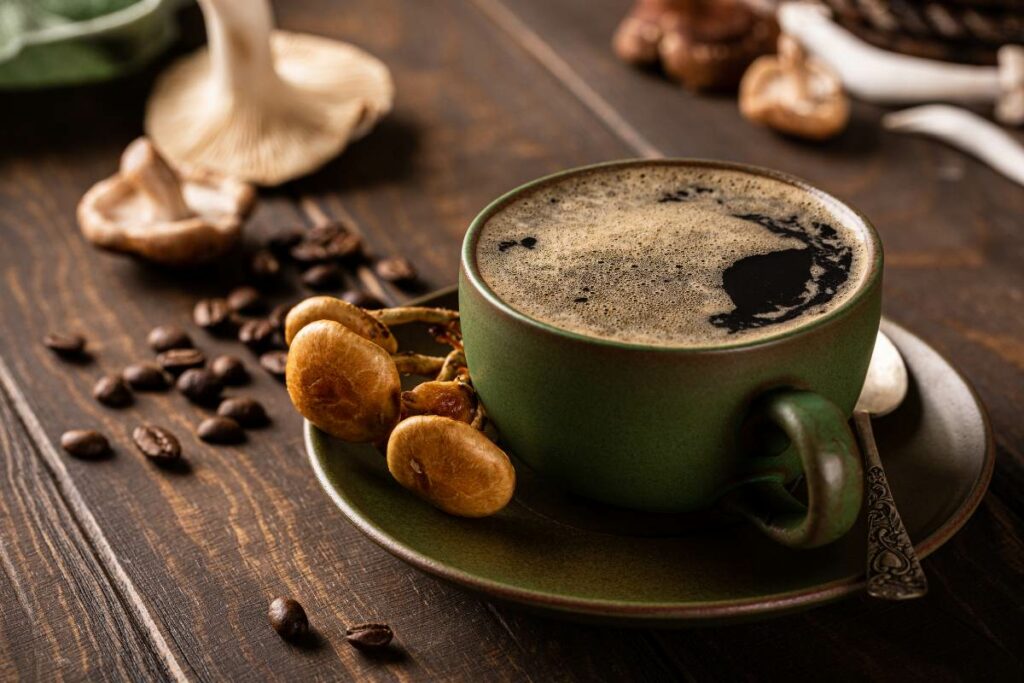 When looking for a mushroom coffee, keep the following things in mind to ensure that you're getting a high-quality, safe and effective, product:
1. The quality of the mushrooms used: You want high quality mushrooms, for starters. Bonus points if they are organic and sourced from reputable suppliers.
The reason this is so important is that when mushrooms aren't processed properly, they are unable to preserve their active compounds and nutrients.
2. The quality of the coffee added to the blend: Organic and high quality coffee is also important to look for in your mushroom coffee blend. This way you can ensure your coffee is free from contaminants.
3. How the company extracts the mushroom compounds: If you don't process mushrooms just right, you might as well be drinking plain black coffee because improper processing destroys the beneficial compounds.
4. Reviews: What are other people saying about the mushroom coffee you are considering purchasing? Read good, bad, and mediocre reviews. And, where possible, read them from more than one source. Amazon tends to have a problem with skewed reviews on some products, and if there are no bad reviews at all, the reviews are probably not authentic!
5. Flavor: Yes, this means buying multiple brands and trying them all to see which one you like best. Some mushroom coffees have a stronger mushroom flavor than others, and some have a unique taste and aroma that can be off putting. You have to test multiple to find the one that meets your flavor profile…or at least one that you can acclimate to the taste of.
6. Certifications: You want to ensure that the mushroom coffee you are consuming has been tested for things like:
Heavy metals
Pesticides
Contaminants
And, look for third-party certifications from trusted organizations such as:
USDA Organic
Non-GMO Project Verified, and
GMP (Good Manufacturing Practices)
The Top 5 Mushroom Coffee Brands on The Market:
Renude Chagaccino Mushroom & Adaptogen Coffee Boost Powder
Looking for a unique coffee to start your day? The Chagaccino might be just what you're looking for! Offering a delicious twist on the traditional mocha frappuccino, this sweet and light mushroom coffee blend is sure to please. Enjoy it hot or iced – either way it'll taste amazing! Click here.
This mushroom coffee includes mushroom and adaptogen powder. Adaptogen powder is a type of supplement made from herbs, roots, and mushrooms that have been used in traditional Chinese and Ayurvedic medicine for thousands of years.
The powder helps the body naturally cope with physical and mental stressors by increasing levels of energy, improving moods, reducing inflammation, and boosting the immune system.
The renude chagaccino coffee blend features 500mg of Wild Foraged Chaga, Organic Peruvian Cacao, Organic Sri Lankan Cinnamon, and Organic Japanese Monk Fruit. It's also sugar-free, gluten-free, and vegan.
Promising review: "Had this at a coffee shop and loved it so I figured I'd buy it to make on my own! I don't like my drinks overly sweet so each packet is good for 2 servings. Love all the benefits and the taste is great!"
Organic Mushroom Ground Coffee by Four Sigmatic
Ready for a coffee with some amazing health benefits? Look no further than this incredible beverage made from nutrient-rich mushrooms and superfoods! Enjoy the immunity-improving and attention-enhancing effects of this delicious blend! Click here.
Four Sigmatic mushroom coffee is perfect for dark roast coffee lovers. It features organic and fair trade Colombian Coffee, 250 mg of Organic Chaga Extract, and 250 mg of Organic Lion's Mane. Four Sigmatic means nutrient dense, and only 100 foods are considered "four sigmatic" according to the company.
They also said that it tastes more like regular coffee than other mushroom coffee blends. So if you're looking to taste the mushrooms in your coffee, this one isn't your best bet.
Promising review: "One, it brews great in a reusable KCup brewing pod. Two, the flavor is bold but not too bold, more of a smooth bold. Third, and I'm happy with this most of all it has a seemingly low acid content. Fourth, I don't know if the mushroom infusion is causing this. I've noticed a daily Positive affect. Not sure if it's the mushroom blend, or if it's more a placebo affect. But since having this as a part of my mornings, my days have been awesome."
Rize Mushroom Coffee
Drink two cups a day to accelerate results for better focus, energy, and immunity. Your mind and body will thank you.. Click here.
Ryze coffee blend features cordyceps, shitake, turkey tail, lion's mane, reishi, and king trumpet.
This mushroom coffee also features MCT oil to deliver a calming energy that "promotes focus, productivity, adrenal health and happiness."
Promising review: "The best decision I made was to start drinking Ryze. I love my new morning drink and the way I feel more alert, the afternoon slump is gone, and low energy levels are a distant memory! My favorite way to prepare it is over ice, cinnamon, and honey! Sooooo good!"
4. MUD/WTR
Mud/WTR Mushroom Coffee
Get the health and performance benefits you need without the jitters or crash! Our organic caffeine-free or low-caffeine coffee alternatives are celebrated by young and old cultures alike. Enjoy increased focus, energy and immunity without fear of dependency. Click here.
This mushroom coffee is the one to get if you don't want any coffee beans at all in your blend. Instead, you'll find:
Masala chai
Cacao
Lion's mane
Chage
Reishi
Cordyceps
Turmeric
Cinnamon, and
Sea salt
The goal of this faux coffee is to give you the energy of a cup of joe without the caffeine jitters.
Mud/wtr is also available in Matcha. They have a blend intended for bed time called "rest" as well.
Promising review: "Love it! Mostly the product itself, and the frothers are a really nice bonus! I've replaced my afternoon coffee/tea jolt with mud water daily. I just add some non-dairy milk just as I do for my coffee and I love the taste and don't mind the sediment at all. I just keep a spoon in it to get it all!"
SACRED 7 Mushroom Extract Powder
Nutrient-dense mushroom powders with nourishing micro and macronutrient profiles. Click here.
This is another faux coffee, and it's 100% mushroom powder. What sets it apart from Mud/WTR is that it tastes like chocolate according to many review websites.
Mushrooms included in this blend are maitake, lion's mane, cordyceps, reishi, shitake, and chaga. The mushrooms in Sacred 7 coffee are all sourced from a natural Canadian supplier and the blend promises the be free of both fillers and chemicals.
Promising review: "I've been consistently using this product for about 5-6 months now and it's definitely made a huge difference with my mental clarity and stamina. I only use half a teaspoon a day and the jar has lasted me almost a year now. I just bought my second jar and will continue to take it every morning!"
Over to You – Which Mushroom Coffee Will You Try?
There are dozens of options for mushroom coffee on the market. Whether you try one of these five or another one, we encourage you to do your homework and read the reviews.
We could all use a little less caffeine and a little more health benefits in our cup wouldn't you agree? Hopefully, this post has inspired you to consider something new. Let us know in the comments below which mushroom coffee you plan to try!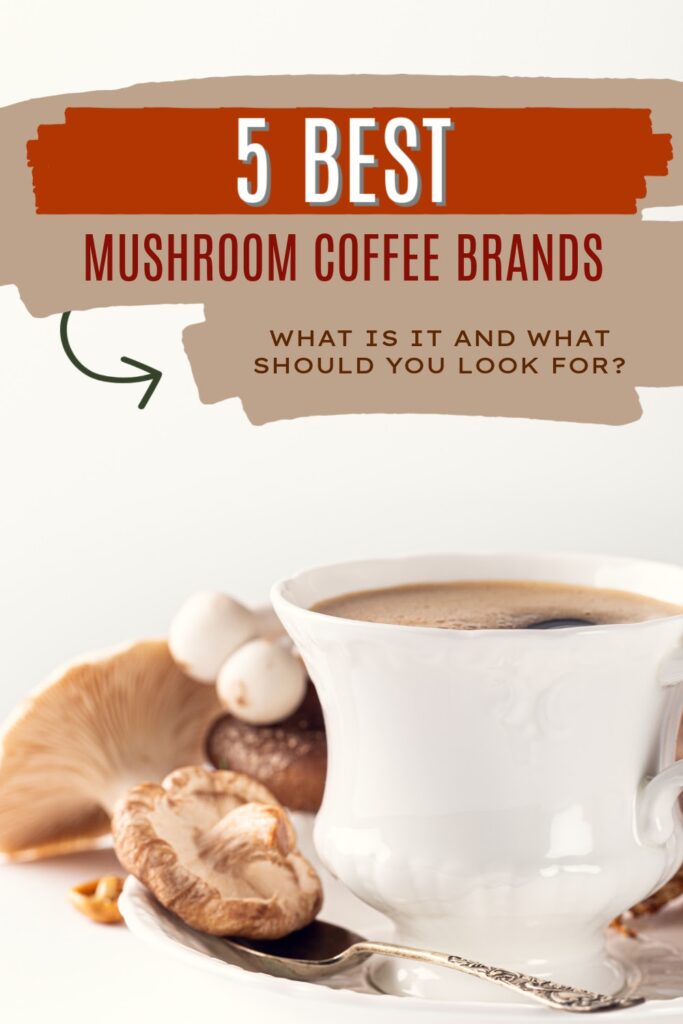 Get the FREE 21-Day Training Guide!
Jumpstart your weight loss with this FREE fast fat loss training!