10 Incredible Health Benefits of Matcha Green Tea Powder
This post may contain affiliate links, which helps keep this content free. Please read our disclosure for more info.
I recently read that matcha green tea was amongst the top 10 new health trends for 2016.
This led me to dive in a little deeper and see what this stuff was really about.
We're going to give you 10 incredible health benefits of this superfood powder and then tell you what the top 5 brands are!
Did you know… One serving of matcha green tea has the nutritional benefits of 10 cups of green tea?
Matcha green tea has a rich history behind its brewing methods and makes for quite an interesting story to share with your friends and family that are into health foods and trends.
It really is AMAZING, but many still wonder what exactly it is…
What is Matcha?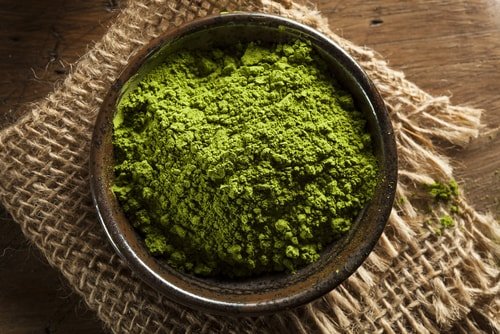 Matcha is a unique type of powdered green tea produced and grown in the hills of Japan.
Several weeks prior to harvesting, farmers cover the plants with bamboo mats to gradually reduce the amount of sunlight given to the plants. This process causes the plants to produce increased amounts of chlorophyll (one of the world's most powerful antioxidants) and give them their beautiful green color! Then the tea leaves are picked and REQUIRED to be stone-ground into a fine powder, which gives the tea its rich and unique taste.
Matcha is the premium grade tea of the Japanese people.
Interesting history with Samurais…
The powder originally was only available to royalty and Samurais, because it was so expensive to produce. Samurais would drink the tea for its health benefits and ability to focus during combat.
Now it is a common staple in the Japanese diet (one of the healthiest cultures in the world).
1. Natural Weight Loss
Losing weight is difficult, especially if you don't have a naturally fast metabolism.
A study featured in the American Journal of Clinical Nutrition demonstrated that green tea powder increased thermogenesis (the body's rate of burning calories) from 8-10% to 35-43% of daily energy expenditure.
Matcha green tea powder will speed up your metabolism and help you lose weight faster.
2. Naturally Detoxifies the Body
Man-made toxins such as heavy metals, dioxins, and hormone disrupters are stored in the body from the preservatives in our diets.
The shading process of matcha makes it rich in the antioxidant, chlorophyll. This nutrient helps safely cleanse and eliminate these harmful chemicals and heavy metals in the body.
3. Energy Without Jitters
Caffeine is great, but sometimes it causes jitters and shakiness when we have too much.
The great thing about matcha is that it contains the amino acid L-Theanine, which helps balance out the caffeine. This amino acid is known to help with creating a sense of calmness without causing you to feel sleepy or drowsy.
4. Cancer-Fighting Antioxidants
Free-radical buildup is one of the major factors in premature aging. It's caused by a whole host of sources, including diet and stress levels.
Matcha's antioxidant levels (the destroyer of free-radicals) are:
6.2 times that of Goji Berries
7 times that of Dark Chocolate
17 times that of Wild Blueberries
60.5 times that of Spinach
5. Boosts Memory and Concentration
Stress induces the brain's beta waves, which leads to an agitated and unfocused state.
Matcha contains 5x more L-Theanine than conventional green tea. This amino acid has also been shown to increase the alpha waves in the brain, which lead to better concentration.
Alpha waves have also been shown to reduce stress and even lower blood pressure.
6. Makes Exercise More Effective
Exercising is difficult, but matcha makes it better in 2 ways.
1. Studies have demonstrated that exercising immediately after drinking matcha green tea resulted in 25% more fat burning during exercise!
2. Matcha will give you more focus and concentration, so you'll be able to push yourself harder.
7. Strengthens the Immune System
Our immune systems have become more and more compromised as new strains of bacteria and viruses become stronger every day.
Matcha green tea will help you fight back. Because of its crazy high antioxidant levels and catechins, the more you have, the more equipped your body will be to fight off infections and diseases.
Matcha will help improve your immune system, so your body will get sick less often.
8. Tastes GREAT
Chlorophyll and amino acids give matcha its unique rich taste, an initial vegetal, astringent taste, followed by a lingering sweetness.
The intensity of the experience compares to the first taste of dark chocolate or red wine.
When added as an ingredient, the taste of matcha becomes subtler. It adds the flavor and color of green tea to your creation, be it a smoothie, latte, savory sauce, or pastry!
9. Improves Skin Health
The same antioxidants that make green tea protective, including epigallocatechin gallate (EGCG), may also help support skin health by reducing inflammation and free radicals that accelerate skin aging.
10. Anti-Aging Properties
The people who have been known to live the longest are the residents of Okinawa, Japan. The Okinawan people's longevity has been partly attributed to regular consumption of matcha green tea.
Matcha green tea is the most popular green tea in Japan and is rapidly gaining more popularity throughout the world because of its ability to combat inflammation, oxidation, and aging.
Matcha has many anti-aging properties that will keep you looking and feeling younger!
Where do I buy matcha green tea?
There are many matcha cafés popping up all over the world, especially in the U.S. At these cafes, a cup of matcha might cost you as much as $4 per cup! Thankfully, you can brew matcha inexpensively at home.
You will want to get an organic brand that has a good track record (there are some fakers out there), and also make sure that it's organic. The best place to buy matcha green tea is on Amazon.
It seems a little pricey, but a package should last you around a month, and that's if you have it every single day.
It's 100% organic, and it's also a #1 bestseller on Amazon with lots of reviews and answered questions.
Matcha Green Tea Brewing Instructions:
Ingredients
3/4 teaspoon matcha powder
1 cup (8 ounces) water to just under a boil
Instructions
Sift the powder into the glass bowl.
Add the hot water.
Whisk with the bamboo whisk (not required but recommended for a frothier drink. You can use a spoon as well) in a "w" shape until frothy and well mixed.
Drink.
There are TONS of matcha green tea brands out there, and it seems like they are continuing to grow daily. This has made it extremely difficult to select and find the right brand for YOU.
We have reviewed some of the top brands out there and ranked them based on a number of different factors explained below. We hope that this guide will help you when selecting the right brand to purchase.
The very best matcha tea brands will be brightly colored, organic, and come straight from Japan. Here are the top 5 brands in order from best to worst (or honorable mention, we'll say!)
Top Recommended Brands of Matcha Green Tea Powder
This is our best-of-the-best recommendation!
The Good: No other matcha brand can possibly match its effectiveness and quality. It is the best of the best as far as premium matcha green tea goes.
The Bad: It's a little expensive, but the quality is so high that it's 100% worth it.
The Bottom Line: It's THE best product. A USDA organic all-natural "superfood" that will work wonders for your health. The best on the market.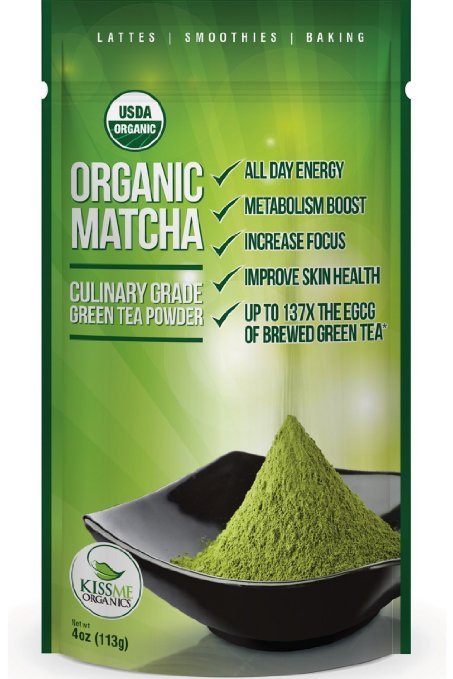 This is our best-bang-for-your-buck recommendation!
The Good: High quality, USDA organic, and will absolutely get the job done. You'll experience more energy, clarity, and vitality drinking it.
The Bad: It's made in China instead of Japan to cut costs.
The Bottom Line: A great product. If you want to try/use matcha green tea and are on a budget, this is the brand you should buy.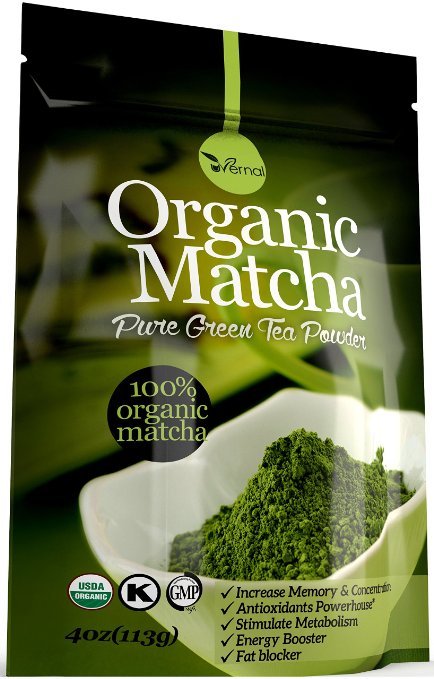 The Good: It's USDA organic and will help you feel great and beat your coffee habit (if you're into that!).
The Bad: It's made in China, and some people don't like the taste as much as other matcha brands.
The Bottom Line: A solid product. If Kiss Me Organic's version of matcha does not work for you, this should be your #2 best value option.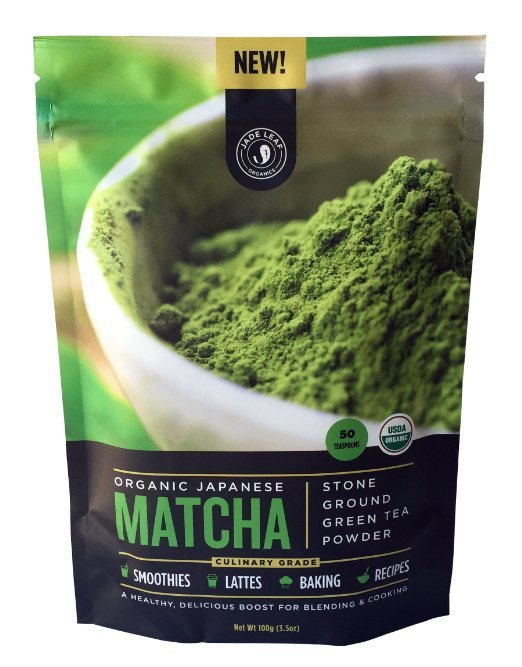 The Good: USDA organic, authentic matcha that is sourced from Japan.
The Bad: Deceptive packaging and marketing. The package is MUCH smaller than appears as advertised.
The Bottom Line: A solid product. It seems the company is trying to cut costs while still getting matcha from Japan. It's just unfortunate that they advertise in such a way that is deceptive to consumers. This product is fine to try if you want to try matcha from Japan but only pay for a small amount.
The Good: USDA organic matcha powder that comes from a good, consistent company.
The Bad: Product is sourced from China and is a little expensive for the lower quality.
The Bottom Line: A solid product. If others do not work for you, give Enzo's matcha green tea a try.
The Considerations For Matcha Green Tea
Reviews: We take the time to comb through and understand good and bad product reviews as well as fake reviews. When a review is fake or incentivized, we toss it out of our considerations and look at only the legitimate and honest reviews of product users. We also take into account that any brand feeling the need to buy/incentivize reviews is probably not one consumers want to deal with. We consider ONLY honest, legitimate reviews!
Price: The prices of the products have been compared thoroughly to make sure you get the most value from a purchase.
Brand Reputation: Stable and consistent brands are always rated more highly than others.
Quality: When buying matcha green tea powder, quality can be a big issue. You want tea leaves that are made in a safe environment and have a very bright green color to them. This ensures the leaves have the most chlorophyll and greatest nutrient value.
Additional Bonuses for Buying: Some brands give bonuses for buying their brand of matcha like "matcha Recipes," so we felt like that would be important to you as well.
We also encourage you to try out a couple if you're very interested. See how they taste and how your body responds.
Leave a comment below if you enjoyed this article on the incredible health benefits of matcha green tea powder or have any questions!
Get the FREE 21-Day Training Guide!
Jumpstart your weight loss with this FREE fast fat loss training!