Looking for a simple 3-day detox diet plan? Look no further!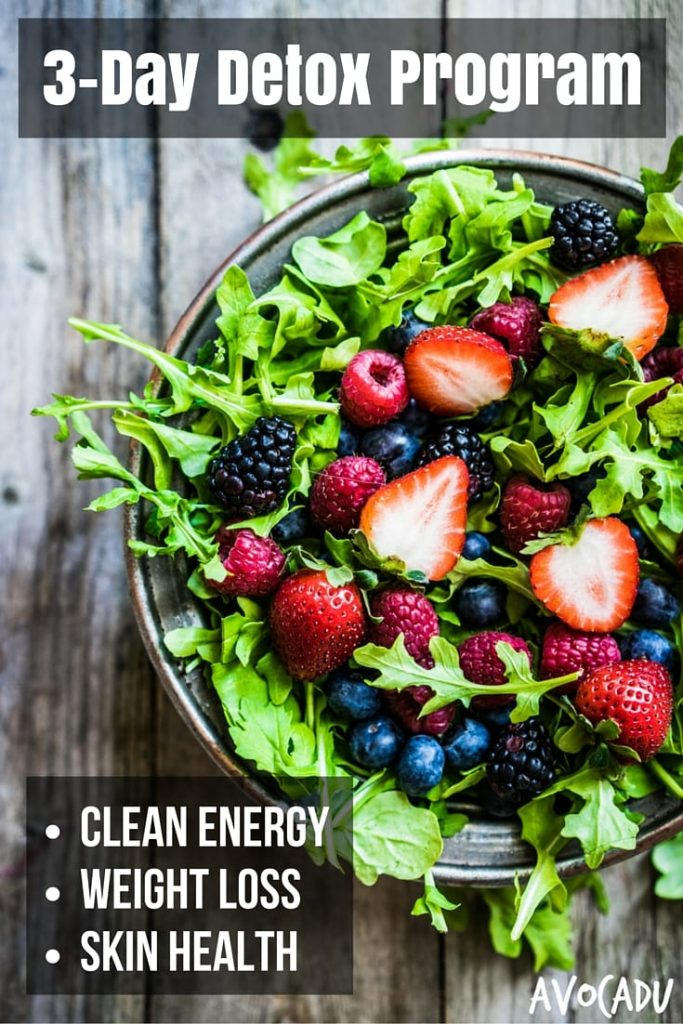 The inspiration for this little "mini detox" came from our popular fast weight loss program, the 21-Day Fat Loss Challenge.
The Challenge starts out with a detox (similar to this one, but it's a week long), and it helps our clients lose an average of 10-21 lbs in just 21 days!
The real inspiration came from the huge success of our private support group for the Challenge though!
The group has over 1,000 people doing the Challenge together and sharing motivation, support, tips and tricks for succeeding on the diet, and lots of recipes!
Our clients are ROCKSTARS, and we wanted to share some of this awesomeness with the rest of our followers as well!
Most folks are still skeptical of trying YET ANOTHER diet and/or weight loss program.  We totally get it.
So we wanted to offer up a free little sampler of our Fat Loss Challenge in the form of this 3-Day Detox to the rest of our followers to see what it's all about!
This plan is designed to help you lose weight, get more clean energy, and kickstart weight loss or help you bust through any plateaus you are currently facing.
I will be covering:

Importance of a detox
What it actually means to "detox"
What makes a great detox program
Results to expect
How do I get started!?
Importance of a Detox
The most important part of our 21-Day Challenge and the thing that a lot of weight loss programs and diets miss is starting out with a DETOX.
Most programs and diets jump right into a list of a whole bunch of healthy, whole foods that you eat.  That's great, because your body needs those foods.
The PROBLEM is that your body is all out of whack from the processed foods and overconsumption of carbohydrates.  It's going to take you MONTHS to reset your system at that rate, IF EVER. 
It won't reset if you're still eating too many carbohydrates or the wrong kinds.  So those diet plans that still allow desserts and bread on occasion… No-Go.
You have to FIRST reset your system before you can properly process these foods again.
What do we mean by "reset"?  We mean resetting your insulin sensitivity.
The overconsumption of carbohydrates and processed foods causes our bodies to become "insulin resistant."
The science behind this is very detailed, technical, and can get confusing. In order to keep this brief and on topic, I will link a few articles after this discussion that you can check out for further reading.
In short, the answer is HORMONES.
You have several hormones that are interconnected in the processes of digesting, absorbing, dispersing, and disposing of nutrients from the food that you eat.
These hormones are: Insulin, Leptin, Glycogen, and Cortisol.
The overconsumption of processed foods and carbohydrates causes these hormones to basically SUCK at their jobs and send false signals to your body.
A "generally healthy diet" will not fix this problem.  You MUST detox to reset your system.
Another reason to detox is bust through that dreaded weight loss plateau.  The initial reset of your system in a good detox will do just that.
A detox is good for ANYONE, weight loss or not, from time to time to give the body a brief reprieve and make sure that you are properly processing and absorbing nutrients from the foods that you eat.
For additional reading:
Insulin and Insulin Resistance https://authoritynutrition.com/insulin-and-insulin-resistance/
Leptin and Leptin Resistance https://authoritynutrition.com/insulin-and-insulin-resistance/
What it actually means to "detox…"
A detox simply means: a process or period of time in which one abstains from or rids the body of toxic or unhealthy substances.
This doesn't mean literally taking a scrub brush to the liver or any other mumbo jumbo like that.
We're also not going to make you live off of lemon juice or green juice for 3 days straight.
It just means to allow the body to get rid of toxins and steering clear of unhealthy foods for a while.  This process allows the body to get some reprieve from the overload of crappy foods, alcohol, and sugars we normally eat.
The results are better health, clear skin, and clean energy, among TONS of other health benefits!
What makes a great detox diet plan?
A great detox plan or program should be built from two core principles: Simplicity and Results.
This detox diet plan focuses on minimizing hormonal responses and maximizing nutrient uptake.
No carbohydrates will be eaten during this process and lots of vegetables will be.
Why?
People are chronically overfeeding on carbohydrates (to the point of triggering pre and type II diabetes).
Most people are filled to the brim with glycogen and could use a period of abstinence.
Not eating carbs will help allow insulin to come down, leptin to increase, and the body's hormonal responses to RESET.
Results to Expect:
Lose 3-4 pounds. Because of the minimizing of both calories and carbohydrates, you will see a fast weight drop.  Some of this will be water weight unnecessarily held onto by the carbohydrates, and some will be fat that has been mobilized. 
Tons of clean energy by the end of day 3. The first couple of days may be difficult and could even result in headaches, but that will pass.  The body will begin to better absorb the nutrients it's getting, and by day 3, you should feel pretty damn good. 
More confidence. Completing any challenge and plan should give you a renewed sense of confidence and control.  When you feel in control of your body, how it looks, and what it does, you will have a natural increase in confidence.
Note that you will likely experience detox symptoms.  These can be in the form of headaches, low energy (before it comes back up again!), and digestive discomfort.
Know that this is completely NORMAL, and it's your body's way of showing you that you NEED the detox!
You are about to overload your body with the vitamins, nutrients, and minerals that it so desperately needs but it isn't used to processing.
Isn't that a scary thought?  That your body can get so used to eating processed foods that you can actually feel BAD from eating nutrient rich superfoods?
It's time to turn your digestive system, immune system, gut health, and ENTIRE BODY around!
So how do I start already!?
To start the detox, go ahead and join our FREE 3-Day Detox Community group here!  Your request will be approved within 24 hours, and all of the instructions are inside!
Before you come up with any reasons NOT to jump into this and join us, hear me out!
We structured it this way for a reason.  Our private support group for our 21-Day Challenge has over 1,000 members in it commenting every day with support, motivation, tips and tricks for succeeding, and lots of recipes!
These people are ROCKSTARS! It was THAT group that inspired us to create something similar for the rest of our followers.
When it comes to dieting and weight loss, it's too easy to NOT do the things that we need to do so make big changes and SEE big changes.
A community support group will give you the motivation that you need to not only get started, but also to KEEP MOVING in the right direction!
Your request to join the group will be approved within 24 hours, and all of the instructions are inside the group!
I'll also be participating in the group and answering any questions that you may have about the detox or any other diet related questions you may have!
We can't wait for you to get started!
Join below to get started!
Leave me a comment below if you have any questions!
Cheers,
Lauren McManus
Co-Founder, Avocadu

.
.
P.S. If you're not on Facebook or not interested in joining, you can also check out our full 21-Day Fat Loss Challenge here: https://21dayfatlosschallenge.com/home
The following two tabs change content below.
Lauren McManus
Hey there! I'm Lauren McManus! I'm a nutrition nerd (former vegan) and yoga addict! My mission is to be healthy from the inside out, and that is what I hope to help others achieve as well! I'm glad you're here on this journey with me!
Latest posts by Lauren McManus (see all)