Improving Your Health with Purely Optimal Supplements
This post may contain affiliate links, which helps keep this content free. Please read our disclosure for more info.
When it comes to our health, sometimes we need a boost backed by science. That's why I was thrilled to check out the line of Purely Optimal supplements. This post is sponsored by Purely Optimal, however, the opinions I share are 100% my own.
I hate to say it, but even though I make a huge effort to keep myself in tip-top shape, I'm really starting to feel my age (which I won't tell you here…but let's just say, I'm not 25 anymore!).
And the thing is, I didn't even realize it was happening.
I used to sarcastically groan when I had to pick something up off the floor.
After a tough workout, I'd make a joke about being an old lady with my sore knees and back.
Until one day, I realized it wasn't a joke—I was seriously feeling slower, stiffer, and shall we say, sweatier than ever before (hot flashes are no joke, y'all!).
It was definitely a shock to my health-conscious system!
So of course, I hit the books. (Okay, you know I mean the google machine—I'm not that old!)
What I found is that as we age, it gets harder to get the nutrients our bodies need simply from what we eat and drink.
And that's where supplements become not just a nice boost, but an essential part of our health regime if you want to keep your body and mind in peak shape.
Now, everybody works differently, so I knew that a run-of-the-mill multi-vitamin just wouldn't cut it if I wanted to see and feel a real improvement in my body.
Luckily for me, I found Purely Optimal supplements, and they helped me figure out which supplements would be best for me.
Obviously, I wanted to test supplements that were geared specifically towards women, since we face specific issues like:
Hormone imbalances (anyone else here experiencing perimenopause??)
Hair shedding
Loss of skin elasticity
Joint pain
Weakening immune system
Etc…
After hearing my needs, Purely Optimal suggested these supplements:
DIM + Bioperine
Complete Hair Growth
Resveratrol
Multi Collagen Peptides
Turmeric Curcumin
Collagen Complex
I don't usually go wild over supplements, but let me tell you—I can't say enough good things about what a huge, noticeable difference these made for me in such a short period of time!
So now I'll tell you a little more about each of the supplements I tried, what my experience was, and what these nutritional extras can do for you.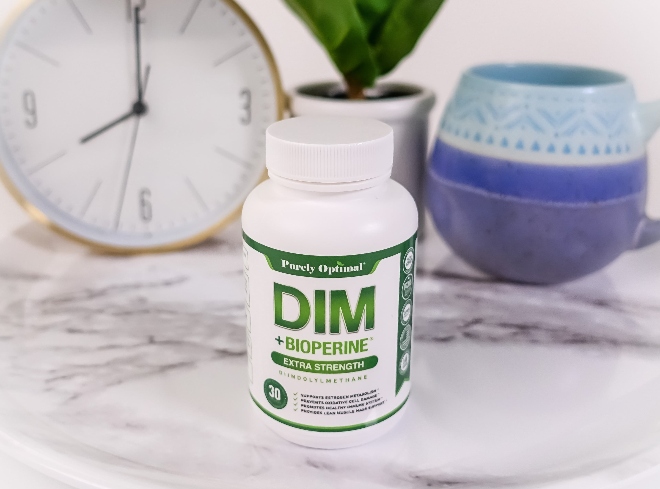 Fun fact, I started having wicked bad hot flashes about 2 months ago.
I've been having them intermittently for a couple of years, but I've been getting one almost every hour recently. And the night sweats are awful too!
The fluctuating levels of estrogen and other hormones is the main cause of hot flashes, which is why you can also get them when you're pregnant and/or breastfeeding.
Aren't hormones just the best?… said no one, ever.
So I was super excited when I learned that the DIM + Bioperine supplement helps you metabolize estrogen, as well as preventing oxidative cell damage, promoting a healthy immune system, and providing lean muscle mass support.
All things that…shall we say…mature bodies can use an assist with!
For me, in the limited time I've been taking this supplement, I've found that my hot flashes are much less frequent, and less severe when I do have them.
I also don't wake up swimming in a pool of my own sweat anymore, so that's a definite win!
I haven't been taking it long enough to speak to the immune system support or lean muscle building effects; but for me, the hormonal benefits make it totally worth it, and the other perks are icing on the cake!
Here's what other Purely Optimal fans are saying about this product:
There's a considerably good difference in my estrogen level…and my skin is definitely clearer
At first, I was quite skeptical of this product…Had I known about DIM before, I would have become the very best version of myself years ago!
Never have I seen a supplement give the results as fast and effective as this one.
Click here to check it out for yourself!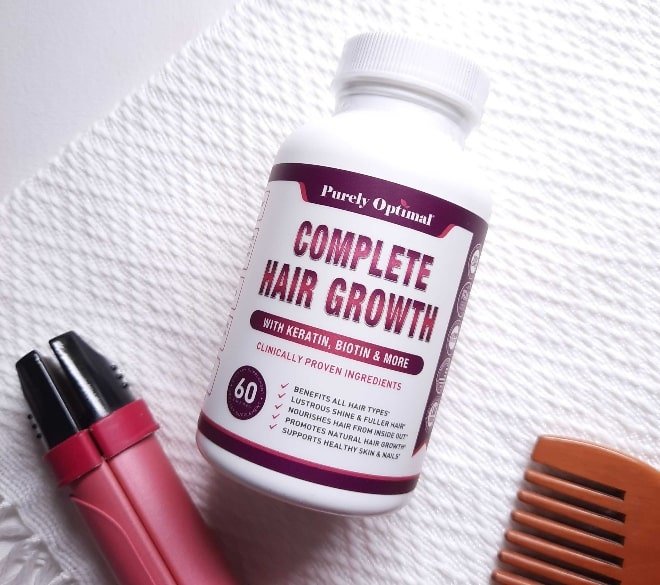 Did you know that nearly everyone has some hair loss with aging? The rate of hair growth slows, and hair strands also become smaller and have less pigment (hello, gray roots!). (1)
I felt a little bit better when I read that because lately I've been losing so much hair I feel like pretty soon, I'm going to be bald!
So I jumped at the chance to try a supplement that could not only stop me from losing so much hair every day (Seriously—I have two cats, and I feel like my hairbrush is trying to grow a third!), but could also make the hair I have thicker, shinier and fuller.
And like most of Purely Optimal's supplements, Complete Hair Growth comes with an added bonus: it is designed to help my nails grow, too!
Here's what other Purely Optimal fans are saying about this product:
It appears my hair strands are much stronger and feels it is grown longer and much thicker.
Such miraculous results, I swear by this product!
I just finished my first bottle and I'm absolutely ordering another one!
Click here to check it out for yourself!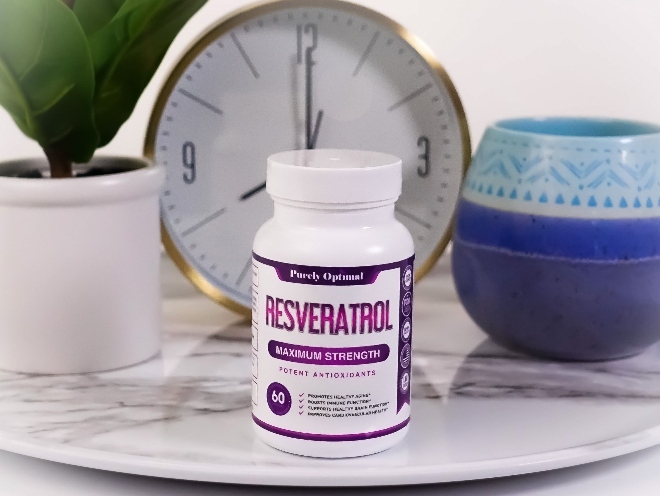 If you've looked into popular health supplements at all, you've probably heard of resveratrol.
Resveratrol is a powerful antioxidant widely used for its heart-healthy, free-radical fighting, brain powering abilities.
It provides a whole bunch of benefits from lowering cholesterol to making your skin look younger and brighter, to even preventing cancer and Alzheimer's. (2)
I was especially excited about the immune-boosting abilities, especially with what's going on in the world at the moment!
There are a lot of resveratrol supplements on the market, but I realized most of them have a very low dose (some just 200mg or less), and they don't specify the quality of the resveratrol used (meaning it could be very diluted).
Anyone who knows anything about supplements knows that all supplements are not created equal.
So I was impressed by the potency and quality of Purely Optimal's resveratrol supplement.
It packs a whopping 1500mg of resveratrol in every serving, and they include seven other superfood-derived antioxidants, including Japanese knotweed and green tea leaf, to sweeten the deal!
And just so you know, I've been sick several times this year—but I haven't had so much as a sniffle since I started taking Purely Optimal resveratrol.
Here's what others are saying about this product:
This product improved my memory! (That's all I needed to hear. Just sayin')
My complexion seemed brighter. It's like I was glowing from within.
Best way to get the polyphenols without the alcohol!
Click here to check it out for yourself!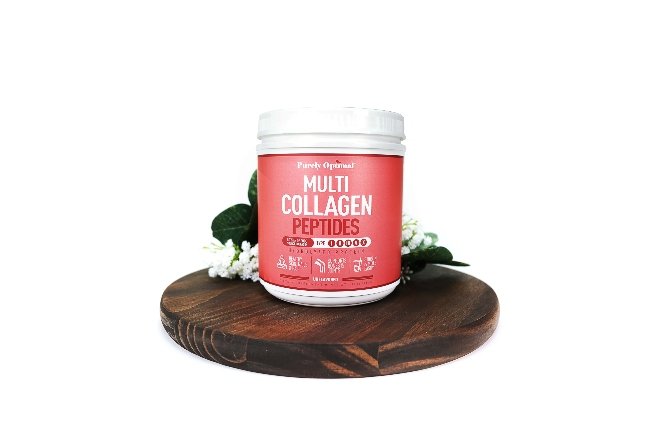 This one is for your aching back and knees, and also for your aging skin, hair and nails!
That's because collagen is actually the most abundant protein in your body, found in everything from your bones and joints to your hair, skin and nails (among other things).
But like most things, your body makes less and less collagen as you age—leading to sagging skin, fragile bones, flimsy nails, and etc.
I have a teenage son to keep up with, along with two little grandkids, so I don't have time to slow down because of aching joints and bones!
What I really love about Purely Optimal's collagen supplement is that it actually has all five types of collagen that your body needs, while most supplements only have one or two.
I have been blending the multi collagen peptide powder into my morning coffee, and I can definitely feel a difference—especially in my knees.
Plus, there is no weird texture or offensive flavor to the supplement, and I love that I don't have to pop another pill for this.
Here's what others are saying about this product:
I got the nail strength I was looking for!
It makes my hair and nails so much stronger and healthier
It dissolves well in my hot coffee…and blends well in smoothies and you can not taste it.
Click here to check it out for yourself!
If your aches and pains have more to do with inflammation and muscle soreness, this one will really help you out.
I hike and kayak regularly (again, I have a teenager to keep up with!), so I'm no stranger to sore muscles and swollen joints.
I've heard of turmeric as a superfood, but I never realized just how powerful its antioxidant and anti-inflammatory properties are.
The problem is that turmeric curcumin isn't readily absorbed by the body.
Purely Optimal fixed that by adding BioPerine (made from black pepper), which increases the absorbency by up to 2000%.
And that means you're getting a really powerful dose since their turmeric curcumin supplement has literally the highest dose available!
Here's what others are saying about this product:
The pain and swelling greatly decreased and I am almost walking normally again.
Best thing I ever did for my knees!
My arthritis in my hands isn't as bad [and] arthritis in my back is better since I've been taking this product.
Click here to check it out for yourself!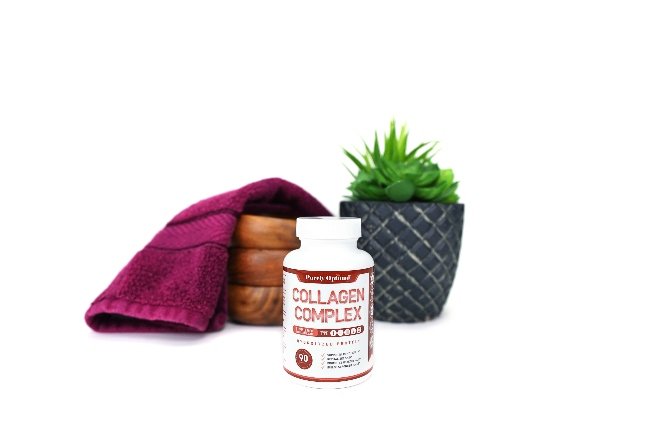 Okay, we know all about collagen now, so I won't bore you with the facts again.
The Collagen Complex supplement still has all five of the collagen proteins as the Multi Collagen Peptides formula, but it's in pill form.
While the collagen powder does have additional vitamins that the pill doesn't, this is a great alternative for when I'm on the go or traveling, since it is way more compact.
Here's what others are saying about this product:
This is one supplement I'd recommend to everyone who works out, needs extra collagen for their injuries, or just wants that collagen level they had when they were younger!
Within the first week, my excessively dry skin felt smoother to the touch and the dryness improved over the next few weeks.
Within two weeks, I could already see the changes. Made my hair thicker and fuller. My skin also loves it!
Click here to check it out for yourself!
A quick note about taking multiple supplements at the same time:
You may want to check the ingredients on your products before taking more than one supplement at a time.
When you take too much of any one supplement, your body can actually reject it. In some cases, ingesting too many of one vitamin or nutrient can even make you feel ill.
It also is a good idea to check with your doctor, or at least your pharmacist, before starting a supplement regimen as some supplements can interact with medications.
About Purely Optimal
There are so many supplements on the market, and it's hard to know which ones are good, and which ones are a waste of money. My best answer is to read reviews, narrow it down to a few, and then just try them for yourself.
What drew me to Purely Optimal was their mission for health:
"Purely Optimal is a natural health supplement company committed to helping individuals and families live a longer, healthier, and happier life.

We believe that by providing your body what it needs to perform at its peak, you'll be able to focus on the things that are important to you. When it comes to the wellness of your family, we know you expect only the best, just as we do.

That is why we are committed to sourcing the best natural ingredients for our products.

More than just a health supplement company, we are here to support you every step of the way in your journey for an optimal mind, body and soul."
For me, their story checked off many of the boxes I have for any product that I'm planning to try.
After all, if supplements are going into my body, I want to know that the people behind them really care about the products they are creating.
Once I read all the positive reviews combined with the fact that they use high quality, natural ingredients, it was a no-brainer for me.
I'm going to keep trying these products and taking note of the changes occurring in my body; but if these first couple of weeks are any indication, I'm confident that the results will continue to be amazing!
Bottom line—I'd recommend you give Purely Optimal a try. Click here to learn more about their philosophy and story.
Or if I've already convinced you, click here to shop their products now!
Get the FREE 21-Day Training Guide!
Jumpstart your weight loss with this FREE fast fat loss training!