How to Survive the Holidays if You're Insulin Resistant
This post may contain affiliate links, which helps keep this content free. Please read our disclosure for more info.
If you're following an insulin resistance diet, or simply trying not to sabotage your diet by overloading on sugar and carbs, the holiday season can be particularly tough!
Besides being surrounded by large meals, sugary desserts, and snacks a'plenty, there are also the added stressors of increased family gatherings, shortened daylight hours, and obligatory gift-giving.
(Fellow stress eaters, raise your hands!)
It's no wonder so many people fall off the diet train this time of year, and end up gaining weight and feeling crummy.
Plus, it's not just the turkey making you crave a nap—the added salt, sugar, gluten, and alcohol that most holiday meals are filled with can make you feel bloated, swollen, and lethargic.
If you're looking where to point the finger of blame, I think it honestly boils down to our lack of preparedness.
Sure, we plan to prepare all of this delicious food. But we don't create a plan for ourselves to survive it without the guilt, shame, and weight gain that comes along with it.
We don't work on our mindset. We don't plan for all of the unexpected sweets and treats that come from family members, co-workers, our Starbucks baristas, etc.
You don't want to find yourself falling through the holidays without a plan and then be left to pick up the heavy pieces come January (again).
In this article, we want to share our best tips and recipes to help you stay on the low-carb, low-sugar track during this holiday season.
More specifically, we'll discuss:
Tips for self-care and being more conscious of your health during the holidays
20 family-friendly recipes that won't wreak havoc on your insulin resistance or your health
And no, this doesn't mean you can't enjoy the things (food) that you love.
But it does mean that you should be more conscious of your actions during the holidays.
First, I want to talk about a few ways to make sure you're exercising self-care this holiday season, both at the dinner table and away from it.
Holiday Self Care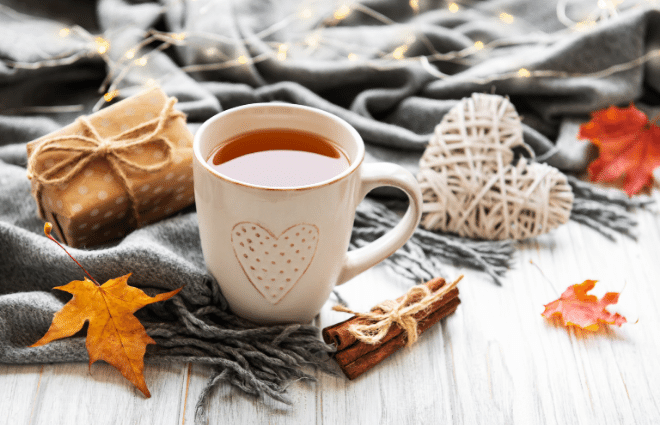 The holidays are a stressful time for many people. Every year, right around the beginning of November, my mom and I have the same discussion:
"We're not going to go crazy this year!"
"We're not over-spending this year. We're sticking to a budget, and everyone that lives out of state is getting a card."
"And, we're not making a ton of food this year! We don't need leftovers for weeks. Maybe we won't even do the traditional meals."
"We're not going to stress about making everyone happy, or splitting our time between families. We're staying home for the holidays, and anyone who wants to see us and the kids can come to our house."
"We're not going to spend days in the kitchen baking tons of breads and candies and cookies this year. We're just making enough for us, and our closes family members. And the neighbors. Oh, and I promised so-and-so a loaf of this bread. And…"
And every year, we struggle to stick to those boundaries.
Sound familiar?
The holiday season is chock full of traditions and obligations—more than any other time of the year, for most people.
Whether you celebrate winter holidays or not—and whether or not you look forward to this time of year—many people experience a greater amount of stress, overwhelm, and depression between November and January. (1)
If you are insulin resistant, this added stress can be especially harmful, since stress has been shown to increase cortisol and adrenaline, increase insulin resistance, and trigger the release of additional sugars from your liver. (2)
*Immediately takes deep breath and tries to meditate*
Most of us know that the best way to reduce stress is to take care of yourself, but that doesn't mean you need a weekly spa trip! (Although if Santa is reading this, we would all really, really like that for Christmas!)
Here are our top tips for reducing holiday stress, so you can keep your hormones and blood sugar in check:
Get Enough Sleep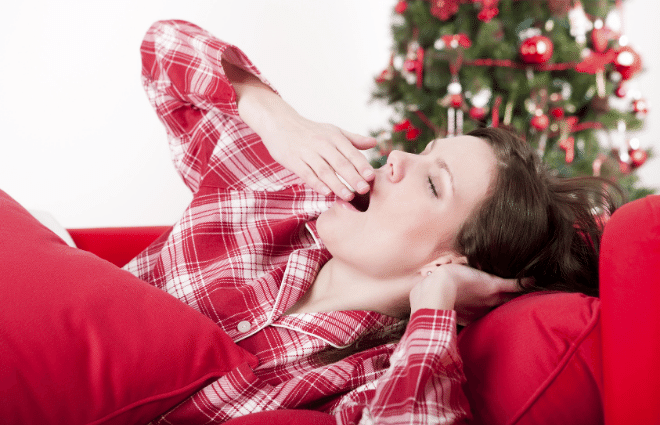 The CDC says that more than 1 in 3 Americans does not get enough sleep, which can lead to increased risk of diabetes, obesity, heart disease, and mental distress.
Even just a few days of impaired sleep has been shown to reduce insulin sensitivity, and decrease insulin production. That's an insulin resistance double-whammy! (3)
Aim for at least seven hours of sleep per night (preferably eight or nine, if you can manage it) to keep your body functioning properly, and maintain hormonal balance.
Move Your Body (Preferably Outside)
If you're insulin resistant, one of the fastest ways to get your cells to become receptive to insulin again is by exercising.
The reason is simple: Your cells don't want to soak up more glucose (which is what insulin carries) if they're already full, so burning off some energy will free up space and encourages your cells to replenish their glucose stores.
A high-intensity interval training (HIIT) exercise routine is the most efficient way to burn glucose stores, but walking, biking or yoga are also great options.
Getting outside to exercise will have the added benefit of boosting your mood and helping to fight off the winter blues—even if it's just for ten minutes.
And since it's the season of togetherness, this is a great opportunity to get active with your family and friends–which not only helps your loved ones stay healthy, but can also bring you closer together and build fun memories.
During the holiday season, there are some great outdoor activities you can do together that take the "work" out of "workout":
Walk the neighborhood to look at Christmas lights, instead of driving
Play a round of flag football outside, or even just toss the ball around
Make leaf piles to jump in with the kids
Build a snowman
Go sledding
Walk through a craft fair or winter market
Go caroling around the neighborhood (or just sing Christmas carols while you walk)
Harvest your own holiday supplies by collecting pecans, picking apples, cutting your own Christmas tree, or picking your own pumpkin
Above all, move more. Any way that you can and ideally with the people that matter to you.
Set Healthy Boundaries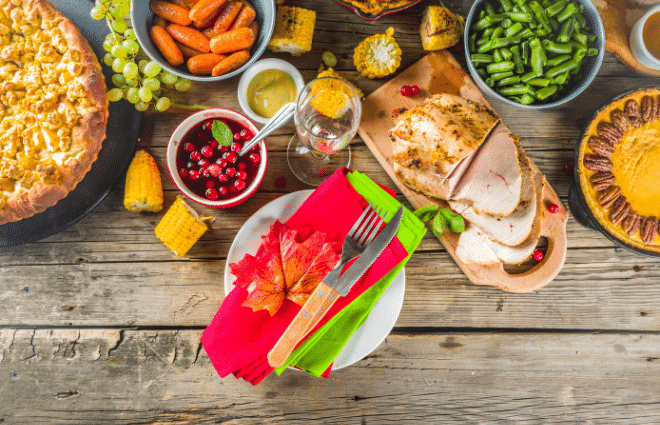 This tip is especially important during the holiday season when many of us spend more time with family than any other time of the year.
Setting boundaries is really about knowing what's within your control, and what is outside of your control.
For example, you can't control what foods people bring to Thanksgiving dinner (even if you ask people not to bring carb-heavy or sugary foods), but you can control what you put on your plate (which may just be the foods that you prepared, and that's fine).
I think we all have at least one pesky relative that tends to make unsupportive comments about your diet or tries to convince you to cheat.
The best way to set the boundary here is by taking the focus off of the what and redirecting it to the why.
So if your pushy aunt really wants you to try the mashed potatoes, or tries to convince you to eat "just one small slice" of pumpkin pie:
Instead of saying, "No thank you, I'm not eating those kinds of foods right now," or "I'm not eating carbs or sugars anymore,"
You can say something like, "Thank you for offering, but I recently learned that my body doesn't process carbs properly. I've been avoiding eating them, and it makes me feel so much better."
That gently lets your relative understand that you're doing this for your health, and most people will stop pushing the issue once they realize that eating those foods could harm you.
You can also set boundaries around how much you'll spend for the holidays, how much time you spend with family, and how long you will stay at a party or event.
And while you can't control how people will react, you can control your reaction (and stick to your boundary).
Nourish Your Body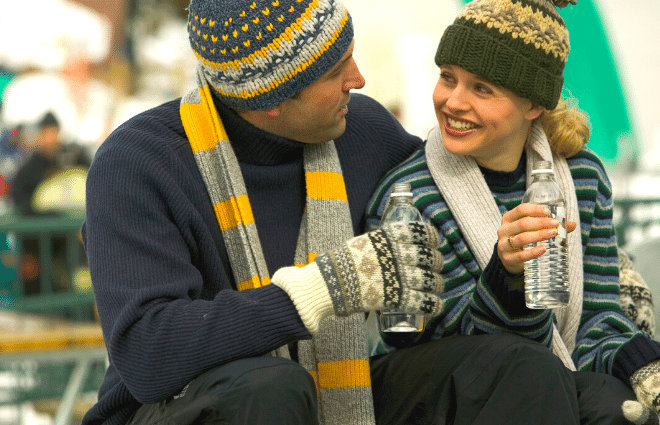 Finally, make sure to feed your body lots of nutrient-dense foods, drink plenty of water, and take your vitamins!
Make sure to eat as many fresh veggies as you can—especially calcium-rich leafy greens.
These types of food are low in carbs and some of the most important for an insulin resistance diet, which can also help you lose weight!
You can get your vitamin C from citrus fruit (like a squeeze of lemon on your kale, or maybe a grapefruit with breakfast) since winter is actually citrus season.
At least 42% of Americans are vitamin D deficient, so make sure you take a supplement and include fatty fish like salmon and tuna in your diet—especially since you get less sun exposure in the winter. (4)
To make things worse, between heaters, fireplaces, and lots of running around in the winter, many people become dehydrated–which lowers your immune system, and makes it harder to lose weight.
Make sure to keep a big bottle of water with you at all times, and drink it often!
I love this one from Amazon, since it holds a whole gallon, has motivational markers on the side, and comes in really cute colors.
And of course, reduce the number of carbs and sugars in your diet as much as possible by planning ahead and making healthy swaps, like a sugar-free sweetener bowl next to the sugar bowl for, or sugar-free maple syrup substitute instead of real maple syrup or pancake syrup.
20 Favorite Holiday Recipes for Insulin Resistance
To make sure you still get to enjoy the flavors of the holiday season without wrecking your blood sugar levels, we put together our favorite low-carb, low- or no-sugar holiday recipes.
Many of these recipes are keto-approved, which means they are low-carb and sugar-free, but may have a high fat content.
This helps the recipes taste great, but does increase the calorie count quite a bit—so just stay aware of how much you're eating, so you don't go into the new year needing to go up a pants size!
Main Dishes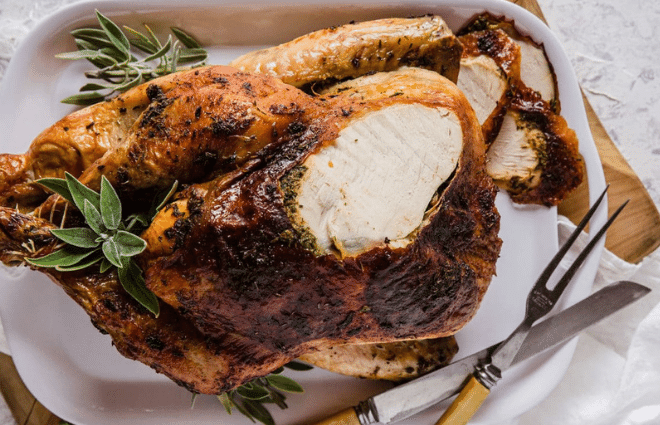 Turkey should be carb-free on its own, but a lot of recipes actually add sugar to their turkey brine.
This recipe uses butter, dry herbs, salt and chicken stock to give your turkey unbeatable flavor and juiciness without having to keep your bird in a pot of brine for hours.
If you want to skip the extra calories from the butter, or if you're dairy-free, you can whip up a batch of this easy, homemade poultry seasoning.
You can use it in a dry rub by adding some salt and coating your turkey with it.
Or, if you're having a small holiday gathering (or just a regular weeknight dinner), try using this rub on a whole chicken instead!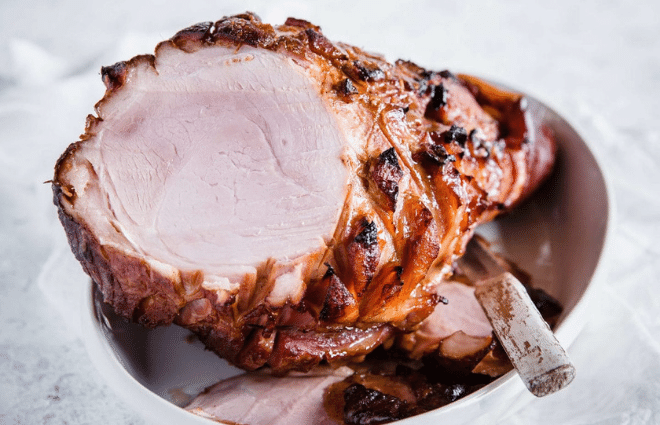 If you're already mourning the loss of your glazed ham for Christmas dinner, fear not!
This sugar-free ham glaze includes all the mouthwatering, savory-sweet flavors that a glazed ham needs—like brown sugar, molasses, garlic, and Dijon mustard—without the giant blood-sugar spike.
It's a Christmas miracle!
Check out the full recipe here.
Side Dishes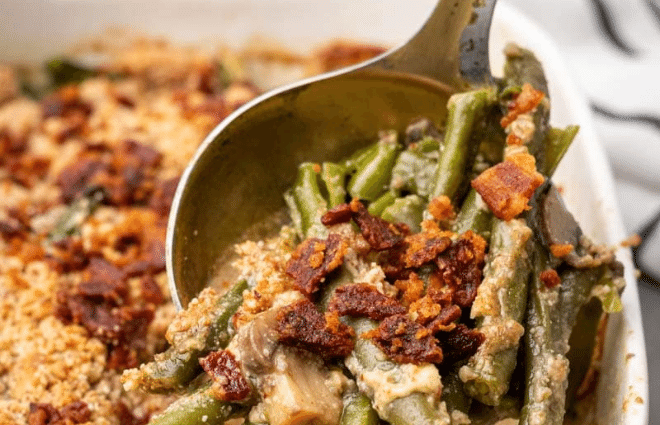 Green bean casserole is a Thanksgiving staple in our family, so I was thrilled to find a low-carb version!
This recipe uses healthy swaps, like low-carb mushroom soup instead of regular mushroom soup, almond flour instead of bread crumbs, and bacon instead of onion fries, so you get all the great green bean casserole flavor, without the guilt!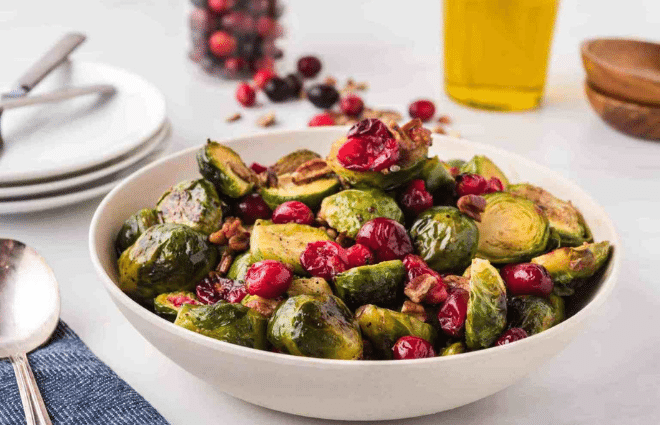 This dish gets all the tart-sweet flavor of cranberry without the added sugar by using fresh cranberries instead of dried.
Plus, this recipe is so pretty and colorful, along with being delicious and bright, that it just might steal the show at your next family meal!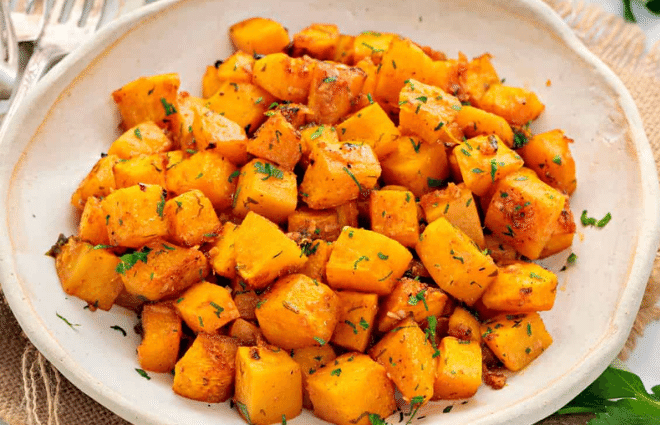 Butternut squash (and most orange-fleshed winter squashes, including acorn squash and pumpkins) are a bit higher on the glycemic index than summer squash or most other veggies, but that doesn't mean you can't have them in moderation.
You'll learn two totally different ways to season and roast butternut squash, so you can enjoy this abundant veggie that truly tastes like fall.
Check out the full recipe here.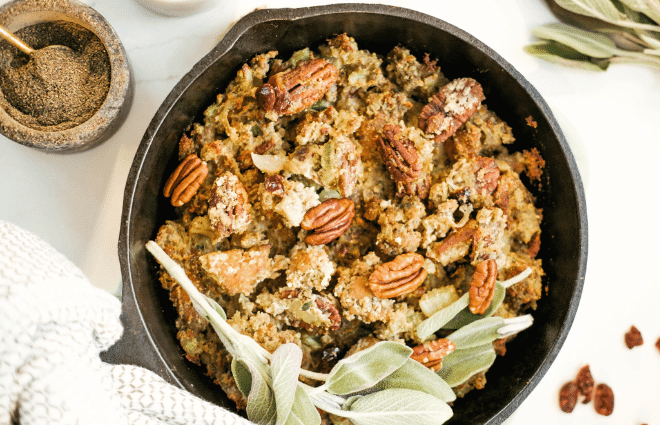 That's right—it is possible to have your Thanksgiving stuffing without destroying your diet!
This recipe uses almond flour in place of bread or bread crumbs and is loaded with veggies and ground turkey sausage.
Honestly, it could be a whole meal in itself!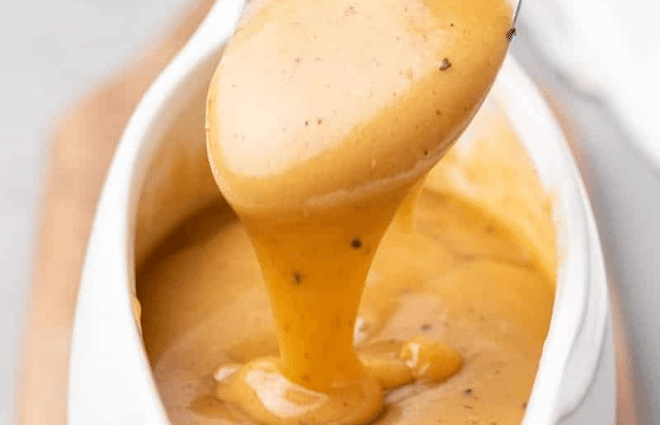 You can even have your gravy at dinner this year!
Instead of loading your turkey drippings up with starch or flour, this recipe uses just a little bit of gluten-free xanthan gum to thicken the sauce to the perfect gravy consistency.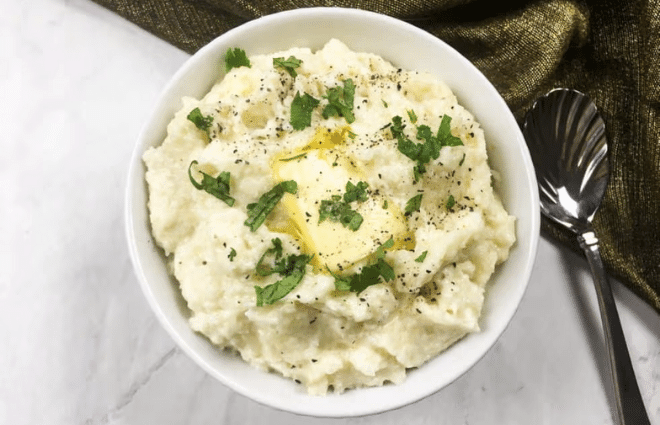 Mashed potatoes are one of my favorite Thanksgiving dinner dishes, so I was really excited to find a mashed cauliflower recipe that actually tastes amazing (and is kid-approved!).
The trick to this recipe is steaming the cauliflower in chicken stock, so it's full of flavor!
And adding the bacon and cheese definitely doesn't hurt, although you can omit those ingredients if you're trying hard to cut calories.
Click here to check out the recipe.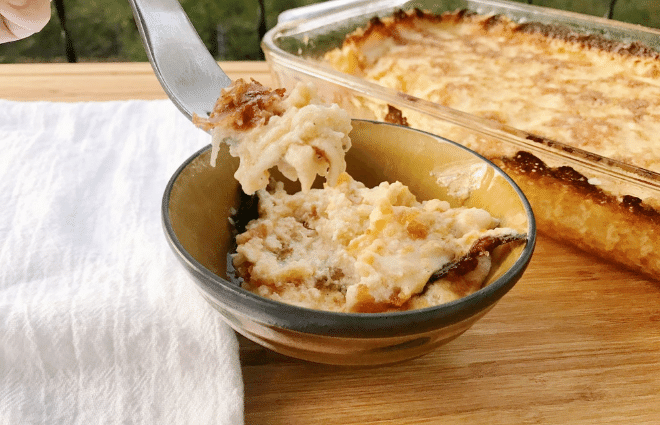 This is another cauliflower taste-a-like recipe and is a perfect, flavor-loaded dish to bring to family gatherings.
You won't even miss the potatoes with all the added flavor from ingredients like homemade chicken soup, cheddar cheese, and a crumbly pork rind topping!
Yum!
Click here for the full recipe.
I don't know if it's common nation-wide, but in Texas, we often fixed baked cinnamon apples in the fall as a side dish.
This is a lighter, low-sugar version that works wonderfully as a sweet side dish at dinner, or as a healthy snack or dessert.
If you want to lower the sugar even more, you can substitute a sugar-free maple syrup like this one instead of the real maple syrup in the recipe.
Desserts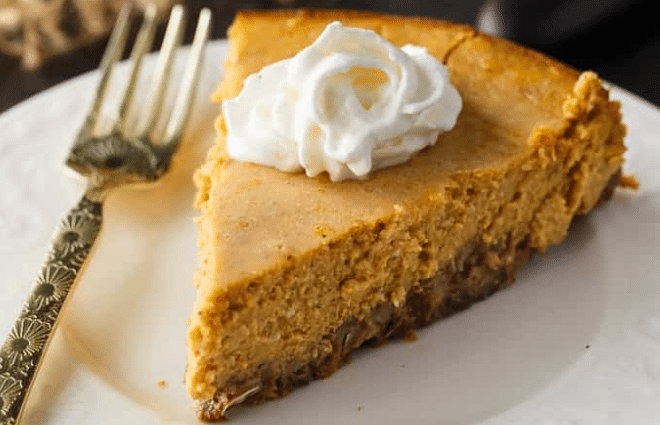 This smooth, creamy pumpkin cheesecake gives you all the flavor, silky texture, and density of regular pumpkin pie, without all the sweetened condensed milk!
It is also super easy to make, and only takes about fifteen minutes to prepare. (And I am all about saving time during the holidays!)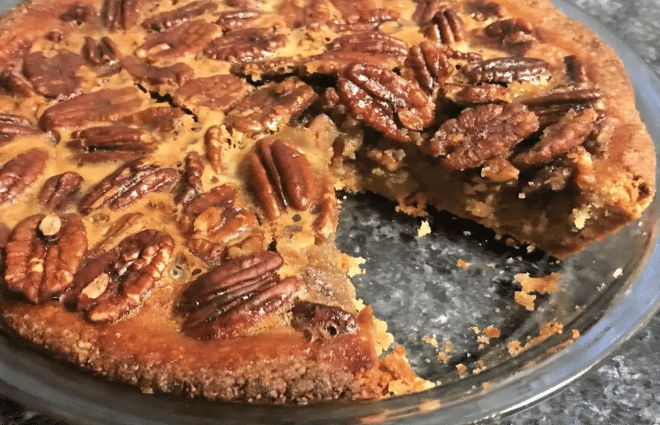 If you thought it would be impossible to make a sugar-free pecan pie that not only tastes like regular pecan pie but has the right texture as well, prepare to be amazed!
This recipe was even approved by pecan pie aficionados, and is sure to please the whole family at your next holiday gathering!
Even better? It only takes about twenty minutes to prepare.
This recipe is super quick and easy to make, with just a handful of simple ingredients!
And although the recipe doesn't mention this, I'm sure you can easily substitute other nut butters like almond or cashew for the natural peanut butter, if you are peanut-free.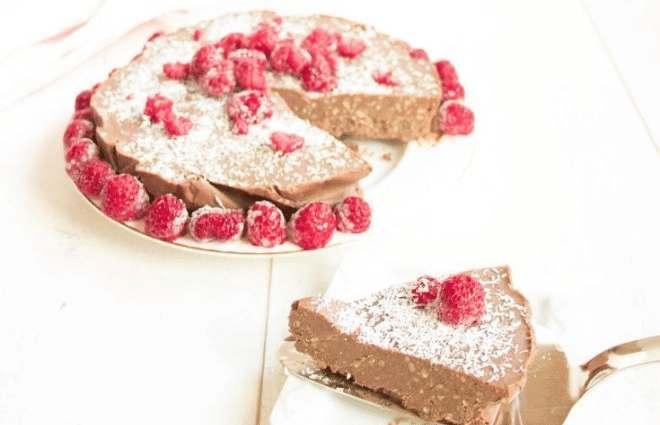 If you've never tried halva, you're missing out!
This sweet, sesame-based treat is very popular during the holidays in other parts of the globe—especially the Middle East, Asia, and parts of Europe—and is growing in popularity here in the US.
If you prefer your halva on the sweeter side, you can add a sugar-free sweetener, omit the cacao, and/or add fresh berries to your cake for natural sweetness—but this cake is delicious and full of flavor just by itself!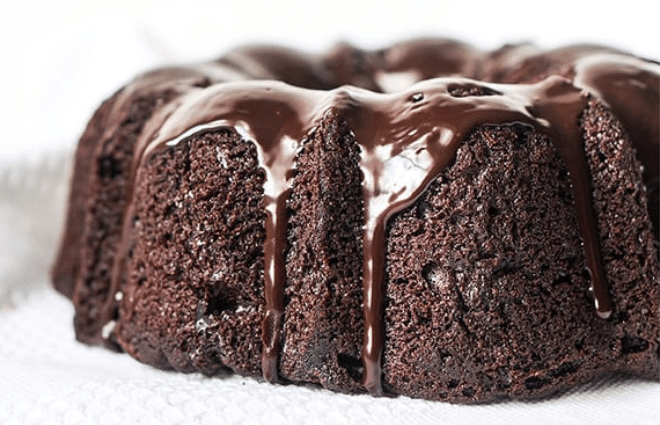 This chocolate cake is low-carb, sugar-free, and gluten-free—and even has hidden zucchini, which helps keep the almond flour-based cake moist and delicious.
With a creamy, sugar-free chocolate frosting drizzled on top, your family will never suspect this decadent treat is actually healthy!
Click here for the full recipe.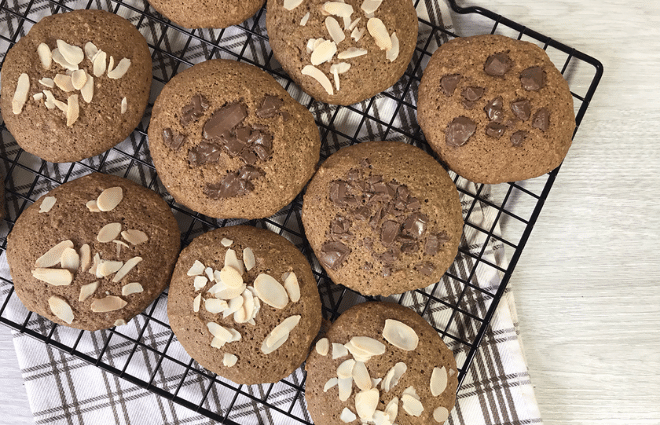 Although they're not the usual sugar cookies, these soft keto coffee cookies are a perfect treat to leave for Santa on Christmas Eve—especially since the espresso powder will help "Santa" stay awake to put all the gifts under the tree!
They're also a really tasty option to keep you on track when your friends and family are indulging in coffee cake or donuts.
Drinks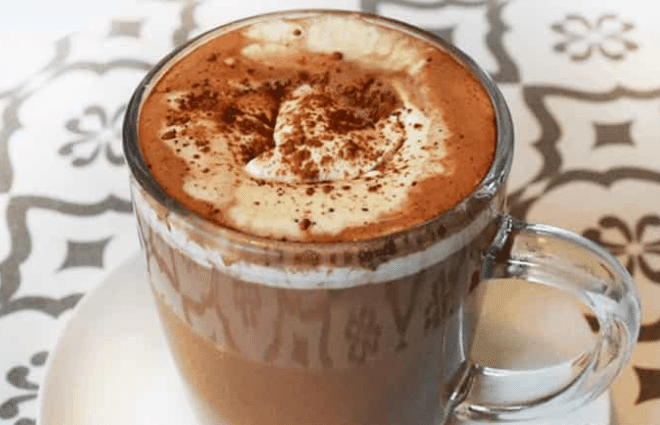 What are the holidays without a steamy cup of hot cocoa?
This keto-approved hot chocolate uses ingredients that you most likely already have in your pantry and fridge, and it's ready to drink in just one minute.
Plus, it tastes so indulgent, you might even forget it's good for you!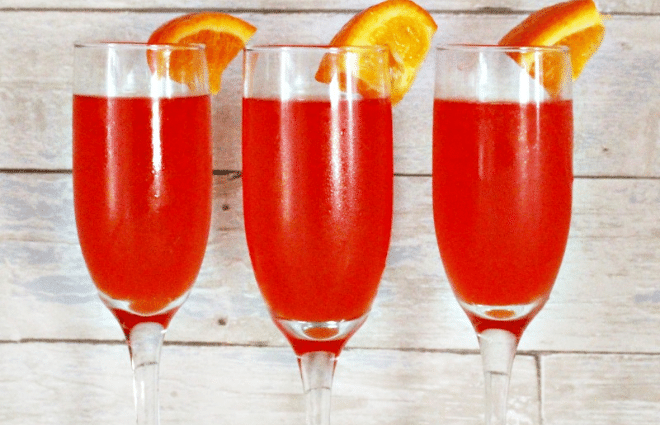 I definitely love a good mimosa during Christmas brunch, and this recipe has a great alternative to sugary fruit juice!
Plus, prosecco (and most wines, for that matter) is carb-free, so feel free to have a glass or two.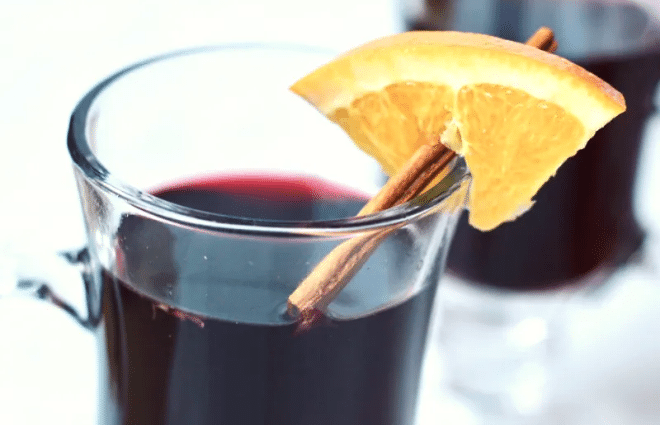 Just reading this recipe makes me want to curl up with my favorite blanket and a good book, while I sip on a warm mug of spicy-sweet hot mulled wine.
This recipe omits the usual added sugars in most mulled wine recipes, so you can feel free to indulge in this delicious drink—and you can even make a big enough batch for the family to enjoy after dinner!
Plus, the red wine, citrus fruit, and mulling spices warming on the stove will fill your whole home with spicy scent of holiday cheer. Yum!
Kicking Your Weight Loss into High Gear
Making healthy swaps is a great way to start losing pounds and reduce your blood sugar, but if you have a lot of weight to lose, you need a diet overhaul.
And while many of you might be thinking, "Maybe after the holidays," here's a hard truth:
There will always be some reason not to change your diet "yet"—your birthday, your significant other's birthday, Mother's Day, Easter, summer vacation, etc., etc., etc.
The truth is, those are all just excuses—and you'll never reach your weight loss goals if you keep waiting for a time when nothing is going on!
And if you're hesitant to start a weight loss program because you feel like you've tried just about everything, and nothing has worked (or worked for long), then this is absolutely for you.
Many of our clients felt exactly the same way before starting our program—hopeless, exhausted, frustrated, and just over weight loss programs that don't work for them.
We created our 21-Day Fat Loss Challenge for people exactly like you—people who feel like they've tried everything under the sun, but just can't shed the weight or keep it off.

Our challenge provides a step-by-step plan to help you lose up to 21 lbs in just 21 days, with far less effort than you may think!
Tons of our clients have turned it into a lifestyle diet and have lost as much as over 100 pounds with the challenge!
The best part? Besides just losing weight, the 21-Day Fat Loss Challenge was designed to heal your gut, rebalance your hormones, and retrain your tastebuds—so you'll actually be able to keep the weight off!
The Challenge is perfect for people with insulin resistance, and many of our clients have actually reversed their insulin resistance with the Challenge.
If you're ready to make some changes in your life, this is the ONLY place you should start. We'll teach you exactly how to make the necessary changes in your diet and lifestyle, and how to keep them "beyond the diet."
Take control of your life and start your 21 Day Fat Loss Challenge TODAY!
Leave a comment below if you enjoyed this article on surviving the holidays with insulin resistance, or if you have any questions!