17 Detox Water Recipes for Weight Loss
This post may contain affiliate links, which helps keep this content free. Please read our disclosure for more info.
Water can be boring. If you find yourself consistently reaching for sodas or other sugary drinks, this is a great solution to healthily quench your thirst.
These detox water recipes will help you lose weight, boost your metabolism, flush your liver, and reach your daily water goals.
Most people are guilty of not getting enough water into their diet.
Myself included.
This seems to happen for a few reasons:
We drink other things that taste better.
Water can be pretty boring.
The problem is that water intake is incredibly important to our health.
It helps remove fat cells from the body, increases the body's metabolism, and helps control cravings.
It can even help you to lose weight.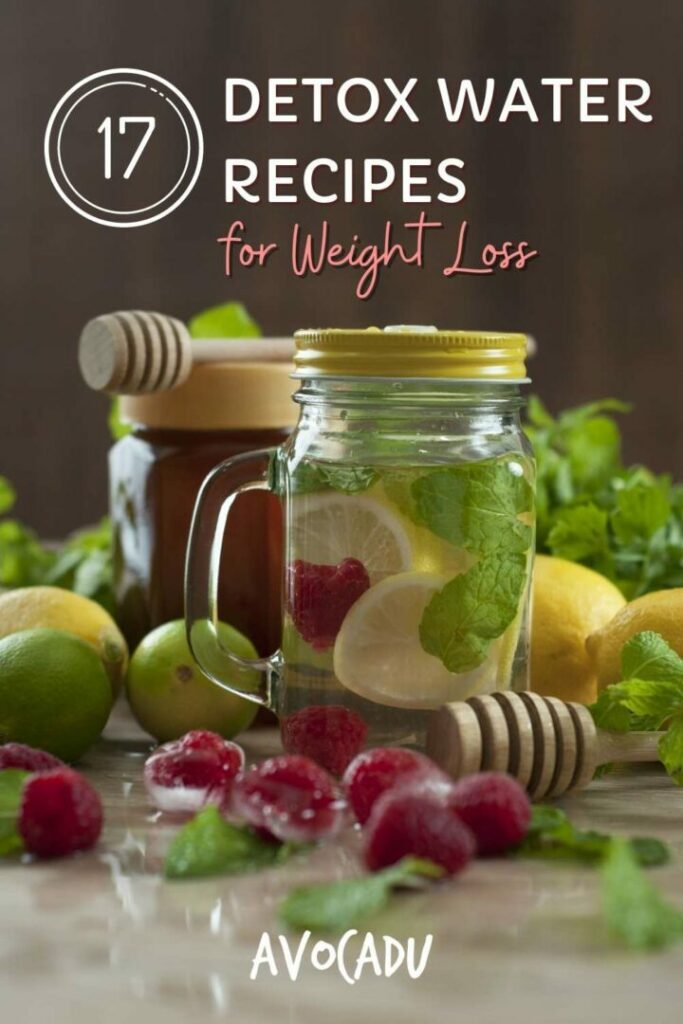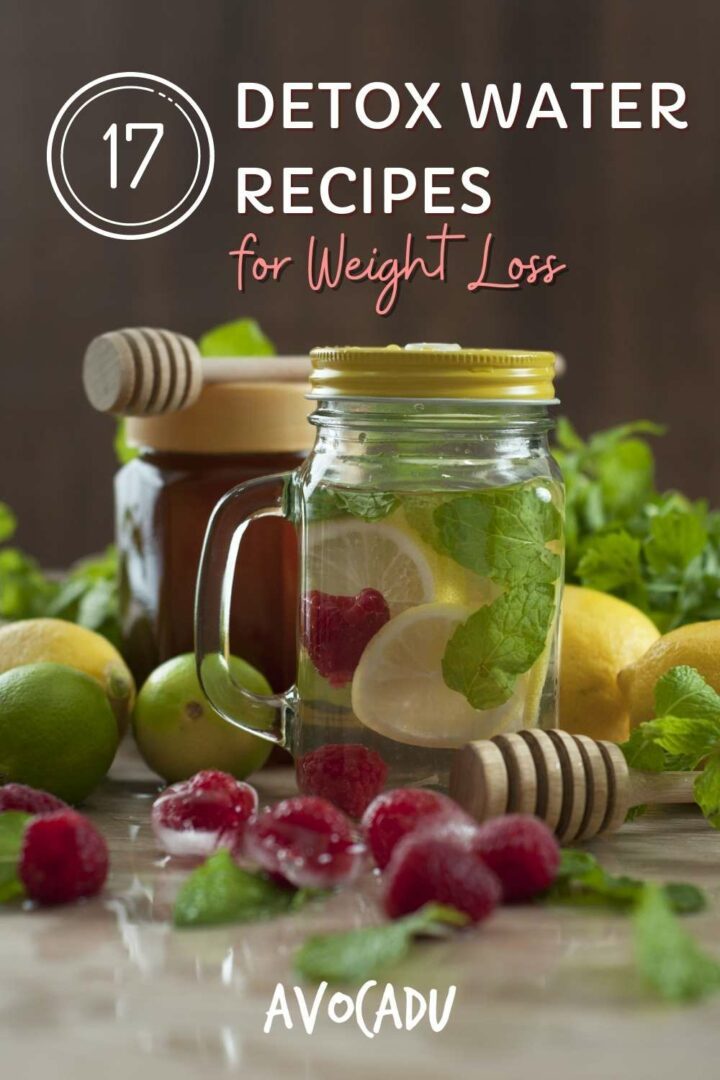 These waters are great for:
Replacing high-calorie snacks
Getting you to drink more water in general
Helping you through times of cravings
Taking cute Instagram photos
General detox
Extra energy
Using up that last bit of fruit in your fridge
Putting a smile on your face
Mix and match the detox water recipes below to get a wide variety of nutrients back into your diet!
1. Strawberries, Grapes, Lime, and Mint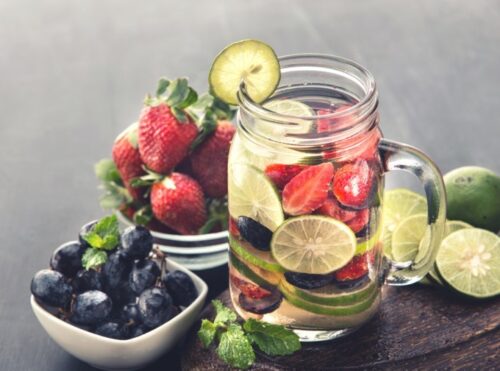 Ingredients: 5 grapes halved, 1/2 lime sliced, 4 strawberries halved, and 5 mint leaves
This drink is a great go-to because the fruits can almost always be found all year round at your local grocery store.
2. Lemons and Cherries
Ingredients: 8 whole cherries (halved if you like a little extra flavor) and 1/2 lemon sliced
The cherries in think drink make it a good late-spring and summer drink because that's when cherries are in season and the most affordable!
3. Peaches, Plums, and Mint
Ingredients: 1/2 peach (sliced), 1/2 plum (sliced), 7 mint leaves
Peaches and plums are in season in the summertime and early fall, so make sure to stock up on these ingredients during that time.
4. Pomegranates and Mint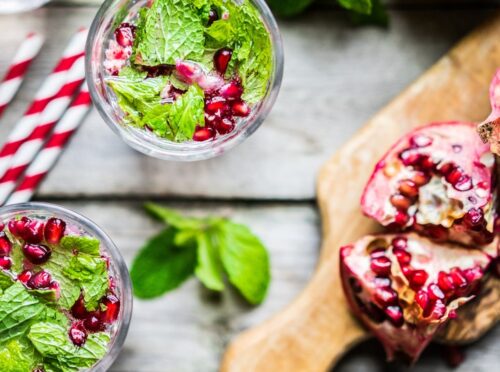 Ingredients: 1/2 cup pomegranate seeds, 10 mint leaves
The pomegranate seeds in this drink make it a powerful antioxidant detox water recipe! Make sure to stock up in the winter when they're in season because they can be pretty expensive otherwise.
5. Oranges, Lemons, and Limes
Ingredients: 2 orange slices, 2 lemon slices, and 1 lime slice
This detox water is packed with citrus fruits, which makes it really high in Vitamin C. This is a great drink for cold and flu season to keep your immune system healthy.
6. Blackberries and Mint
Ingredients: 7 blackberries and 5 mint leaves
This simple detox water recipe is light and incredibly refreshing with the addition of the mint. We recommend it on a hot summer day when blackberries are in season to give your water a boost in taste.
7. Lemons and Raspberries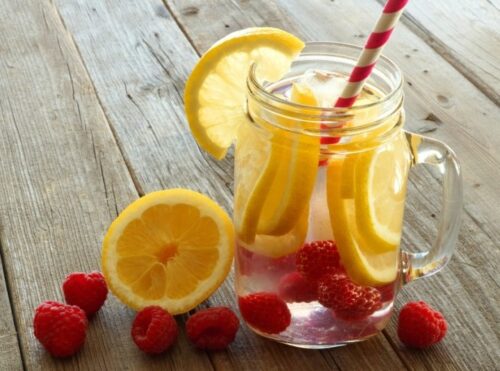 Ingredients: 1/2 lemon (sliced) and 8 raspberries
This is another great and simple detox water to enjoy in the summertime. Not only are raspberries in season then, but it's also a fun-colored drink to serve at a family BBQ or other social function.
8. Lime, Apples, and Basil
Ingredients: 1/2 lime slices, 1/2 green apple (sliced), 5 basil leaves
This powerful green detox water recipe gives you all kinds of nutrients, and the fresh basil adds a new twist of flavor. If you really feel like being adventurous, try adding in 1/4 cucumber (sliced) as well.
9. Oranges, Plums, and Mint
Ingredients: 1/2 orange (sliced), 3 small plums, 3 mint leaves
This is another detox drink for the summertime when plums are in season. It's also another highly colorful mix that is great for social parties and events.
10. Apples, Grapes, and Cinnamon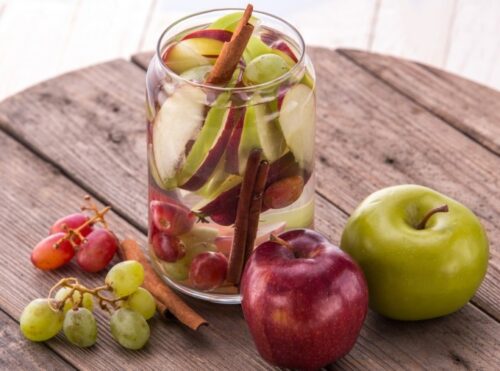 Ingredients: 1/2 green apple (sliced), 1/2 red apple (sliced), 5 red grapes, and 5 green grapes
This is another great go-to recipe because apples and grapes are available all year round.
11. Watermelon and Mint
Ingredients: 1 1/2 cup watermelon slices and 10 mint leaves
When you're cutting up watermelon for the kids, make sure to save some for yourself for this tasty drink! Watch out for watermelon to go on sale in the summertime.
12. Kiwi, Blackberries, and Apples
Ingredients: 3 kiwi slices, 5 blackberries, 1/2 fuji apple sliced
This tropical drink is great for the summertime and in the fall when blackberries and kiwis are in season.
13. Strawberries, Cucumbers, and Mint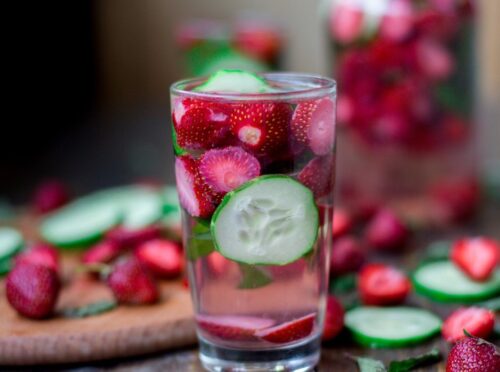 Ingredients: 4 strawberries (sliced), 5 slices of cucumber, and 4 mint leaves
Strawberries and cucumbers are usually lower in price than other berries, which makes this a great detox water recipe to fall back on in a pinch.
14. Lemons, Grapes, and Honeydew
Ingredients: 2 slices of lemon, 5 large grapes, 10 cubes of honeydew
Honeydew and grapes are often consumed in the morning, so fix this drink first thing to get an extra boost of nutrients!
15. Oranges and Blueberries
Ingredients: 1 whole orange (sliced) and 15 blueberries
We've finally reached the blueberries! The combo of antioxidants and Vitamin C make this a powerful drink in the wintertime or anytime you're feeling the need for an immune boost.
16. Apples, Lemons, and Carrots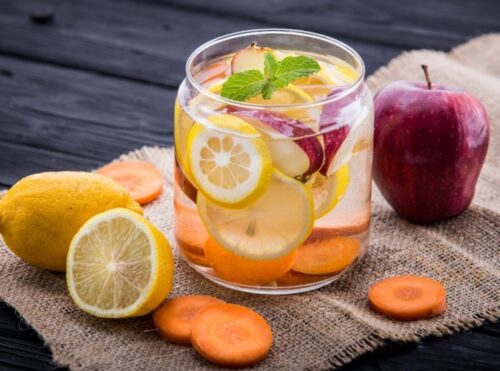 Ingredients: 1/2 red delicious apple (sliced), 1/2 lemon sliced, and 10 slices of carrots
This detox water recipe is packed with all kinds of nutrients, so make sure to eat the fruit and veggies when you're finished with the drink.
17. Grapefruit and Cucumber
Ingredients: 1/4 grapefruit (sliced) and 1/2 cucumber (sliced)
Grapefruits are naturally detoxifying to the body, so that makes this detox water even more powerful! Make sure to look out for grapefruits when they're in season in the winter and spring.
Frequently Asked Questions
Ready to dive into the world of detox water recipes for weight loss? We bet you've got questions. Don't worry, we're here to answer them. Here, you'll find answers to some of the most common queries about these refreshing, healthy drinks.
What are Detox Water Recipes?
Detox water recipes are concoctions made with water and various fresh ingredients such as fruits, vegetables, and herbs. These ingredients infuse the water with their flavors and nutrients, resulting in a delicious, refreshing, and often health-boosting drink.
How do Detox Water Recipes aid in weight loss?
Detox water recipes can aid in weight loss by helping to increase hydration, reduce appetite, improve digestion, and boost metabolism.
The fruits, vegetables, and herbs used in these recipes often contain antioxidants and other beneficial compounds that can help the body function more efficiently, potentially aiding in weight loss.
Can I drink Detox Water every day?
Absolutely! Detox water can be consumed every day as part of a healthy diet. It's an excellent and tasty way to ensure you stay hydrated while also enjoying the potential health benefits provided by the ingredients used.
How long should I infuse the water before drinking?
The infusion time can vary based on the ingredients used, but generally, you'll want to infuse the water for at least 1-2 hours for the flavors to properly develop. However, for the best flavor and nutrient extraction, infusing overnight in the refrigerator is recommended.
Can I reuse the fruits and herbs in my Detox Water Recipes?
While you can reuse the fruits and herbs for another batch of detox water, keep in mind that the flavor and nutrient content may be less potent the second time around. For the most flavorful and beneficial detox water, it's recommended to use fresh ingredients each time.
Are there any potential side effects of drinking Detox Water?
Detox water recipes are generally safe for most individuals as they're primarily made from water and natural ingredients.
However, some people may have allergies or intolerances to certain fruits, vegetables, or herbs. If you experience any adverse effects, discontinue use and consult with a healthcare provider.
Get the FREE 21-Day Training Guide!
Jumpstart your weight loss with this FREE fast fat loss training!