10 Healthy Soup Recipes for Weight Loss
This post may contain affiliate links, which helps keep this content free. Please read our disclosure for more info.
There are thousands of foods available that have benefits for weight loss. From granola bars to salads, it can be overwhelming to determine which ones are the best for your lifestyle.
While energy bars and protein shakes may be quick and easy to make, they're very calorie dense.
Calorie-dense foods have more calories per gram than foods with a low calorie, or energy, density.
Research shows that food with a low energy density can help you lose 50% more weight than energy-dense items. Soup falls into that category (1).
You can load soups with flavor without packing them with calories.
The high water content makes you feel full, and you can add a wide variety of textures for a satisfying mouth feel.
The USDA recommends that you should eat about 2 to 3 cups of vegetables each day. Soups are an ideal way to fit these vegetables into your diet.
1. Chicken Bone Broth
Many people don't realize just how healing bone broth can be. Chicken broth can heal your digestive system so that you absorb nutrients more efficiently and make the most of the foods that you eat.
Drink the broth as a snack, or replace your morning coffee with it.
You can even use it as a base for the other soups in this article. Shape Magazine reveals eight reasons to try bone broth.
If it still seems daunting to you, watch this video on how to make bone broth in a slow cooker.
Ingredients:
Raw, bone-in chicken
1 TBSP apple cider vinegar
½ onion
1 stalk celery
1 clove garlic
Water
Salt to taste
Instructions:
Place chicken in a large pot or crockpot.
Cover the chicken with water.
Add the cider vinegar and vegetables.
Simmer the soup for at least 12 hours on the stove top or in a slow cooker.
Add a little salt to each serving as you eat it.
Butternut Squash Soup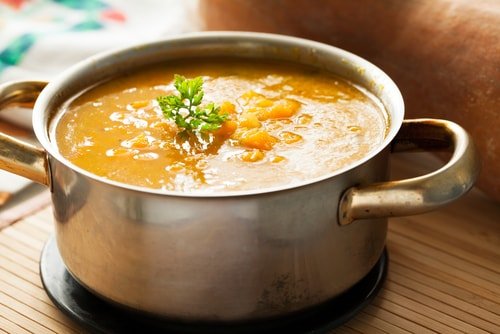 This filling soup is simple and delicious.
Ingredients:
Large butternut squash (or 6 cups of squash chunks)
Olive or coconut oil
1 onion, diced
1 crisp apple, peeled and chopped
1 TBSP grated fresh ginger (or 1 tsp dried ground ginger)
4 cups chicken or vegetable broth
Salt and pepper to taste
Instructions:
Cut the squash lengthwise. Discard the seeds.
Brush the squash with oil.
Roast the squash halves face down on a baking sheet in the oven at 375 degrees for about 35 to 45 minutes. It should be very soft.
Meanwhile, sauté the onion in a stock pot in one tablespoon of oil until it is translucent.
Add the apple and ginger and cook for about 3 more minutes.
Scoop the squash into a blender or food processor.
Add the sautéed onions, ginger and apples.
Cover with chicken broth, and puree until smooth.
Return the mixture to the pot and heat through, seasoning with salt and pepper.
3. Carrot-Ginger Soup
This soup satisfies your cravings for sweets with few calories. The ginger in the soup adds a slight kick and soothes the digestive system. Mix this in a high-powered blender for a silky smooth treat.
Ingredients:
Carrots, cut into 1-inch pieces
Coconut oil
1-inch nub of ginger, grated
Salt to taste
Thyme
Water or chicken broth
Instructions:
Sauté the carrots in coconut oil in the bottom of a stock pot until they're soft and browned. Add a few tablespoons of water if the pan seems dry.
Once the carrots are browned, add water to cover the carrots. Heat everything through.
Pour the mixture into a blender. Add the ginger, salt, and thyme.
Blend until smooth. Add more salt if necessary.
4. Beef Pho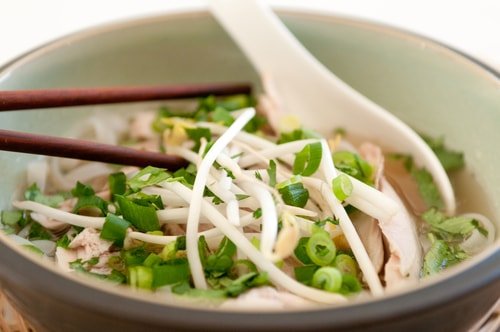 Omit the noodles for a low-carbohydrate, grain-free option, or substitute them with buckwheat noodles for added fiber.
Ingredients:
8 cups beef broth
1/2 onion
1-inch chunk of fresh ginger
1 TBSP fish sauce
¾ pounds top sirloin
¼ cup chopped fresh cilantro
1 TBSP chopped green onion
1 cup bean sprouts
Lime for garnish
Sriracha sauce
Instructions:
Add the broth, onion, ginger, and fish sauce to a stock pot or crock pot.
Bring to a boil, then lower the heat and simmer for 1 hour.
Strain the broth and set aside.
Meanwhile, make rice noodles according to the package directions.
Separate the noodles into serving bowls.
Thinly slice the top sirloin. Freeze it for 10 to 20 minutes before slicing to achieve paper-thin slices.
Place the sirloin on top of the noodles along with the cilantro and green onion.
Bring the broth to a boil, then pour it over the noodles and beef.
Once the beef has cooked for about 2 minutes, add bean sprouts, lime and sriracha to taste.
5. Spinach Hemp Soup
The spinach provides calcium, the squash or sweet potato adds fiber and the hemp provides protein to fill you up. Dr. Axe calls hemp protein the "perfect plant-based protein."
Ingredients:
8 cups fresh spinach or baby spinach
1 cup roasted squash, sweet potato or pumpkin
2 green onions
¼ cup lemon juice
1 TBSP coconut oil
2 ½ cups hot chicken broth
¼ cups hemp hearts
Salt to taste
Instructions:
Blend all ingredients in a high-powered blender until smooth. How easy was that?
6. Gazpacho
This cold Spanish soup retains all of the nutrients and flavors of ripe, fresh vegetables. Plus, all those veggies provide fiber. If you like chilled soups, check out more recipes at Shape.com.
Ingredients:
2 ½ pounds fresh tomatoes (Roma or cherry tomatoes have more flavor)
1 cucumber
1 red bell pepper
1 small onion
2 cloves minced garlic
½ cup chopped cilantro
Splash of balsamic vinegar
Splash of extra virgin olive oil
1 chopped avocado (optional)
1 jalapeno, seeded and chopped (optional)
Salt and pepper to taste
Greek yogurt
Instructions:
Pulse the tomatoes and onion in a blender or food processor until they reach the desired consistency. They should be fairly liquid with a little bit of chunkiness.
Finely chop the rest of the vegetables by hand, or pulse them in a blender or food processor.
Mix the vegetables with the blended tomatoes and onions in a large bowl.
Add the avocado and jalapeno, if desired.
Swirl in some balsamic vinegar and olive oil, and season with salt and pepper.
Top with Greek yogurt for added protein.
7. Coconut Milk Curry Soup
This recipe is great for spicing up leftover Spinach Hemp Soup.
Ingredients:
4 cups Spinach Hemp Soup (recipe above)
2 cups fish stock or clam juice
1 can unsweetened coconut milk
1 TBSP yellow curry paste or powder
1 TBSP sugar
¼ cup finely chopped cilantro
Cooked or canned salmon, shredded
Instructions:
Combine all ingredients except salmon and cilantro. Bring to a simmer.
Add the salmon and cilantro, and serve.
8. Easiest Cauliflower Soup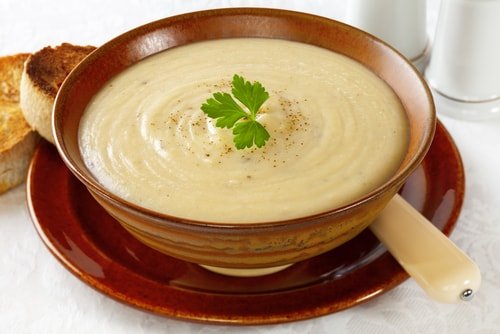 This recipe only uses a few ingredients for creamy, satisfying results.
Ingredients:
5 cups chopped cauliflower
1 yellow onion, chopped
4 cups chicken or vegetable broth
2 TBSP extra virgin olive oil or coconut oil
Salt and pepper to taste
Instructions:
Sauté the onion in oil in a stock pot until translucent.
Add the broth and cauliflower. Simmer until cauliflower is soft.
Blend with salt and pepper until smooth.
9. Miracle Chili
Trade ground beef for ground turkey to cut calories and fat without cutting out the flavor.
Ingredients:
1 lb. ground turkey
1 diced onion
1 TBSP olive oil
2 TBSP chili powder
2 28 oz. cans crushed or diced tomatoes
1 can black beans
2 cups beef or chicken broth
4 stalks diced celery
2 diced bell peppers
4 diced zucchini
Salt and pepper to taste
Instructions:
Cook turkey and onions in olive oil at the bottom of a large pot until turkey is browned.
Add other ingredients, and simmer until vegetables are tender.
10. Simple and Hearty Tomato Soup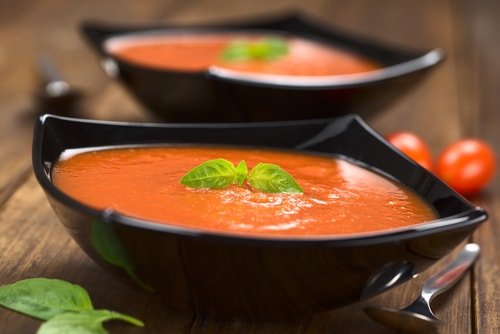 This might be the easiest soup recipe ever.
Ingredients:
20 red, ripe Roma tomatoes
2 TBSP brown sugar
3 tsp ground cumin
3 tsp garam masala or powdered curry
Salt and pepper
Instructions:
Cut tomatoes in half, and place on a baking sheet with the cut side facing up.
Sprinkle with sugar, spices, salt, and pepper.
Drizzle with olive oil.
Roast at 375 degrees Fahrenheit until browned and caramelized.
Blend in a blender until completely smooth.
If you liked this article on healthy soup recipes for weight loss or have any questions, please leave them in the comment section below!
Get the FREE 21-Day Training Guide!
Jumpstart your weight loss with this FREE fast fat loss training!