Chicken Meal Prep Ideas for Weight Loss + 31 Recipes
This post may contain affiliate links, which helps keep this content free. Please read our disclosure for more info.
People that are trying to get to or maintain a healthier diet often seek out chicken meal prep ideas for weight loss.
The biggest reason? According to the National Chicken Council, a 3-1/2 oz. portion of skinless, boneless, chicken breast is just 165 calories and 3.6 grams of fat, while also being 31 grams of protein.
Even the "least nutritious" part of the chicken – the wing with skin on, has 27 grams of protein.
Although, you'll want to eat other parts of the bird to get that fat content down!
Those skin on wings clock in at a whopping 19.5 grams of fat per serving.
No thanks!
Still, with most of the chicken being low in fat, high in protein, and rich in vitamins, it's not surprising that chicken has long been the go-to meat in terms of healthier fare.
Now, you might be thinking – "Great, I'll just order chicken when I'm out to eat."
Not so fast!
Going out to eat is a massive risk to your diet.
This is due to the fact that not only are menu items more caloric than you may realize, but the temptations to sway from your diet are everywhere.
Case in point – "I've been so good today, I'll have another cocktail."
Or, "What's a bite of dessert?"
And before you know it you're overindulging and feeling awful about it.
That's why people who are serious about their weight loss goals stick to chicken meal prep ideas and recipes at home – to keep themselves on track.
When we've already got food in the fridge ready to heat and eat, we're much less likely to stray from our diets. And, as an added benefit, our wallets will thank us too!
The Basics of Chicken Meal Prep
So, now that you're on board with chicken meal prep ideas for weight loss, it's time to create a game plan for success.
At the most basic level, you need to create several well-balanced meals of chicken, veggies, and perhaps a grain.
Many chicken meal prep recipes revolve around these three key elements.
In the best-case scenario – you'll have several meal options to choose from so that you don't have to eat the same thing all day, every day. However, you don't want to make too much food either.
Next, you need to figure out the best way to cook your chicken to add it to your individual servings.
With that in mind, here are the various ways to cook chicken:
Stovetop

Oven

Crockpot

Grill

Instant Pot

Air Fryer (Yes, you can use a deep fryer, but the oils used in fried chicken pretty much negate any healthy benefits of eating chicken.)

Campfire (Really!

Hobo dinner packets anyone

?)
What should you add to your chicken when you cook it to make it tasty?
The truth is, plain chicken will get boring fast. After all, variety is the spice of life!
The key to a solid plan when coming up with chicken meal prep ideas for weight loss is experimenting with various spices, oils, rubs, and sauces.
Of course, the caveat to this is that you don't want to get too wild with oils and sauces, as some of them can be high in fat and calories which in turn can annihilate your weight loss goals.
A lot of these meals are also approved by our 21-Day Fat Loss Challenge — a fast weight loss program designed to help you lose 10-21 pounds in just 21 days! You can check it out and get started here.
How should you store your chicken meal prep foods, and how long will it last?
Most meal preppers recommend glass containers for best taste and quality. However, when you're on the go, plastic containers like these might suit you best.
Just be sure whichever containers you use are BPA free, and microwave safe.
According to Still Tasty, "Properly stored, cooked chicken will last for 3 to 4 days in the refrigerator." However, if you opt instead to freeze your meals the site explains "it will maintain best quality for about 4 months."
31 Recipes – Chicken Meal Prep Ideas for Weight Loss
Because we want to set you up for the best chance of success, and not wondering what to cook to make quick work of your chicken meal prep, we've created a round-up of 31 recipes from a variety of bloggers covering a wide range of cuisines.
Look them over, experiment with them, and see which ones resonate the most with you. Perhaps they will inspire entirely new recipes that aren't even listed here.
Add your favorite veggies and grains to round it out. Of course, be mindful of any additional dietary restrictions you may have while looking through them as well.
All the images and links below were given to us courtesy of each blog's owners. Enjoy!
1. Healthy Greek Pizza
Grab the recipe: Via Food Wine Sunshine
This pizza is given a healthy boost with protein rich Greek yogurt. Make several crusts ahead of time, and keep your veggies chopped in the fridge along with your chicken and Tzatziki sauce. Then, when you're ready for lunch or dinner, put them together for a quick and easy meal.
2. Slow Cooker Whole Chicken Recipe
Grab the recipe: Via Healthy Ambitions
Not only is this whole chicken recipe a breeze to cook, the author gives you 5 meal options to create with the finished product. The possibilities with a whole cooked chicken are truly endless – from salads to flatbreads, soups to stir fry.
3. Buffalo Chicken Lettuce Wraps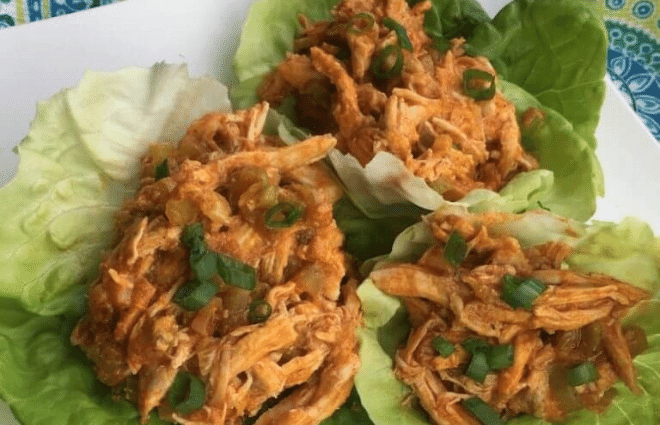 Grab the recipe: Via Famous Ashley Grant
This dish couldn't be simpler. Prepare your chicken mixture at the beginning of the week and then add it to some lettuce whenever you're hungry. You can use precooked or homemade rotisserie chicken as well.
4. Grilled BBQ Chicken Kebabs
Grab the recipe: Via Casa de Crews
There's something truly special about grilled chicken. The smoky flavor that a grill gives the meat just takes it to the next level. And the pops of flavor from the peppers, onion and even pineapple will have you drooling in no time.
5. Mexican Roasted Chicken and Vegetables
Grab the recipe: Via Beyond Mere Sustenance
What's great about this recipe is that it just calls for vegetables. You can add any of your favorites to the mix. I spy peppers, zucchini and purple potatoes in this picture. What blend of veggies will you add to yours?
6. Crispy Skin Baked Chicken Drumsticks
Grab the recipe: Via Low Carb Africa
The reason baked chicken is so great, is it doesn't require as much oil as the stove top might. It gives you the fried chicken wing feel without all the extra calories. And, the author explains that you can cook this recipe in an air fryer instead of the oven if you choose to.
7. Grilled Tandoori Chicken Tikka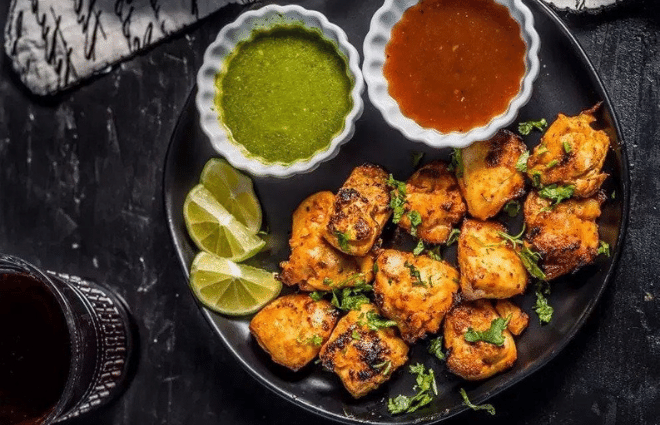 Grab the recipe: Via Simmer to Slimmer
When you're craving an Indian dish, this is the chicken for you. The slightly charred on the outside, succulent on the inside texture is sure to win you over. Make a big batch and pair with veggies, cauliflower rice, or quinoa.
8. Snap Pea and Chicken Stir Fry
Grab the recipe: Via Rachels Crafted Life
This dish is a snap! Snap peas that is. Quick and easy with simple ingredients – you can't go wrong. And, you can make it as saucy or as plain as you like. That's one of the great things about meal prep actually – when you're considering chicken meal prep ideas for weight loss, you can mix and match until you've created the perfect recipes for your unique tastes.
9. Easy Thai Baked Chicken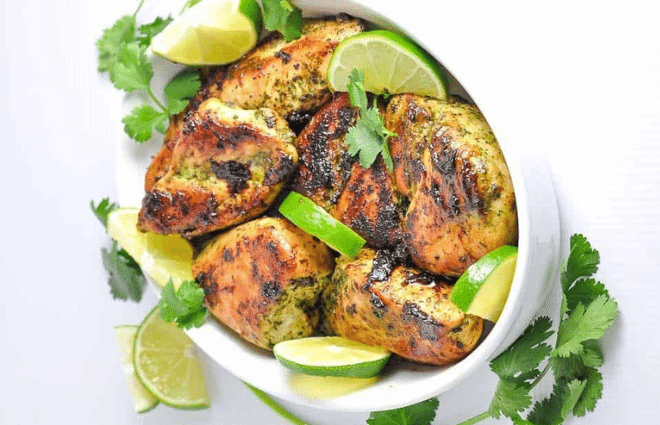 Grab the recipe: Via Flavour and Savour
The lime in this dish just looks so appetizing. Presentation really is everything sometimes, and we certainly want to reach into the computer screen and take a bite of this chicken! The coconut milk with the jalapeno gives a wonderful blendy of sweet and spicy that will have you asking for seconds.
10. Crockpot Chipotle Chicken Thighs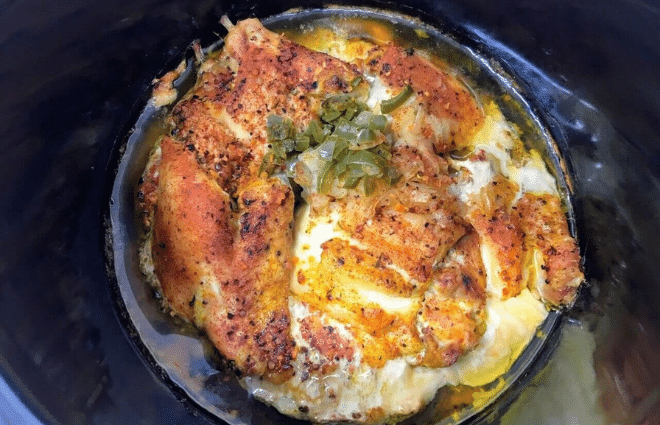 Grab the recipe: Via Any Reason Life
While chicken thighs aren't as good for you as chicken breast, we can't deny the savings you'll enjoy by cooking thighs occasionally. Grocery stores seem to always have them on sale at least once a month. We can almost smell the garlic, onions, and chili powder in this dish. Okay, and now we're hungry! How about you?
Enjoying our chicken meal prep ideas for weight loss? Also check out our post: "3 Delicious Weight Loss Smoothies that Don't Taste Like Dieting"
11. Spicy Curried Chicken Meal Prep Bowl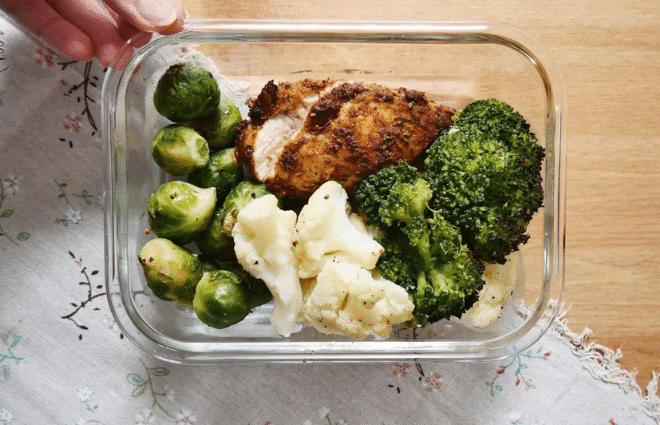 Grab the recipe: Via All Nutritious
Lost for what to add to your meal prep bowls? This blogger takes the guesswork out of the equation by suggesting a healthy blend of brussels sprouts, cauliflower and broccoli. The sweetness of these veggies will certainly help with the spice of the curried chicken.
12. Grilled Italian Chicken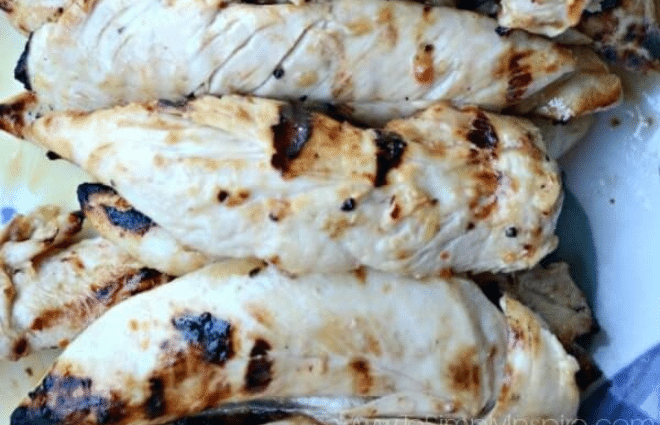 Grab the recipe: Via To Simply Inspire
Grilled Italian chicken is great because it's simple flavors make it perfect for adding to any number of dishes. Add sauces and throw it in some cooked spaghetti squash for a dish that is sure to have you saying "I don't miss pasta!"
13. Balsamic Chicken with Roasted Tomatoes
Grab the recipe: Via Food Meanderings
Look at that balsamic glaze would ya! And those roasted tomatoes are cooked to perfection. Our only suggested swap here is to lose the potato in favor of a sweet potato or some brown rice instead.
14. Sheet Pan Chicken Fajitas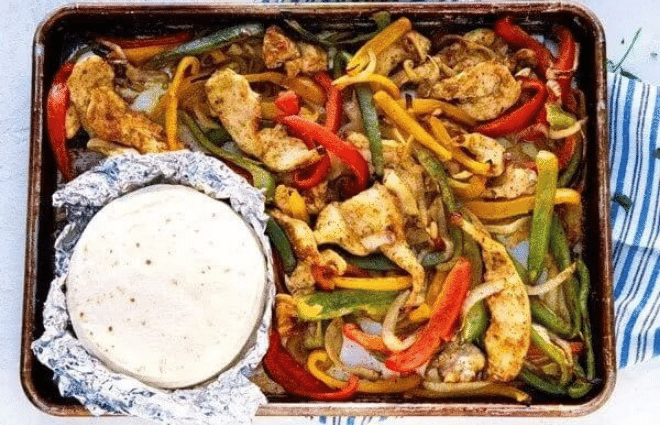 Grab the recipe: Via Easy Budget Recipes
You can't go wrong with chicken fajitas. To make this dish even healthier, we suggest a low carb wrap or lettuce wraps instead.
15. Slow Cooker Salsa Chicken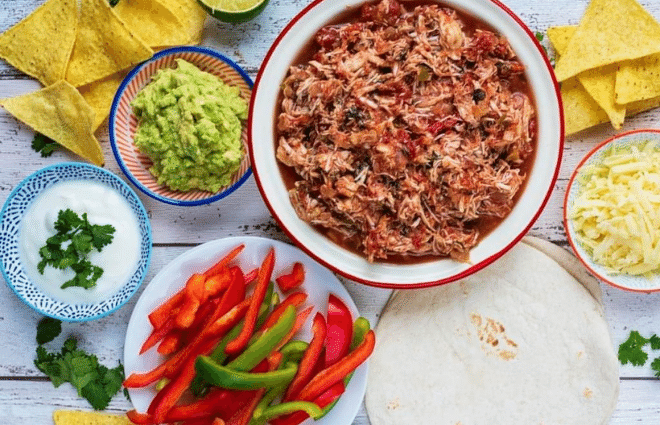 Grab the recipe: Via Hungry Healthy Happy
You had us at two ingredients! How cool is it that with just two staples that are probably already in your kitchen you can have meal prep ready chicken in just four to six hours? It looks and sounds so tasty too!
16. Healthy Chicken Moussaka
Grab the recipe: Via Healthy Recipes
The trouble with some Greek dishes is their calorie and fat content can creep up on you. That's why we are living for this healthier version of traditional Moussaka. A huge batch can make for several meals. Pair it with a nice salad and you'll be full for hours before it's time to eat again.
17. Sticky Maple Lime Ginger Chicken Thighs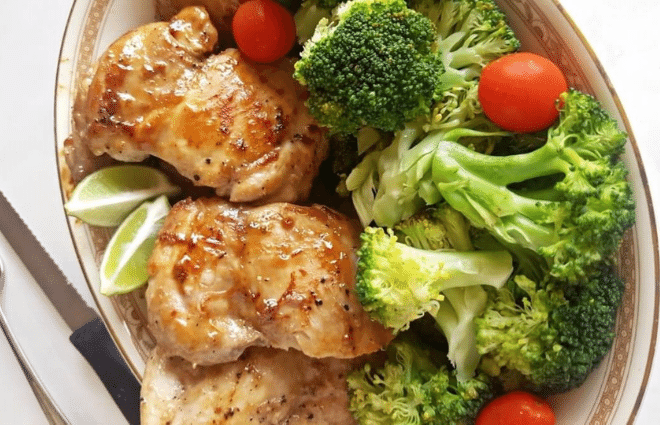 Grab the recipe: Via Cinnamon and Coriander
Why should breakfast have all the fun with maple syrup? This dish has a unique flavor with it's sweet maple and salty soy sauce. And that hint of lime and rum? We're feeling like we're on island time y'all!
18. Caprese Chicken Sheet Pan Dinner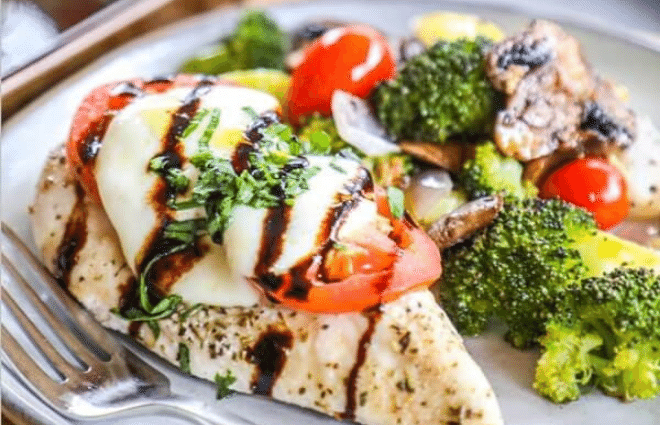 Grab the recipe: Via Easy Family Recipes
Caprese salads are already tasty, but add chicken to the mix and now you're cookin! This healthy chicken recipe gives you all the flavors of an authentic Italian meal without all the calories that come with pasta.
19. Cran-Apple Chicken Salad
Grab the recipe: Via Famous Ashley Grant
This chicken salad can be made in a big batch and eaten several different ways. Our personal favorite is on apple slices as shown above. Slice the apples just thin enough that they are like chips, but thick enough to hold the chicken salad, and voila! Lunch or dinner is served.
20. Healthy Tuscan Chicken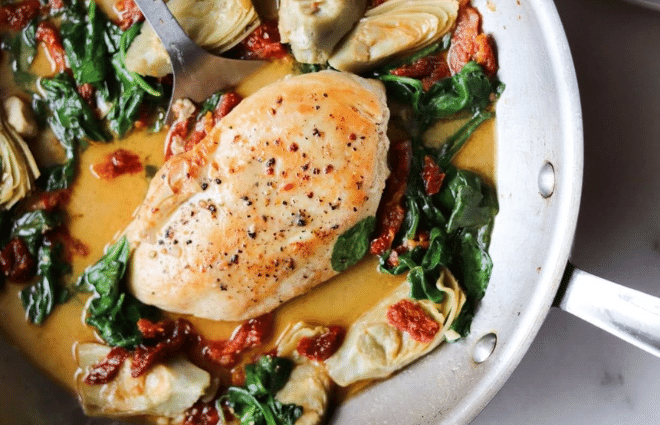 Grab the recipe: Via Cook At Home Mom
This chicken dish is Whole 30 and Paleo approved, and it's dairy free. We're also thankful that the author gave us two ways to cook it – in the skillet or in a slow cooker. Thanks to a simple swap of coconut milk for the heavy cream traditionally in Tuscan chicken recipes, it's as creamy as it would be with its dairy counterparts.
21. Berry Delicious Avocado Chicken Salad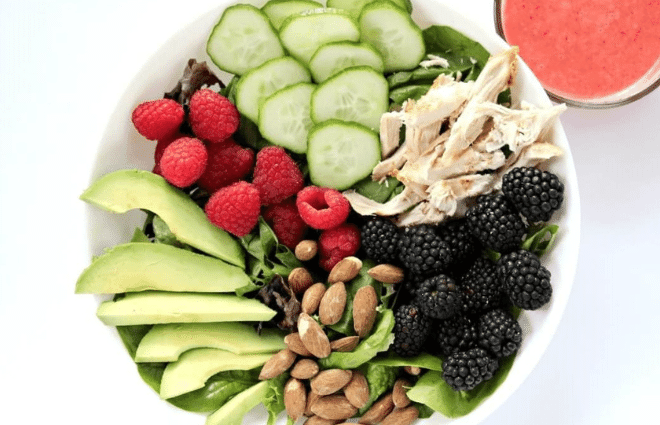 Grab the recipe: Via Food Wine Sunshine
This meal prep dish is another simple one that you don't even have to cook. Chop up all your veggies (less your avocado – wait until you're ready to eat before slicing it to prevent browning), and add them to your bowl. Then, top with the rotisserie chicken. Add a small container with about 2-3 tbs of the dressing and you've got a yummy salad that is berry delicious.
22. Keto Citrus Chicken With Carrot Salad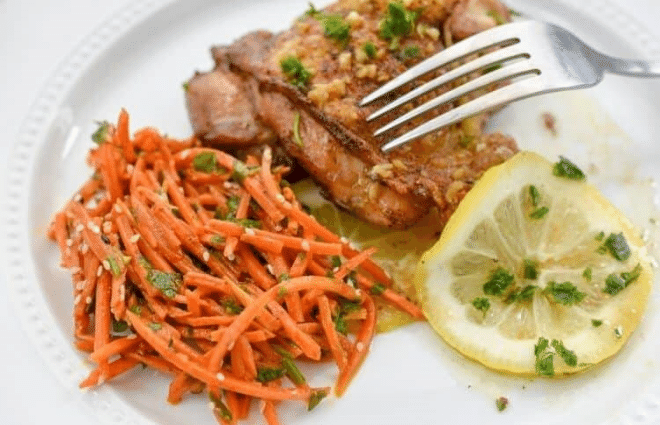 Grab the recipe: Via Fit To Serve Group
They say carrots are good for you, and this dish will have you seeing double. Okay, not really, but you might want double helpings because it's light, refreshing, and quite tasty!
23. Creamy Tomato Basil Chicken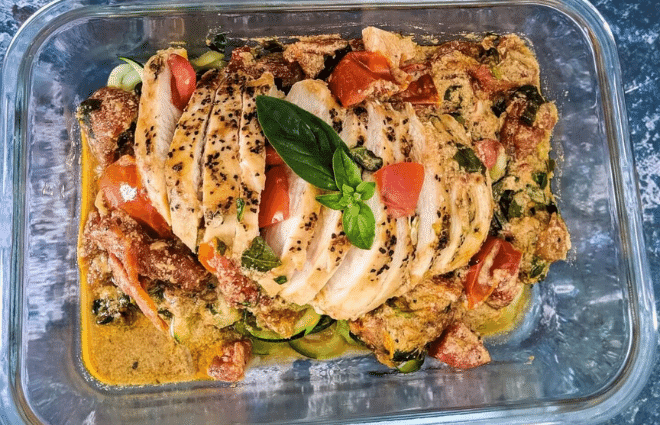 Grab the recipe: Via Radical Strength
We're loving this recipe because of the spiraled zucchinis underneath. It almost feels like you're cheating and having a pasta dish! The tomatoes and basil in it also give it a pop of color that has us drooling.
24. Loaded Baked Low Carb Chicken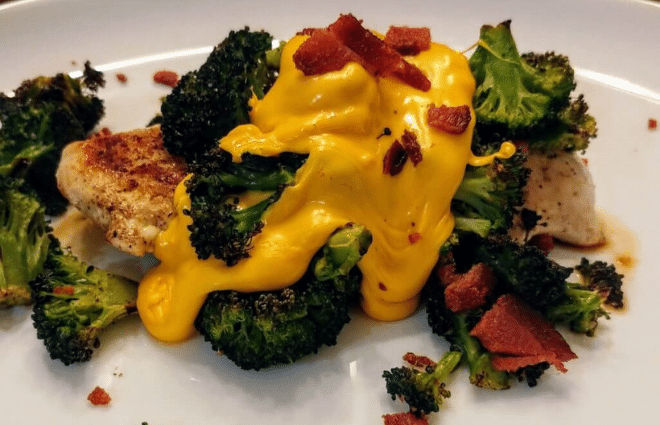 Grab the recipe: Via Garden Thyme
You know those smothered chicken recipes with sour cream and gravy? Yeah, those aren't exactly diet friendly. But this dish gives you all the cheesy and creamy goodness of smothered chicken without all the calories. Yes, please!
25. Copycat PF Chang's Chicken Lettuce Wraps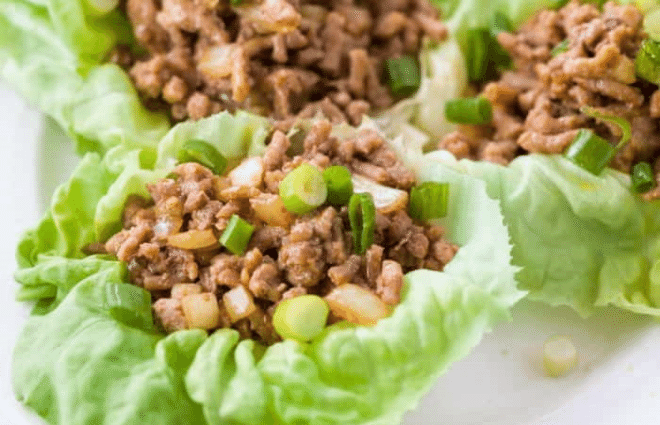 Grab the recipe: Via The Cozy Cook
Remember earlier when we said going out to eat was risky because it could sabotage your weight loss goals? Well, that's why we love this dish. It's a healthier copycat version of a restaurant favorite. Again, make a big batch of chicken and then just add it to your lettuce when you're ready to eat.
26. Easy Air Fryer Chicken Tenders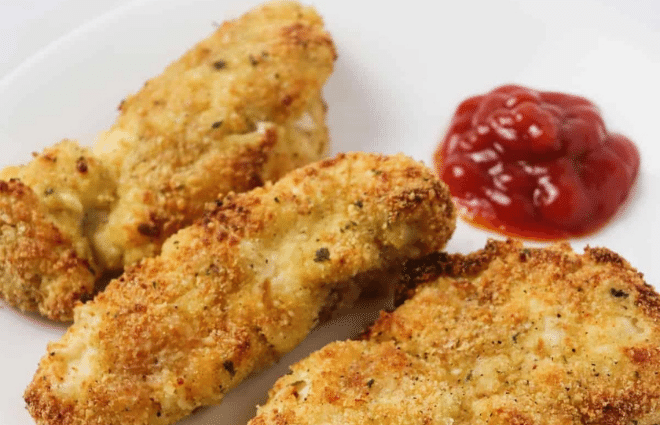 Grab the recipe: Via Skinny Comfort
Sometimes while dieting you'll crave fried foods. But, they can pack on the pounds. That's why these air fryer chicken tenders are so wonderful. They give you the fried chicken flavor without all the oil.
27. Chicken Souvlaki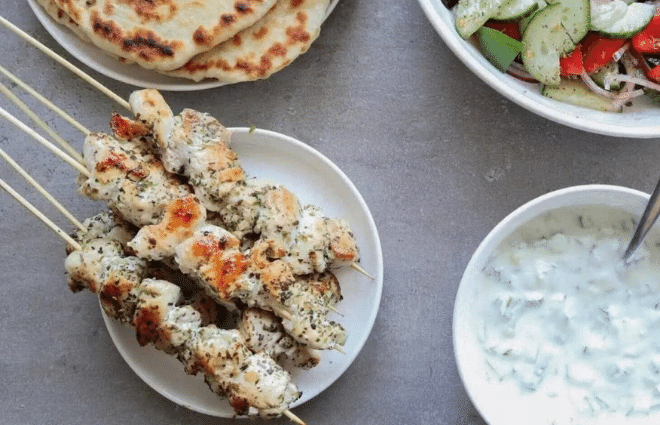 Grab the recipe: Via Nutmeg and Vinegar
Traditionally, Souvlaki is made with pork, but for a healthier version, the author used chicken. Make it on the grill to add a smoky flavor. And don't forget the Greek salad and a side of tzatziki sauce!
28. Jerk Chicken Buddha Bowl with Mango Salsa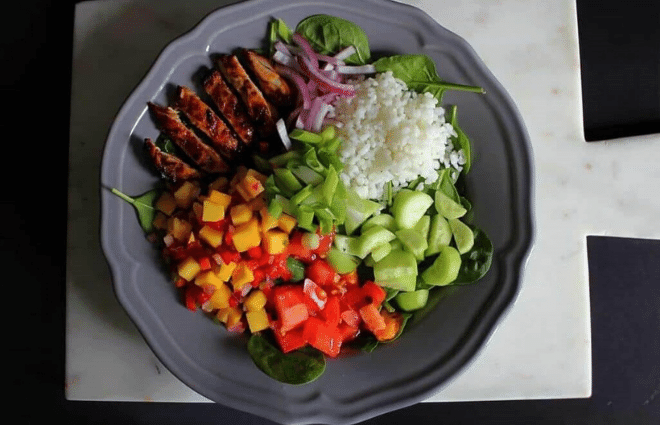 Grab the recipe: Via Crave the Good
The colors of this dish are just asking us to chow down. Vitamin A rich mango combined with iron rich spinach and other veggies – if eating healthy looks this good, we don't ever need to go back to our old diets.
29. Sheet Pan Chicken Thighs with Citrus-Chipotle Glaze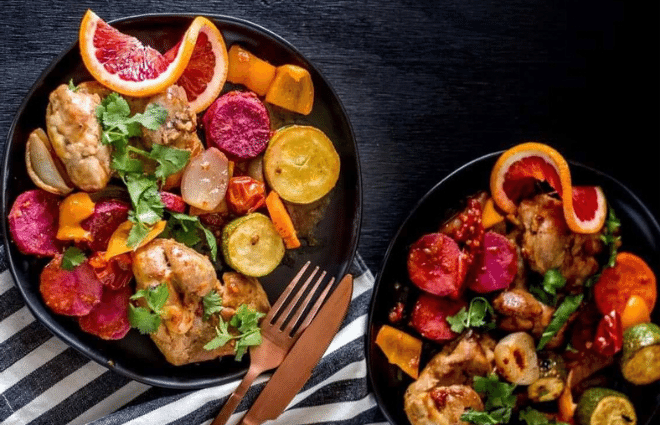 Grab the recipe: Via Beyond Mere Sustenance
There are so many flavors in this chicken dish your tastebuds will be dancing. And, we're loving that it's filled with a rainbow of veggies too. Move over Skittles! We're tasting this rainbow now!
30. Chicken Tikka Kebab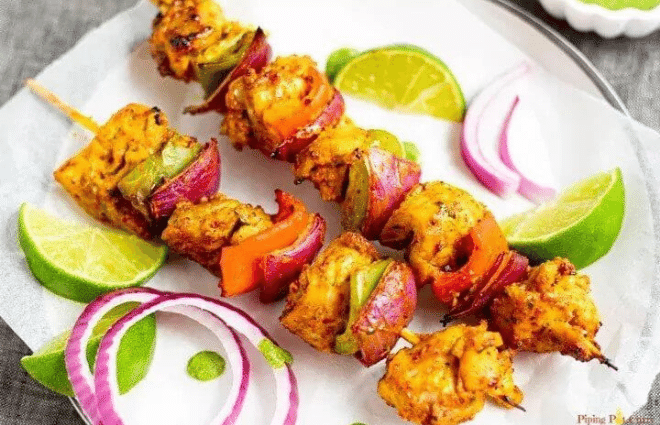 Grab the recipe: Via Piping Pot Curry
This is similar to the tikka dish above, but we love that the author added peppers and onions to take the chicken to a whole other level. We're thinking we'll pair this with some quinoa and a large salad. Is it dinner time yet?
31. Chicken Fajita Meal Prep Bowl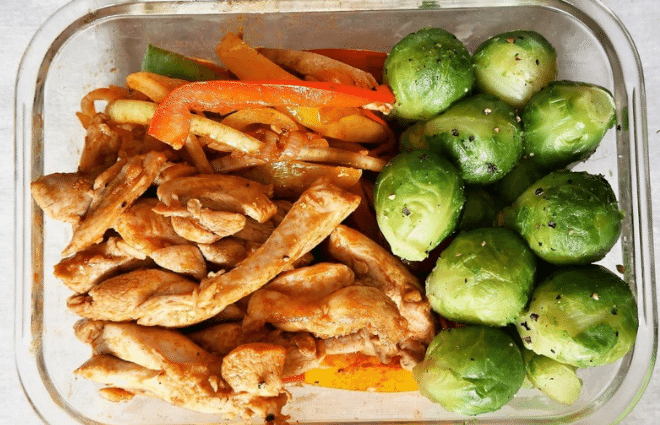 Grab the recipe: Via All Nutritious
Finally, we've got a chicken fajita bowl. Sometimes you want the fajitas flavor, but without a wrap. That's where this dish shines. Paired with some Brussels sprouts, and fajita veggies – you'll wonder why you needed tortillas in the first place!
Don't these recipes all look amazing? Hopefully, the chicken meal prep ideas for weight loss we've shared here today inspire you to make healthy changes in your own diet.
A lot of these meals are also approved by our 21-Day Fat Loss Challenge — a fast weight loss program designed to help you lose 10-21 pounds in just 21 days! You can check it out and get started here.
Get the FREE 21-Day Training Guide!
Jumpstart your weight loss with this FREE fast fat loss training!