Starting everyday off on the right foot will have a massive impact on your health. 
Kick-start your day with one of these healthy breakfast recipes that will leave you feeling energized and ready to conquer the day!
(Note, we recently changed this article to only include 14 recipes. We felt that some didn't meet the yummy and healthy standards we were looking for.)
Breakfast can be a boring, but it doesn't have to be.
This list will leave you with enough variety to try new things, and the recipes are quick and easy to make.
The point is: Try everything, and find what works best for you!
If you're looking to use healthy foods and a great diet plan to lose a little weight, make sure to check out our fast weight loss program, the 21-Day Fat Loss Challenge at the bottom of this article!
.
14 Quick and Healthy Breakfast Recipes
Want a delicious and chocolatey breakfast that won't add inches to your waistline?
Created by Aylin Erman at Greatist, this recipe takes quinoa and cacao (2 of the healthiest foods on our planet) to give you a delicious meal to look forward to when you're waking up.
Tips and calories: Greatist advertises this as a "30 minute meal," but it can take a lot less time if you cook the quinoa the night before and store it in the fridge.  Calories per serving are around 350, and they are worth every last one.
See the recipe here.
---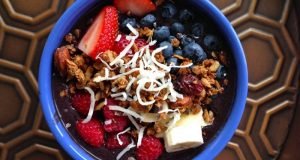 If you'd like an energy rush in the morning to wake yourself up, you must try this Acai berry bowl.
Lisa at This Beautiful Day made this bowl jam-packed with antioxidants and a great way to jolt yourself out the door.
It also takes less than 5 minutes to make.
Tips and Calories: Use unsweetened almond or coconut milk, and substitute whole oats for the granola.  It contains 225 calories if you use 1 cup unsweetened Acai berries, 5 strawberries, 1/2 banana, and sprinkle granola on top.
See the recipe here.
---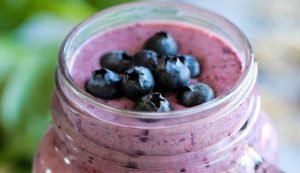 Chang-ah over at Damn Delicious has provided a 5-minute healthy mason jar smoothie you're going to love.
Full of antioxidants, it's a perfect recipe for someone wanting a simple and healthy way to start their day.
Tips and Calories: The night before you make this, put all of the ingredients in a large ziplock baggie, and throw them in the freezer.  That way all you have to do in the morning is drop them in the blender.  Make sure to leave out the added sugar.  It will be plenty sweet enough with the fruit.  Total calories (without the added sugar) is 168 per serving.
See the recipe here.
---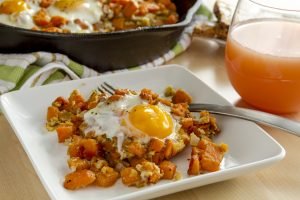 If you're looking for something simple yet delicious, look no further than this eggs and hash recipe created by Emily at Health and Happy Hour.
Everybody loves hash browns, so it's nice to see a healthy spin on such a popular item.
Tips and Calories: You should cut the sweet potatoes into cubes the night before so you're not handling a knife too early in the morning!  Make sure you have a high-quality knife, because cutting potatoes with a cheap knife is such a pain!
See the recipe here.
---
.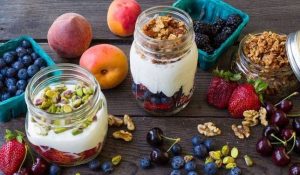 This is the perfect mason jar parfait on the go.
On top of that, parfaits have tons of probiotics that will improve your digestive health and help boost your metabolism.  Just make sure to use non-fat, unsweetened Greek yogurt when you prepare it.
Tips and Calories: Jaymi from Mother Nature Network gives you a few selections. Try the raspberry, blueberries, and [sub whole oats for granola] combination when starting!  This recipe will have 312 calories per serving.
See the recipe here.
---
.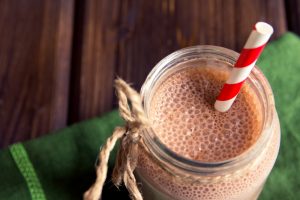 This protein explosion will help you get in the protein you need (25 grams!) while providing a flavorful way to start your day. Make sure you use a high quality protein for women and not that junk from Walmart.
It takes less than 5 minutes to make and is a healthy on the go treat.
Tips and calories: We recommend using a peanut butter flavored powder (PB2) instead of regular peanut butter.  This will lower the calories to around 321.  That way you can still enjoy the taste and keep your daily total lower.
See the recipe here.
This recipe is also great with the addition of some fat-burning, healthy fats like coconut oil.  Make sure to get your FREE container of organic, unrefined coconut oil below!
——————–
Where Can We Send Your FREE Jar of USDA Organic Virgin Coconut Oil?
If you could bottle up superfood perfection, this jar of virgin organic virgin coconut oil would be it.
– Healthy fat-burning cooking oil perfect for family meals
– Moisturizes your skin and hair for a younger, vibrant look
– Treats those pesky eye shadows that come with stress and age
– The ultimate multitasker for your kitchen and MORE
The best part? We want to send a jar to your doorstep for FREE. Just pay the shipping and handling.
Get all of the details and claim your exclusive free gift as an Avocadu reader by clicking the link below…
——————–
---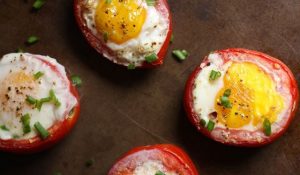 At 4 ingredients and less than 12 minutes to make, this recipe from Melanie at A Beautiful Bite is an awesome way to start your day.
Tomatoes are not only nutritious, but they contain lycopene, which is a phytochemical known for its cancer-fighting abilities.
This is easy clean eating at its finest.
Tips and Calories: This breakfast is also phenomenally low in calories at less than 162 calories per serving (serving size – 2).  Try to use farm-raised eggs if you can, because they have been shown to have higher amounts of omega 3s.
See the recipe here.
---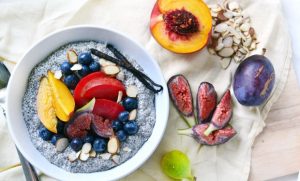 If you are not already adding chia seeds into your diet, here are some reasons you should.
They are loaded with antioxidants, fiber, and have tons of vitamins in a small serving.
Special thanks for Renee and The Daily Burn for providing this one.
Tips and calories: You get tons of nutrients and antioxidants for the 309 calories in this recipe.
See the recipe here.
---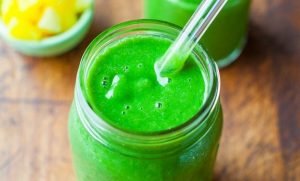 The color of this smoothie speaks for itself.
Avery at Averie Cooks has created one of the best breakfast smoothies you'll ever drink.
This smoothie will leave you energized, refreshed, and ready to conquer your day. Containing spinach and 4 different kinds of fruits, it has an incredible antioxidant profile.
Tips and calories: It contains 362 calories per serving and only takes 2-5 minutes to make.  You should not need sweetener or vanilla extract, because the smoothie will already be sweet enough from the wide variety of fruits!
See the recipe here.
---
The chia seeds make this recipe great for a quick, healthy breakfast, but it also works as a post-workout snack or even a late night dessert.
Created by Jordan at Smile Sandwich, she did an excellent job balancing flavor with nutrition.
Tips and calories: This recipe is 243 calories per serving WITHOUT the honey.  You'll want to make this the night before to let the chia seeds soak in the almond milk and have it ready to go when you wake up!
See the recipe here.
---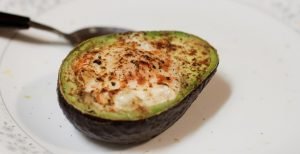 Sometimes the best recipes are the simplest.
If you're looking into clean eating and becoming healthier, it will become common that you must cut things out rather than add new things in.
This recipe from Alan at Life Hacker is a great example of simplicity and essentialism in the kitchen.
Tips and calories: It takes around 10 minutes to make and contains 150 calories per serving.  Avocados are already one of the healthiest foods on the planet, giving you fiber, essential fats, and tons of vitamins.  Don't change a thing.
See the recipe here.
---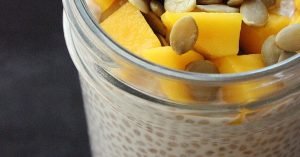 Overnight breakfast on the go and loaded with chia seeds, this is another incredibly healthy breakfast recipe.
Made by Lizzie from Popsugar fitness, this coconut chia pudding is loaded with anti-inflammatory omega 3s and is a great start for your day.
Tips and calories: Containing 3 ingredients and only 206 calories, this recipe is a no-brainer.  Skip the honey, and add a little fruit and nuts to the top of the pudding for some extra flavor.
See the recipe here.
---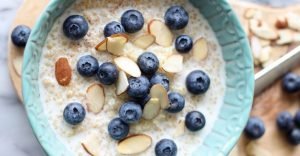 Missing the old days when you were young and could eat any cereal you wanted in the mornings?
This is a great healthy cereal solution!
It contains quinoa, blueberries, and almonds for a well balanced meal.
Tips and calories: There are only 214 calories in one big bowl.  As always, use unsweetened almond, cashew, or coconut milk instead of regular milk.
See the recipe here.
---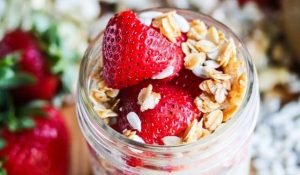 Jeanette at Jeanette's Healthy Living has made a variety of overnight oatmeal recipes in wide mouth mason jars that are low in caloriess but high in taste.
Loaded with fruit, chia seeds, and oats, you can be sure that these recipes will give you the burst of sustained energy for your day.
Tips and calories: The calorie content ranges from 273 to 364 calories, but they are worth every bite.  You should leave them in your fridge to soak the oats and be ready to go in the morning.
See the recipe here.
Make sure to have your water with apple cider vinegar before your meals to help aid in digestion and keep you slim and healthy.  You can get your FREE bottle below!
——————–
Where can we send your FREE Jar of Braggs Apple Cider Vinegar?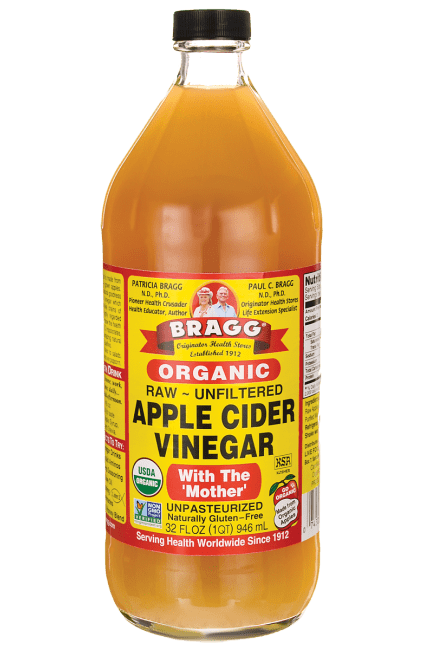 The ultimate body cleanser and weight loss tool, Braggs Apple Cider Vinegar is incredible.
-Reduces cravings and helps you control your appetite
-Improves digestive function
-Lowers blood sugar naturally and helps to fight against diabetes
-Better nutrient absorption from the foods you eat and MORE!
And we want to send the world's best Apple Cider Vinegar to your door… for FREE. Just pay the shipping and handling.
Get all the details and claim your exclusive free gift for being a reader at Avocadu by clicking the link below…
——————–
If you're looking to use healthy foods and a great diet plan to lose a little weight, there's no better solution than the 21-Day Fat Loss Challenge.  It's guaranteed to help you lose 10-21 pounds in 21 days and bust through any weight loss plateau! 
But even better than the weight loss is the feedback we get from people about how the program has taught them how to change their eating habits and find a diet that truly works for them in the long-term.
We have over 1,000 people in our private support group going through the Challenge together, and they share experiences, results, motivation, and lots of recipes!
If you are ready to make some changes in your life, this is the ONLY place you should start.  We will teach you exactly how to make the necessary changes in your diet and your lifestyle and how to keep them "beyond the diet."
Click HERE to check it out and get started today!
Leave us a comment below if you enjoyed this article or have any questions!
Cheers,
Alex & Lauren
Co-Founders, Avocadu
.
.
.
The following two tabs change content below.
The Avocadu Crew
WARNING: Two healthy nut-jobs run this website... Alex is the writer/certified personal trainer and Lauren is the designer/Pinterest expert. These people are crazy, love what they do, and just might help you become a happier and healthier you. Read with caution.
Latest posts by The Avocadu Crew (see all)