21-Day Challenge Supplement Guide
Note that these supplements are all recommended but NOT necessary!  Your weight loss results are in no way depending on the supplements outlined below.
They are simply here for those of you that would like a little extra help, because they CAN help the weight fall off faster! 
They are also listed in order of importance.
Probiotics
Did you know that overweight people have complete different gut bacteria than those at a normal weight?
Certain probiotics may be better for you than you may have realized. Lactobacillus rhamnosus (LPR), for instance, has been shown to help obese women achieve sustainable weight loss.
Even up to 50% more weight loss in some cases!
We have our own brand of Probiotics here at Avocadu called Gut-14.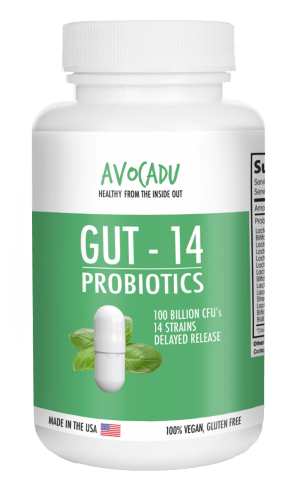 It's our very first supplement (but more to come!), because we believe that gut health is THAT important!
Our specially formulated probiotic supplement contains:
Over 100 Million CFU's Per Serving
14 Different Gut Healing Strains
Delayed Release for Deeper Support
Made in the USA 
You can read more about it, why it's important for weight loss, skin health, and so much more on our probiotics page.  
Protein Powder
Protein plays a couple of major roles in weight loss. First, your body burns more calories metabolizing proteins than it does processing carbs or fat.  Second, protein helps you build and maintain muscle tissue.
Since muscle tissue burns more calories than body fat (even when you're just sitting around), building and maintaining muscle is key for weight loss.  Most of us don't consume enough protein from our daily diet to get the true weight loss benefits, which is why a protein powder can provide an added boost.
*Remember that a good protein powder will contain less than 3g of carbs and sugar per serving and should provide 20-30g of protein per serving.
We recommend ISO 100 Hydrolyzed 100% Whey Protein Isolate by Dymatize.  It tastes better than any other protein powders that we've tried, and a big tub will last you a long time.  The vanilla is also good.
ISO 100 Hydrolyzed 100% Whey Protein Isolate by Dymatize, Gourmet Chocolate
If you need a vegan or vegetarian option, we recommendVega Sport Performance Protein Powder, Chocolate.  Low carb vegan protein powders are harder to find, because vegan protein powders are often made from high carb foods such as brown rice and peas.
Vega Sport Performance Protein Powder, Chocolate
Apple Cider Vinegar
Apple cider vinegar (ACV) contains acetic acid, which helps to keep your body pH balanced. Properly balanced pH helps your body function properly, aiding in long-term weight loss.
When purchasing ACV, look for the keywords: "with the mother," "organic," "raw," and "unfiltered."  This means that the natural proteins and enzymes have not been processed and filtered out like they are in some commercial brands.
By far the best brand to look for is Bragg's.
Matcha Green Tea
Green tea is a popular dietary supplement for weight loss because of the antioxidant EGCG, which can boost your metabolism during exercise. Matcha green tea has even more EGCG than regular green tea, so you're more likely to lose or maintain weight with it.
This is a good purchase for all of you non-coffee drinkers.  We recommend adding a little warm almond milk or other unsweetened non-dairy milk.  It can also be made into an iced drink.
Some brands are very expensive, because they come straight from Japan.  The Chinese counterparts are also organic, taste great, and are much more affordable.  I (Lauren) highly recommend the following brand:
Organic Matcha Green Tea Powder USDA Organic by uVernal
Other Vitamins & Supplements
Fish oil is made up of omega-3 fatty acids. Omega-3s are well-known for their health benefits, and can help you lose weight by stimulating enzymes that initiate the fat-burning process in cells.
One of the best and most affordable brands out there is by Dr. Tobias.
Vitamin B12 itself won't cause your body to burn more fat or calories, but having more of it will help you to convert food into energy instead of fat. If you lack energy to do even light exercise, B12 could help get you moving.
B12 is in many multi-vitamins, but can also be taken as a stand-alone supplement.
The last one on the list is a caffeine supplement.  Caffeine has been shown to help enhance workout performance, burn more fat, increase focus, and increase energy levels among many other benefits.  We personally drink black coffee every morning and recommend that first and foremost, but a supplement is a great idea for non-coffee drinkers who still want the effects of caffeine.  We recommend this bestseller on Amazon.
ProLab Performance Supplements: Caffeine
Those are the supplements that we believe are most important.  If you'd like to read another article we have published on the topic with some additional vitamins and supplements, you can read it here.